Friday 26st August took me to The Grand Opera House in Belfast. I've been to many shows in this fantastic venue over the years but it was my third time seeing a Belfast School of Performing Arts BSPA production, after seeing Les Misérables (Les Mis) in 2013 and West Side Story in 2015.
I'm always keen to support local, young talent but when I heard that this years' show was Les Mis again, I was never going to miss it. Before this performance I had seen Les Mis eight times and it is one of my favourite musicals.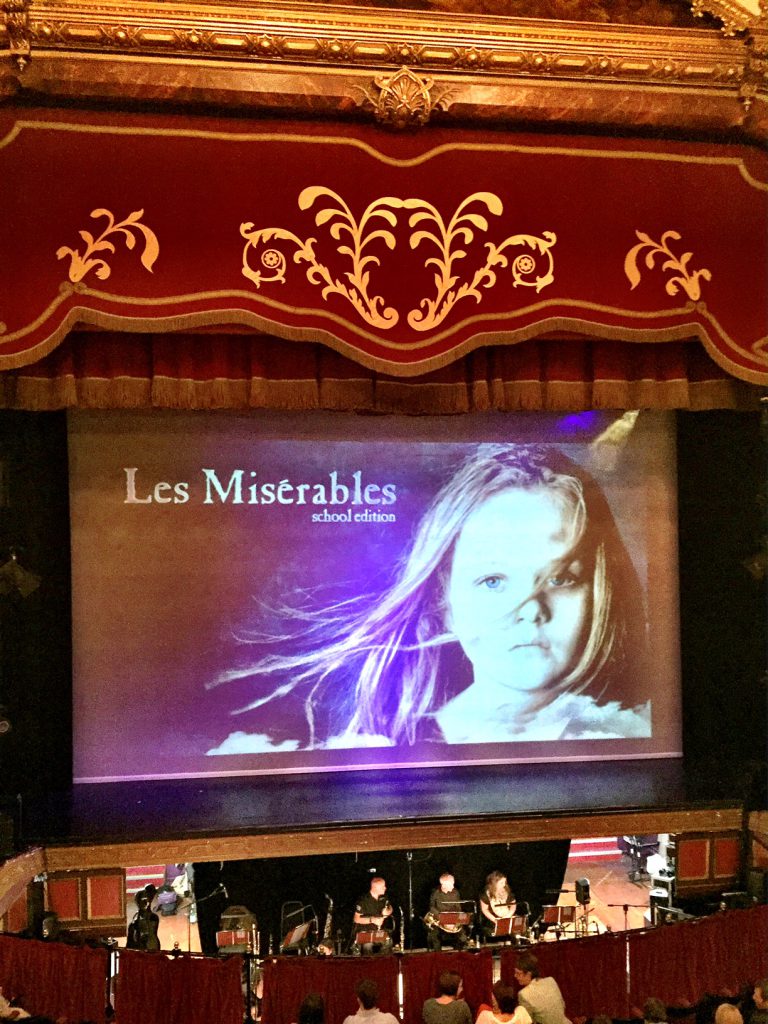 If you have never heard of Les Misérables, it is based on the 1862 book by Victor Hugo, which was made into a musical in 1980 when Claude-Michel Schonberg composed the music with Alain Boubil and Herbet Kretzmer adding the lyrics. By their own admission, they never expected the show to take of but I'm one of the 70 million people who are so glad that it did.
Les Mis is now the longest running musical in the world and in October 2010 it celebrated it's 25th anniversary. The show has broken box office records across the world, has been translated into 22 languages, has played in 349 cities across 44 counties, and has been performed over 53,000 times (including over 12,000 shows in London) to an overall audience of 70 million people.
The continued popularity of the show resulted in a sell out 25th anniversary concert in the O2 arena in London, which was also screened in cinemas across the UK, and the 2012 film broke box office records for a musical film.
In 2002, 200 hundred years after Victor Hugo was born, a Schools Edition of the show was launched, which is slightly shorter than the main show, and is written for performers aged 12 to 19. There have now been over 4,000 school's productions in the UK, US and Australia, which makes Les Mis the most successful musical ever produced in schools.
But back to the BSPA production…
I bought a programme on the way in but was surprised by it's £6 price tag. Of course they want to make a profit on them and I'm sure it would have cost a lot to produce, but it meant that the ushers were laden down with a lot of change, but that's a very minor issue.
However, the programme was very detailed and contained a lot of information about the cast and crew and it helped pass the time before the curtain lifted. (For reference sake a list of the cast will be at the bottom)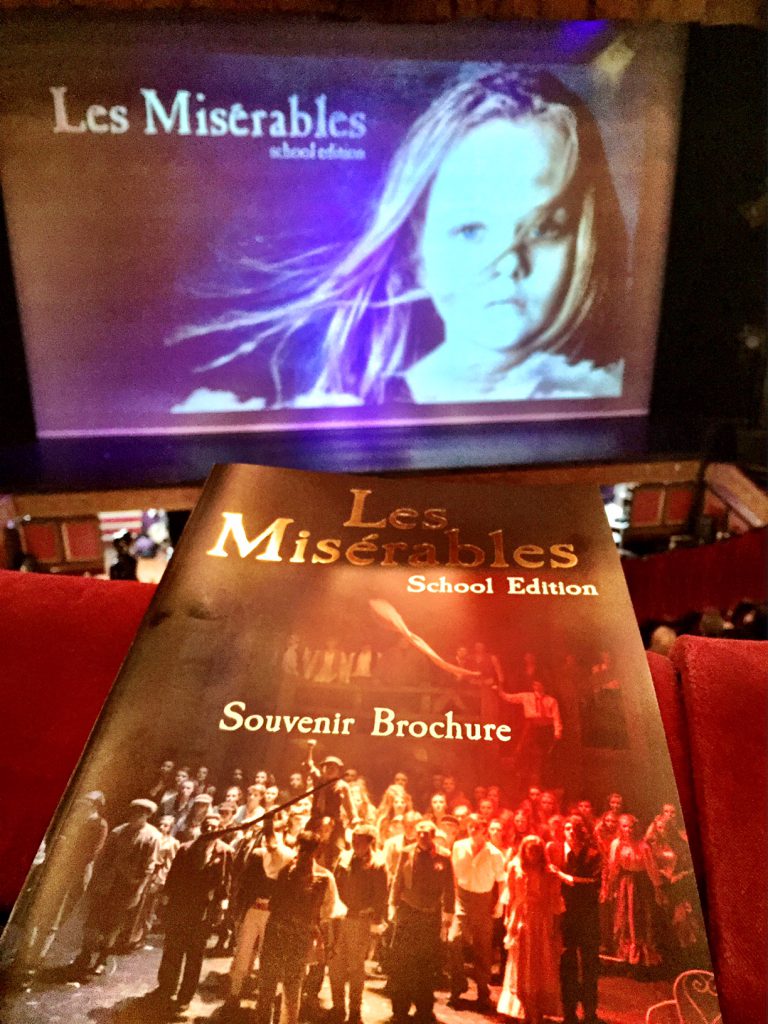 The show began prompt at 19:30 to a practically full house ( I counted only three empty seats) and the opening musical number ("Look Down") was fantastic. One of the first things that struck me was how detailed the costumes were and during the following scene in the Bishops house I noticed that there was real bread on the plate. Small attentions to detail like that really add to any show and.
"I Dreamed A Dream" was absolutely fantastic and you could hear the emotion in Fantine's voice very well. The dock scenes which followed were very well done and "Fantine's Death" gave me a lump in the back of my throat.
One small negative point it that, unless I missed it displayed somewhere, you didn't who was playing the role of young Cossette as there were 5 different names in the programme but whoever it was did a fantastic job with her solo.
The scenes in the café were brilliant and both Mme Thenardier and her husband were brilliant throughout the musical numbers. I always enjoy "Master of the House" and it was very well sung by Malachy and Meabh.
Javert's "Stars" number is also one of my firm favourites and the following scenes in the ABC Café were also fantastic. "A Heart Full of Love" sent shivers down my spine and the balance of harmonies was very well done. The first half finished with "One Day More" which was, again, very good.
One thing that I noticed throughout the first half was that those in the ensemble were always smiling, which makes such a massive difference.
Another observation was that while there were minimal props used at any one time, it was still very effective and goes to show that you don't need to have massively integrate backgrounds to help set a scene.
The interval gave me an opportunity to stretch my legs and I got chatting to some of those sat around me. The main discussion points were how professional the whole production was, which is always good. One of the people sitting behind me is directing Les Mis outside Dublin next year and his negative point was that it would be nearly impossible to match the standard of this.
The second half started after the 20-minute interval with the barricade scenes. Eponine's solo, "On My Own", was so well done and was complete with rain falling on the screen which was a great overall effect.
The attack on the barricade movements included a great use of strobe lights and the explosions really added to the scenes. The Valjean solo and Les Mis favourite, "Bring Him Home", was fantastic and Matthew richly deserved the rapturous applause that followed.
The scene in the sewers was also very well done. I was speaking to the owner of the sound company, the fantastic LSFX , afterwards who told me there were three layers of reverberation on the microphones, which gave a brilliant effect of actually being in a sewer.
Javert's Suicide was very moving as was "Empty Chairs at Empty Tables" during which the café scene from earlier was recreated behind the screen which was very poignant. The reprise of "A Heart Full of Love" was lovely to listen to with brilliant and well-balanced harmonies.
Every time I have seen Les Mis there has been a standing ovation. At the end of this production I found myself not even having to think twice before I got to my feet. The standing ovation was richly deserved and could have went on for a long time before the curtain fell.
I had to keep on reminding myself on several occasions that it was the schools edition and that all the cast were under the age of 20. And despite having already done 10 shows, you would't know it from a vocal perspective. It would be very easy to say this, but the performance would honestly rival that of the West End.
While I don't like singling any member of a cast (both on stage and behind the scenes) out, there are some people that I definitely need to talk about.
Ciaran McCormack (Enjorlas) was fantastic and all of his lines were solid throughout. Indeed he played a great 'Action' in West Side Story but he has definitely improved since then and is one to watch for the future.
Fantine played my Naomi Smyth was equally fantastic. You may have seen a preview video of her singing "I Dreamed a Dream" but her onstage performance was equally as good as the video. While the role of Fantine is at the start and end of the show, Naomi played this role so well and is again a future star.
Tom O'Kelly as Javert and Holly Ryan as Fantine were also great and I would be again be expecting big things from them in the future. Thenardier and his wife (Malachy Conlan and Meabh Quinn) were fantastic and they both match the level of humour required for such roles.
And last but not least Matthew Quinn as Valjean was amazing. As I've said a number of times I have seen this show eight times on the West End and his performance would not have been far short of some of those actors which I've seen there.
Of course those on the stage, in every role, did such a good job but they will have been so well supported by the members of the production crew. There was no doubt that the cast put an incredible amount of work into the show but the guidance of these people will have been instrumental.
Speaking of instrumental, the orchestra were great and the whole thing was very tight musically. They brought a different perspective to some of the numbers which was very refreshing.
I learned afterwards that this show is that last production that James, who founded the BSPA in 2011, will be involved in. James already had a very successful life ouside of BSPA with his band so he is leaving to concentrate on his other projects.
I have no doubt that he has left the BSPA in the very capable hands of Tina and that he will still take an interest in what is going on but he will be sorely missed.
The only negative comment I can make is that I'm only sorry that I didn't see it near the beginning of the run as I would have been back.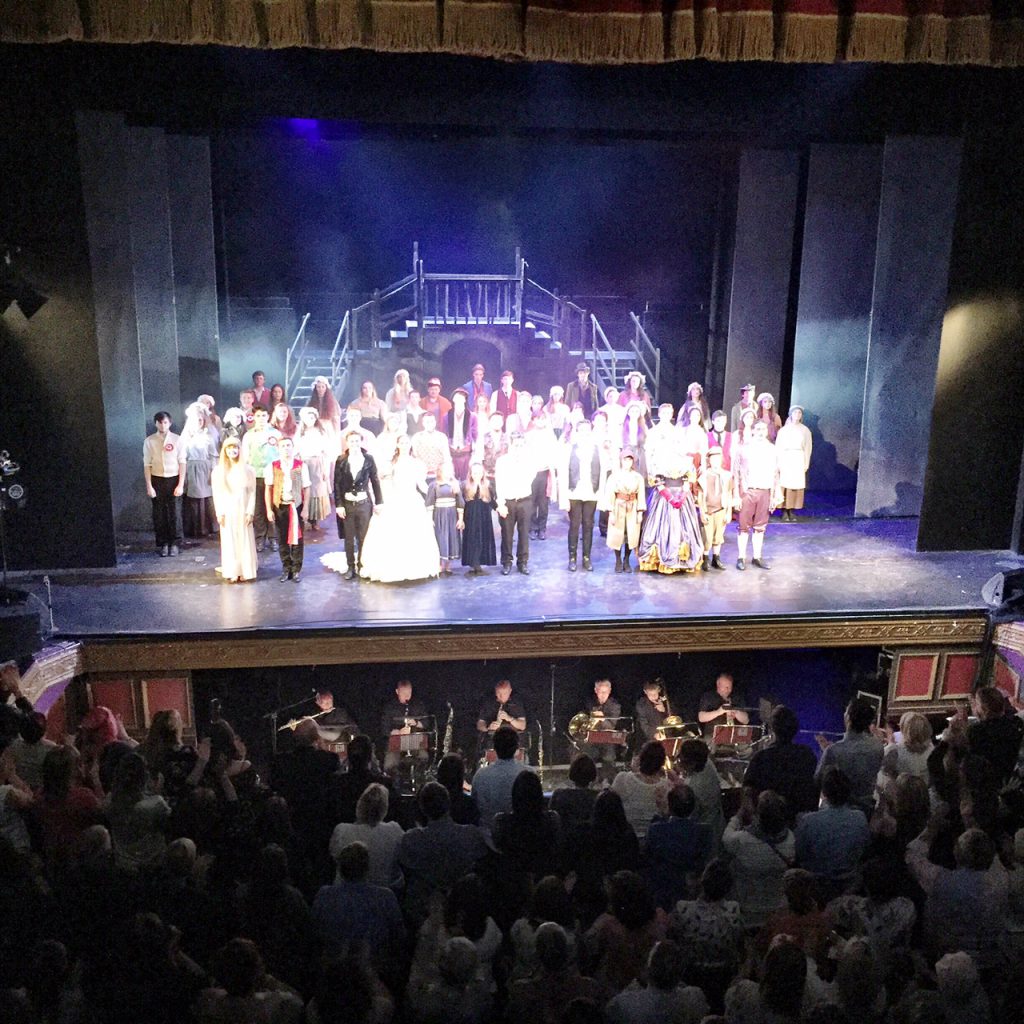 Main Cast:
Cosette – Alex Dick
Enjolras – Ciaran McCormack
Eponine – Holly Ryan
Fantine – Naomi Smyth
Javert – Tom O'Kelly
Valjean – Matthew Quinn
Mme Thenardier – Meabh Quinn
Thenardier – Malachy Conlan
Marius – Robert Kelly
Bishop – Alan Kelly
Production Team:
Producers – James Huish & Tina McVeigh
Director – James Huish
Musical Director – Wilson Shields
Choreographer – Clare Donnelly
Stage Manager – Patrick Freeman
Production management – James Huish & Clare Donnelly
Lighting Design – Declan Anthony
Sound Design and Operation – James Huish & Darren Gardiner
Sound Cew – Tim Dougherty & LSFX productions
Properties – Valerie Greenlee
Props Assistant – Emma Heffron
Makeup – Alexanra Moyna & Niamh McGurk