Traditions are what make Christmas special for a lot of people. For me it's decorating the tree, helping my mum with her cooking, my Christmas Eve Chinese (weird, I know) and 'Ireland in Christmas Praise' by New Irish Arts.
If you haven't heard of New Irish before, they were formed in 1994 by Keith Getty and they continue to go from strength to strength. They have several hundred members in both a choir and orchestra along with nearly a hundred singers in their Youth Choir.
These, very talented, musicians, aged from seven to seventy come under the direction of the very talented and usually extravagant Jonathan Rea… although not the 5-time World Superbike Champion … This Jonathan Rea studied music at Cambridge, winning the coveted Rima Alamuddin prize for performance, before returning to Northern Ireland to teach music. After 10 years as Director of Music at Bangor Grammar School he joined New Irish Arts. Jonathan arranges most of the music himself to add the New Irish twist to a lot of well-known songs, which is always an enjoyable experience.
The continued success of New Irish means that they always seem to be busy – Not only do they have their own concerts throughout the year, but they are also involved in lots of other things such as the Four Corners Festival, their own youth residentials, leading worship at New Horizon and lots of things in between.
Their highlight of their year is their Christmas event, which continues to grow every year. It all began in the Ulster Hall ten years ago, but ten years on, they completely filled the Waterfront Hall on two successive nights.
Last night's concert opened with Jonathan and orchestra leader Alan McClure performing "Silent Night" on piano and mandolin. The lyrics were written by Father Mohr in 1816, but the melody was composed by Franz Gruber in 1818, with very short notice. A flood had damaged the local organ and Father Mohr needed a song suitable for a guitar accompaniment.
The first soloist of the evening, Jamie Williamson, followed with the Michael W Smith song "Christmas Angels". Jamie works as a teacher in Friends School, Lisburn and has been involved with New Irish for over 10 years.
The famous service of Nine Lessons and Carols from King's College Cambridge, shown on Christmas Eve and now in its 100th year, always starts "Once in Royal David's City". The soloist for this was Theo Rea, who is just 13 years old and is a member of the Youth Choir. With Jonathan as his dad, he's got his own personal singing tutor, but he performed this carol very well.
We were then up on our feet for the first opportunity for some audience participation for "O Come All Ye Faithful." This carol always finishes the Carols from Kings service and is always popular, although the New Irish version (with lots of loud brass) is a personal favourite. New Irish audiences always seem to be reluctant to clap themselves, and Jonathan clarified that we could applaud ourselves, but only if we felt that we had done a good enough job.
"Tomorrow Shall Be My Dancing Day" followed before the third soloist of the night joined New Irish on stage. Dana Masters is originally from the Deep South in the United States and grew up singing soul, rhythm and blues and gospel music. She moved to Northern Ireland with her husband in 2008 and regularly sings with Van Morrison and many others.
She performed one of her own songs, "Carry You In" as a melody with "O Holy Night". Carry You in features on her new album Crossing Lines and is highly recommended. Her version of O Holy Night had the whole auditorium mesmerised.
Earlier this year New Irish commissioned Andrew Roycroft, Pastor is Millisle Baptist, to write a poem about Christmas. This, combined by a painting my local artist Ross Wilson, was a very moving experience. Andrew also runs a website which is worth a visit.
"Light, unspoken and unspeakable light
Breaks now. The Word at least made flesh, he comes,
He comes, the Son of God eternal comes!
Into the broken jars of drought-dry bones
Into the blasphemy of our godless scraping by,
Into our hears he comes, transcendent God."
"No Small Wonder" followed before we were up on our feet again for "God Rest Ye Merry Gentlemen". This is one of the oldest carols which is still being performed, and was first printed in 1760.
"For To Us A Child Is Born" by the Gettys was next up before we were introduced to the main soloist of the evening, Sara Groves. Sara has been singing full time since 1998 and lives in St Paul, Minnesota where she owns a 111-year-old church which operates as a community art centre. Jonathan was introduced to Sara 10 years ago and she first collaborated with them in 2012.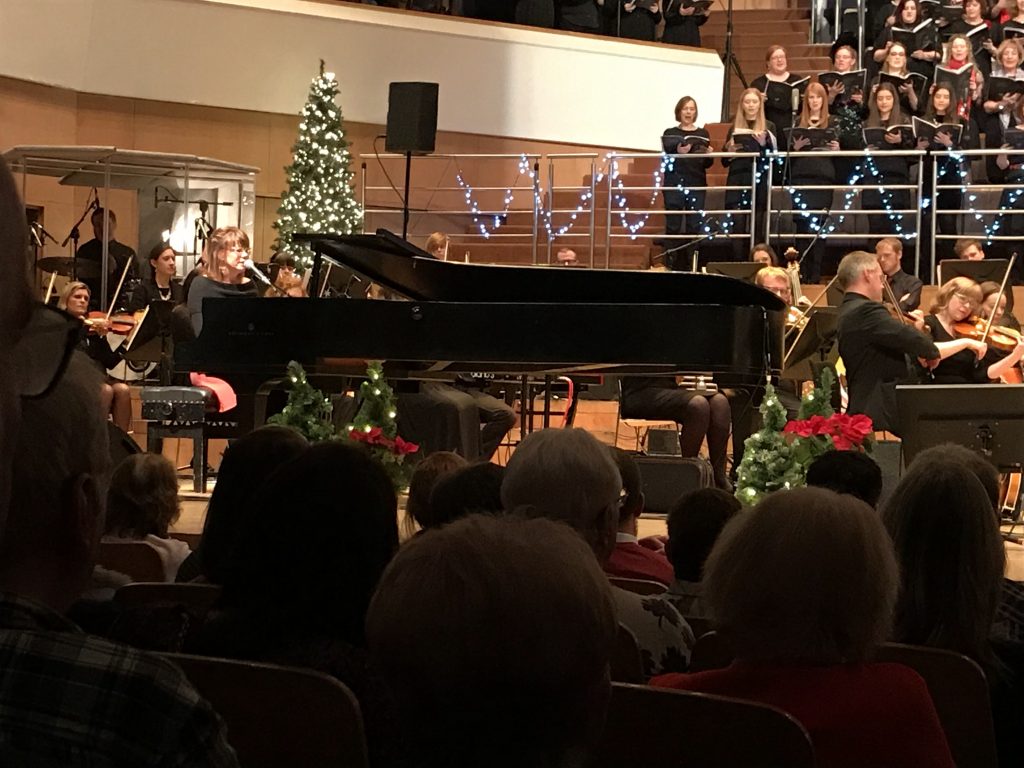 She first sang her own version of "It Came Upon A Midnight Clear", "A Cradle in Bethlehem" and then a novelty song of hers called "Toy Packaging".
It was then the turn of the Youth Choir to perform "His Mercy is More" under the director of David Gibson. David went of Bangor Grammar and told his music teacher when he was only 11 that he wanted to be a musician. Fast forward around 15 years and he was on the same stage as that music teach – Jonathan Rea. David studied at the Royal Northern College of Music and is now in demand as a soloist, accompanist, orchestral pianist and chamber musician both in Ireland and the UK. David was a member of New Irish when he lived here and has been involved in several of their youth residentials.
The final item of the first half involved some more participation with "King Forevermore". Every year at this concert I'm always blown away by how amazing it is to hear a choir and orchestra combine with 2,000 other voices to sing, which was the same here. The last verse of this song was taken from "See Amid the Winter's Snow" which was a very nice touch.
The second half started with "It's Beginning Tom Look A Lot Like Christmas", arranged by Andrew Thompson. Jonathan commented on how they like to perform something different after the interval and commented on how their thoughts and prayers continue to be with Andrew. Last year Andrew was diagnosed with a brain tumour and is continuing to receive treatment.
"This Christmas' was next with another solo by Dana before David performed a fantasy on three carols. David composed and arranged this piece, basically a mini piano concerto, and was a brilliant performance, which was confirmed by the resounding round of applause which followed.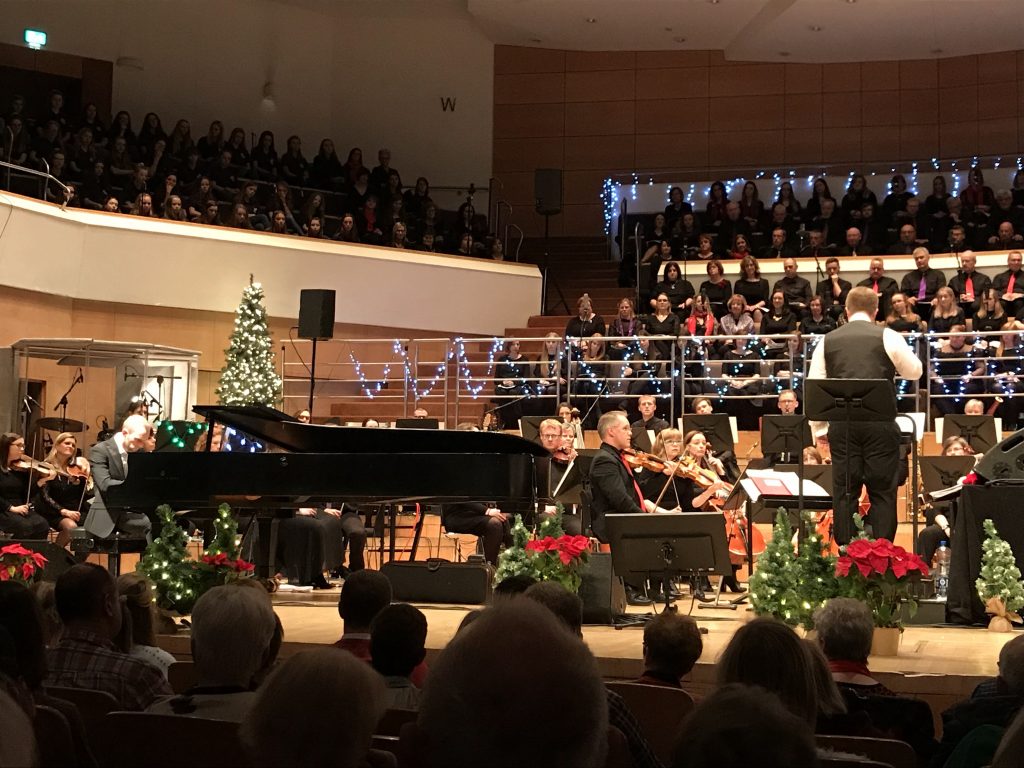 Every year at the Christmas concert, New Irish help fundraise for a charity. This year it was the turn of IJM, International Justice Mission. Sara Groves has been an advocate for them since 2005 and mentioned the work that they do around the world, before the Regional Development Executive for IJM, Ruth Cooke, came to speak. She shared how there are currently around 40 million people enslaves around the world, the highest level ever, and that 1 in 4 of these people are children. She shared specifically about the work of IJM in Ghana in releasing children from slavery.
Ruth shared how they raised £6000 on Thursday evening which will allow IJM to carry out one rescue operation. Over the last 20 years of IJM they seek to bring hope and joy to all those they work with – you can find out more information about their, literally life changing, work and can support them online
Sara then sang "To The Dawn" which she wrote for IJM, followed by "He's always Been Faithful" which has been a New Irish favourite for several years and then the Youth Choir sang the Rend Collective song "Rescuer".
It was then over to Malcom Duncan, Pastor of Dundonald Elim, who shared some Christmas reflections and challenged us to think about what gifts we cherish the most. For most of us in the western world, it is material things but for the people that IJM work with it would be joy and hope to be free. Malcom also shared that the gifts we need aren't material but are things like knowing we matter to others, security and hope. To God we are worth more than great riches or kingdoms – we are worth the blood of his Son. This Christmas, Malcom challenged us to be generous with our time, money and gifts and to help others receive the greatest gift imaginable – Jesus.
Jamie Williamson was then back with "All is Well" by Michael W Smith. This arrangement was by Andrew Thompson which I thought was very fitting as throughout Andrew's illness, his faith has remained strong and he has known that God is with him and his family though this difficult time.
The next audience carol was "Hark! The Herald Angles Sing", which included a very loud, and very enjoyable, brass section, complete with Santa hats.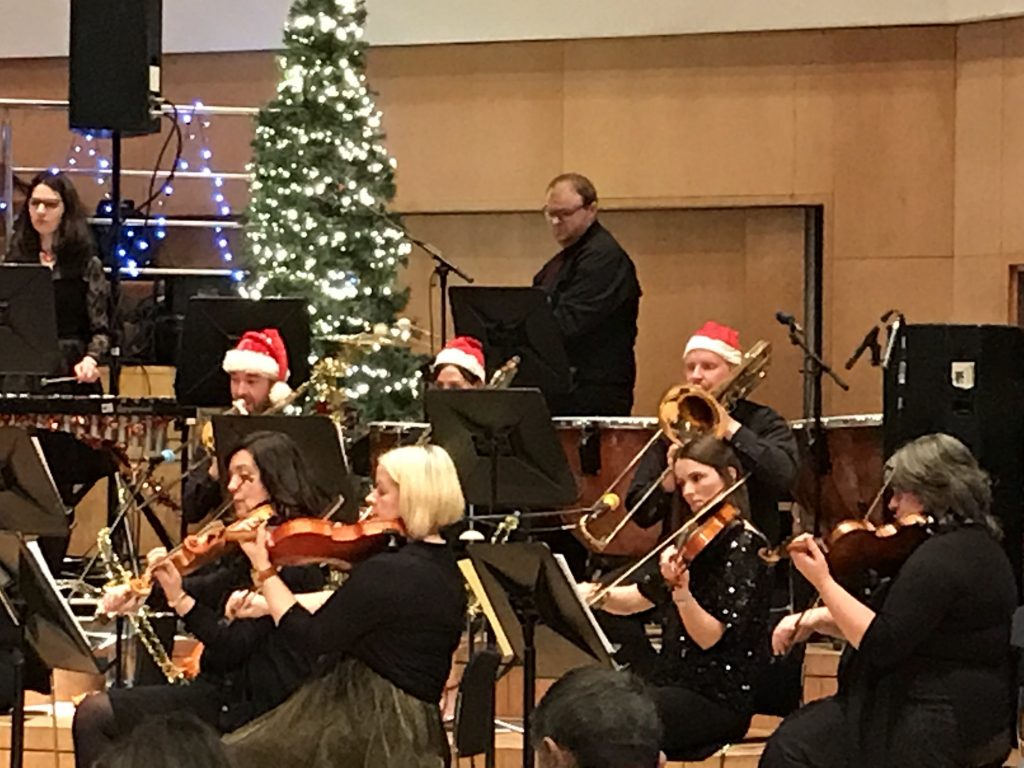 "I Pray on Christmas" was next up with Dana as the soloist before all the soloists were back on stage for "Joy To The World" which is another personal favourite.
This is an amazing carol and when you add the New Irish twist to it, complete with fairy lights on brass instruments and stands, plus 2,000 other voices, it's a brilliant sound. The last verse was sung a capella and the notes seem to hang in the air of the hall.
After the soloists had taken their bow, Jonathan returned to play "O Holy Child" and "All Glory Be to God on High". Hearing just one instrument in contrast to the rest of the night was such a contrast and a lovely way to finish off a brilliant night.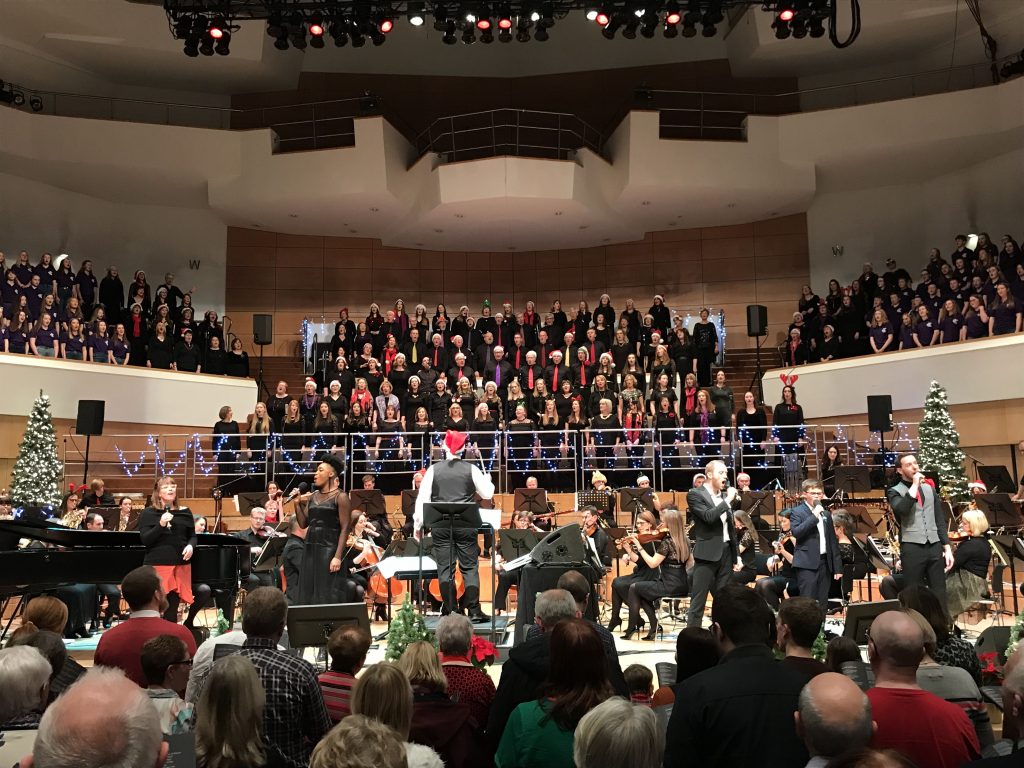 There is always a lot of people who need thanked after an event such as this, and there's always too many names to mention individually. However, a few people deserve to be singled out: Jonathan, Events Manager Hannah (who has only been in post for a few months covering a maternity leave) and stage manager Michael have, I'm sure, had a busy few days.
The Youth Choir was, as usual, brilliant and the future of the New Irish choir would appear to be in very solid hands.
All of the soloists were brilliant, but I want to single out Theo in particular. To be so young, they did an absolutely incredibly job, and I have no doubt that we will be hearing a lot more from them in the future.
If this has inspired you to go to a New Irish concert, perhaps for the first time, check out their website and give them a like on their Facebook page
On 9th February as part of the Four Corners Festival New Irish are performing in St Peter's Cathedral in West Belfast with stories and music about grace and forgiveness. You can get your (free) tickets and more information here.
New Irish are also performing a special concert as part of the Sing! Tour with Keith and Kristyn Getty on 15th June and you can buy your tickets here. There's also the opportunity to join the 1000 strong choir for this very special event in the SSE Arena.