I was at an event last night with Lynda Bryans.
She is best known as a news presenter for both the BBC and UTV, being married to UUP leader Mike Nesbit, and latterly as a lecturer in Belfast Metropolitan College.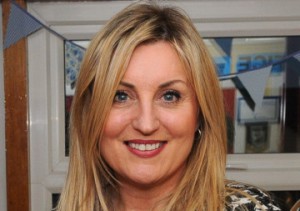 What is a bit less known about her is that she suffered from a mental health illness when she was pregnant with her first child, 20 years ago. As a coincidence today is World Mental Health Day.
She started her presentation last night with a simple question – "What do you do on a regular basis to look after your mental health?" It's a straightforward question, but the answer probably requires a bit of thought.
Her second slide was a real eye opener for me – In Northern Ireland, 25% of us will experience some sort of mental health problem in our lives. There are currently approximately 13% of the population who have been diagnosed with clinical depression.
The World Health Organisation have predicted that depression will be the second leading cause of illness by 2020, behind heart disease – that is just five years away. They have also predicted that by 2030, it will be the leading cause of all illness worldwide.
Lynda talked openly about her period of illness and included stories of her refusing to answer the door to the family GP and being physical unable to make a decision about what she wanted on her pizza while out for dinner with her husband.
She also said that she noted a change in her personality, almost overnight. She said she began to realise that even the simplest of household tasks became very difficult – she struggled to put on the washing machine, make a cup of coffee or concentrate on watching TV.
"I stopped going out unless it was absolutely necessary.  I didn't want to see or talk to anyone, even friends.  I wanted to be alone and yet the solitude was horrendous.   I felt like I had lost my soul and just couldn't find the 'me' that had been there just weeks before."
She said that she felt nothing and that it was "as if someone had removed part of my brain and had wiped my hard drive". While she didn't feel suicidal, after her son was born she told her doctor that she felt like a burden. She said she remembers saying to the psychiatrist that visited her after she gave birth "I'm not going to take my own life but if I was out driving in my car one day and a big truck came around the corner and wrote me off and killed me that would be better for everybody.
I didn't know until I heard Lynda speak at an event in the Spectrum Centre last month that Winston Churchill suffered from depression. The charity Rethink commissioned a sculpture which was unveiled in Norwich originally, which shows the WW2 Prime Minister in a straightjacket.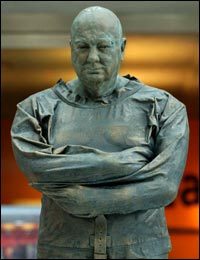 Winston Churchill was perhaps the first person to describe his depression as his 'black dog.' This term has become widely used by many people to describe depression and the World Health Organisation have produced a brilliant video about the black dog.
Lynda was on medication for over 18 months but repeatedly said how it was her husband and close circle of friends that helped start her down her long road to recovery.
She repeatedly admitted that she is by no means an expert, but the emotion that she speaks with shows just how much she cares about helping others with poor mental health.
Lynda has a great way to look at the issue of mental health – she says that if you imagine mental health as a line with good mental health at one end and poor mental health at the other, on a Monday morning, we might be nearer the bottom and on a Friday we might be at the top, but at all stages of life, we are all somewhere on that line.
She says that she does a lot of things to look after her mental health: she keeps chickens, she enjoys growing vegetables in her café, she enjoys watching Ulster Rugby (although she said that can be stressful enough at times!) and always tries to make time for coffee with friends.
She is also involved with a charity called (Aware Defeat Depression, which uses the slogan "Overcoming depressing. Changing lives".
Aware state on their website that there are several symptoms of depression.
A persistently depressed, sad, empty or anxious feeling
Loss of interest in work, food, sex, hobbies and other activities
Slowing of thinking and of body movements
Reduced or increased appetite and weight change
Trouble getting to sleep, waking repeatedly during the night or too early in the morning or oversleeping
Feelings of worthlessness or excessive or inappropriate guilt
Persistent fatigue or loss of energy
Difficulty concentrating and indecision
Aches or pains without and physical cause
LOSS OF HOPE
Recurrent thoughts of death or suicide
If you can recognise yourself or a loved one are suffering from five or more of these symptoms for more than two weeks, Aware recommended seeking some form of help.
The important thing to remember about depression, or any other mental illness, is that it can affect anyone, at any time.
In all of this, it is easy for us to say to ourselves that yes we understand the symptoms of poor mental health, but admitting that we need help is often very difficult. I think this is mostly due to the stigma that still surround mental health, but if you take nothing away from this blog, just remember this.
It is ok to not be ok.
If it isn't ok speak to someone. It could be someone you know, someone you don't know or someone you'll never know… Just speak to someone.
Some useful contacts:
Action Mental Health 028 9182 8494
Aware Defeat Depression 08451 20 29 61
PIPS 028 9080 5850
Praxis 028 9023 4555
Samaritans 08457 90 90 90
Lifeline 0808 808 8000
Or visit the Public Health Agency website here
So…what do you do on a regular basis to look after your mental health?