So One Direction cancelled the first night of a three-show run at the SSE Arena last night. You can't have missed it and it even made the main BBC, Sky and ITV news last night, as well as other news outlets across the world.
There has been lots of speculation as to whether Liam was actually 'sick' or whether he was just suffering from the effects of something else. There were also rumours flying around last night that the reason why the band cancelled at the last minute was because that was the only circumstance that their insurance would cover them. However, it is the wider situation that gets to me more.
To start with, I can completely appreciate that each of the 8,000 fans were looking forward to the concert and that many had camped out overnight to actually get tickets in the first place. I also totally understand that for some people this will have been the first concert that they will have been to and that tickets would have been birthday and Christmas presents.
However with tickets ranging from £43-£70, it very quickly becomes an expensive trip for people to see their 'idols'. I read online of someone who had paid £270 for tickets and had spent a further £30 on food and £50 on merchandise.
Assuming an average price of £56.50 per ticket over 8,000 tickets, this comes to £452,000. Having been involved in an event in the Odyssey as it was at the time, we hired the venue for £50,000. Obviously this doesn't include the sound, lighting, etc, and the price may have gone up since, but there is obviously a large profit margin to be had for the band, which probably explains their collective worth of over £200 million.
If I book to go to a restaurant for dinner, arrive at the time of the booking, get shown to a seat with a menu and am then told that there is no food, of course I would be angry. But that would probably be it, Some of the language used last night (by parents) ranged from "absolutely heartbroken" to "devastated" to one parent saying "I don't how she [her daughter] will get over the disappointment". While things can be said in the heat of the moment, I would suggest that a concert being cancelled isn't the end of the world, and that if it is that there would need to be a re-thinking of priorities. One witness said last night that he walked past "hundreds of girls and women who were weeping" and there a video uploaded last night which appeared to show a girl collapsing at the news.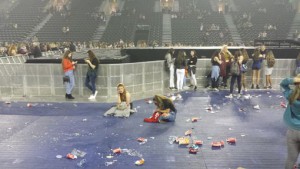 My friend Michael summed it up better than I could:
When parents bring kids up to idolise people, put them on a pedestal and expect the world of them, this will happen. Humans are fallible beings and mortal beings. The bile that has been spewed tonight about a sick person is the disgusting thing. If one of us phoned in sick to work, would the same response be even nearly acceptable?
However, One Direction and their management need to apologise to those who spent a lot of money to see them and who helped them to get where they are today. They also need to apologise to the Aiken Promotions representative who was left to break the news on stage. If one of the band wasn't well, the other three should have stepped up to the mark and at least appeared on stage… that isn't rocket science, it's just basic manners.