Following on from my last post, this one covers the rest of my elongated celebrations from the North Coast to Prague…
On my actual birthday itself, we headed to the North Coast and I played some golf at the Old Course in Portstewart, for the first time in years. Thankfully I didn't embarrass myself and I got round in a fairly acceptable score. It was then off to the Harbour Bar at the Ramore complex for dinner, finished off by a famous sundae at Moreilli's in Portstewart – just for clarity, I didn't want one but I was forced into it… ahem…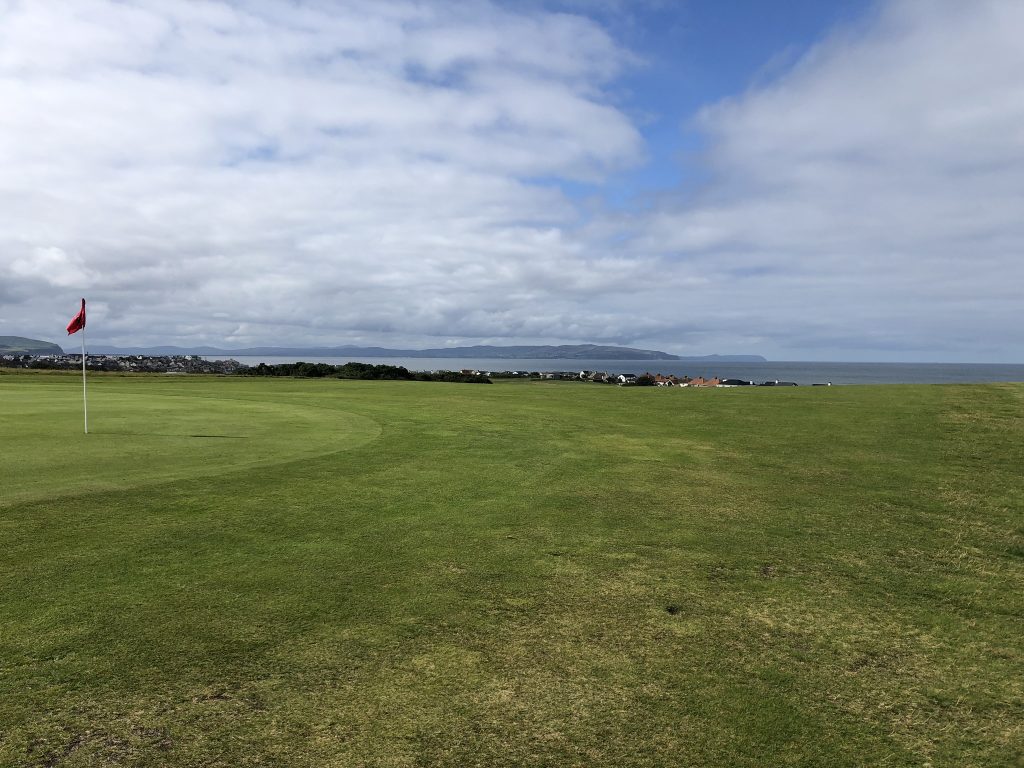 My third and final trip away somewhere was to Prague with Laura's parents (Sam and Ann), her sister Erin and her brother-in-law Chris. The rest of them, apart from Chris and myself, had been in Prague a few years ago and I had heard good things from friends that had visited, so I was really looking forward to it.
We left Carrickfergus in convoy around lunchtime on Thursday and headed south towards Dublin Airport. Anytime we drive to Dublin, Castlebellingham Applegreen is usually a stopping place and we met up here for lunch. I (eventually) decided on Chopstix noodle bar for some noodles with sweet and sour chicken and their amazing caramel chicken.
After that it was on to the airport car park and then the terminal building where we joined the cattle-market conditions of the Ryanair bag drop. It's been a while since I was in Terminal 1 at Dublin, but there is now about 30 Ryanair self-service scales where you scan your boarding pass and then weigh and label your bag before taking it to the conveyor belt. It's actually a very high-tech system where the check in system weighs your bag and then the belt confirms that the weight is the same which prevents you sneaking some extra weight in.
After my usual stop at Boots for their meal deal (I still struggle to work out how a €3.50 sandwich, a €2 bottle of drink and a €1 bag of crisps can be €5 but anyway…). On the plane I got stuck into a film called '6 Days' which is about the SAS raid on the Iranian Embassay in London in 1980 (you can watch it on Netlix here.) After that I managed to get a few episodes of the Sky show FBI in before we landed in Prague.
We joined the queue for immigration and when I approached the desk, I was met with a very scary phrase from the officer behind the desk – "Your passport is not valid sir". All sorts of things started running through my head including thinking would I have to fly straight back home, or would I get interview or something… It turned out that I hadn't signed my passport (I didn't even know that was a thing) so the nice man lent me his pen and all was well after that.
We then met our taxi driver who left us into the city via the office to pick up the keys to our apartments. Laura, Erin, Chris and I were staying in the Lesser Town Beauty Apartments and Laura's mum and dad in the Queen Bee Apartments. Both were really close to the Charles Bridge and were both very clean which is always important. The only snag with mine was there was 70-something steps to walk up which after a long day was a bit of a struggle, but it would help burn off some of the nice food that was in store (more of that later).
After we had our bags unpacked, we headed out for dinner to McDonalds and then over the Charles Bridge to the old square. My first impressions were really good and there wasn't an awful lot of people around which was good. It was then back to our apartment and to sleep before an early start tomorrow.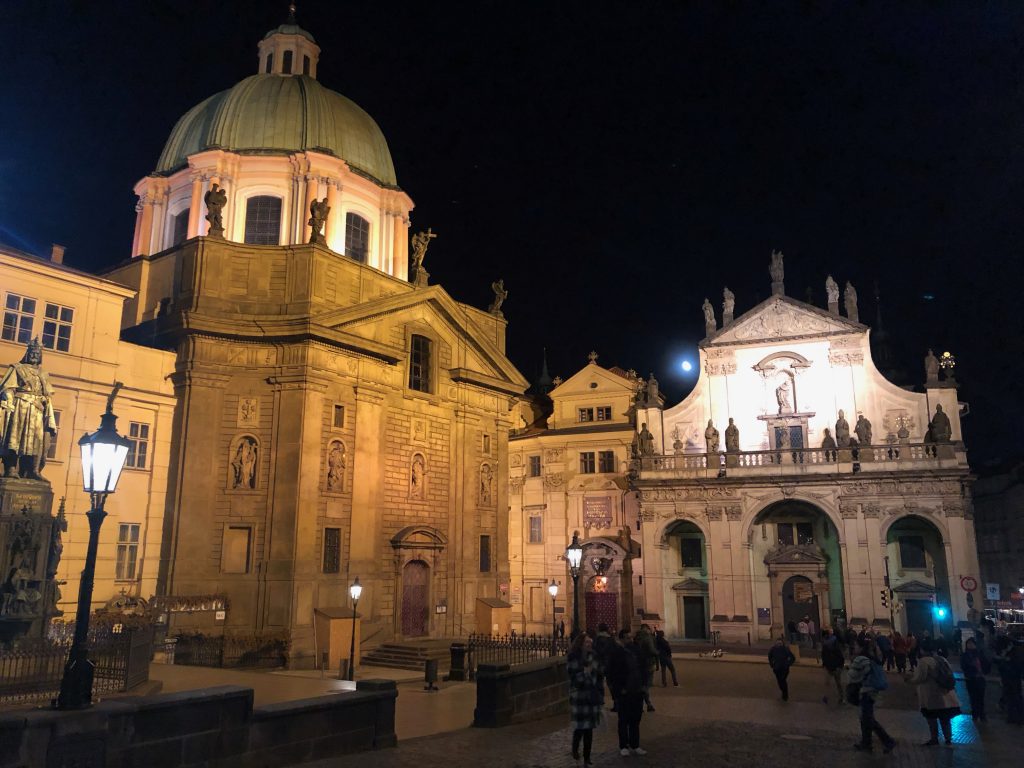 Friday morning began in the café below our apartment, Il Balcone (it doesn't get that good ratings, but I thought it was fine for Breakfast) before we were picked up for our Segway and e-scooter tour with Euro Segway. We headed to their office in the city center to get helmets and to sign some paperwork before going to their garage to pick up the Segways.
After we had had a bit of a practice, our guide Sebastian led us off. In recent years, Segways have been banned from the city center and so our tour was limited to the outskirts. We ended up at one of the hills overlooking the town at the Strahov Monastery. The abbey here was founded in 1143 and, seemingly like a lot of monasteries, they have been making beer for a long time. We, of course, took the opportunity to sample some of their produce in the bar – I opted for their amber larger which is their most popular beer and was a really good choice.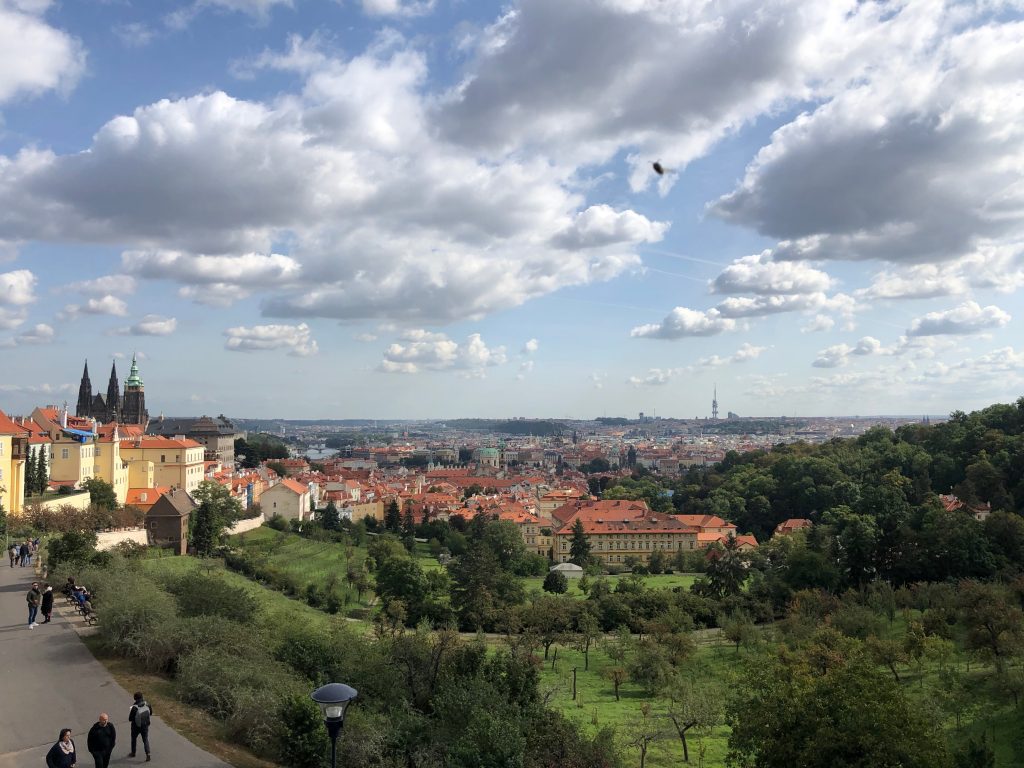 After our beers, we headed back towards their garage to drop off our Segways and to pick up our electric scooters. After another bit of a practice and realising that they go a lot quicker than you'd think, we headed off to another view point, this time overlooking the city from the Letenske Sady park.
After about an hour on the scooters, we safely made it back to the garage and I was actually very impressed that none of us (especially me) didn't fall off at any stage and that we weren't having to visit any of the Prague medical facilities.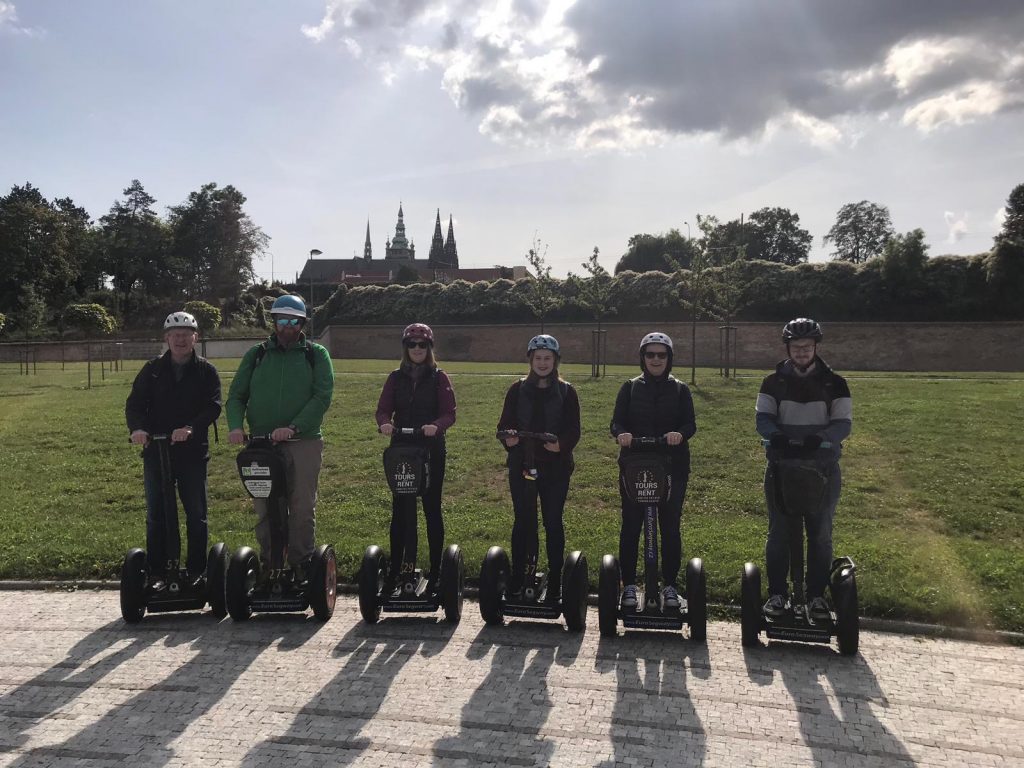 We then headed for lunch at the Pallidum shopping centre before Laura and I went to see the Sir Nicholas Winton statue in the main train station. This commemorates the work that Sir Nicholas did to rescue 667 children from Prague in 1939, just weeks before the Nazi's invaded.
We then headed back to the apartment for a nap before heading to Kolkovna for dinner. I opted for their potato and mushroom soup served in a bread bowl, which was really good. We decided not to have dessert there and instead wanted to try a trdelnik – these are chimney-like cake things which basically resemble a tall doughnut. These are apparently a "traditional Czech pastry" but in reality the only uniquely Czech thing about them is the name – the "history" of them has been invented for the tourists – but regardless, they're really good.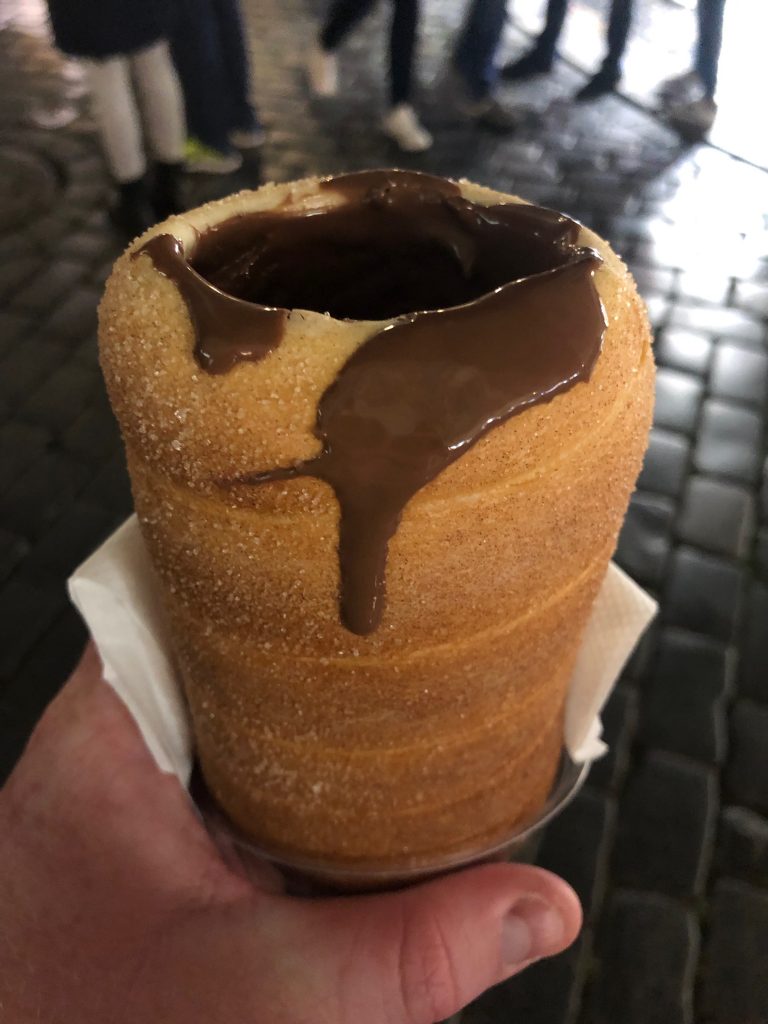 After all that food we headed for a nightcap of some beer in a café that needs streetlights as the entrance is so small before it was time for bed.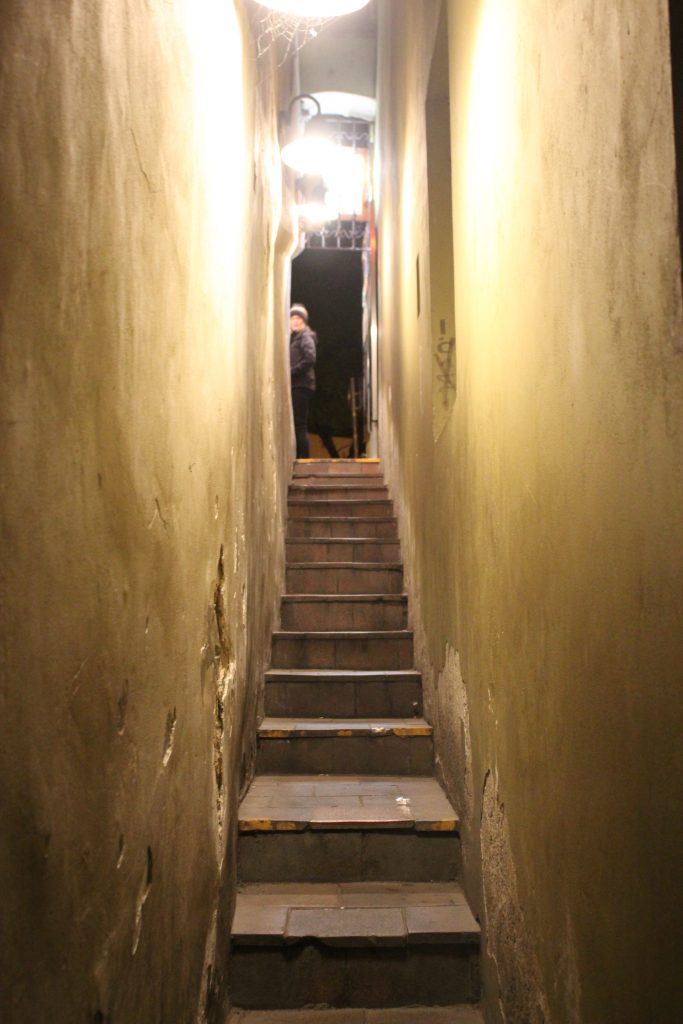 On Saturday morning we headed to Café 22 for breakfast before we picked up our free walking tour with Generation Tours Prague. If you haven't done a walking tour (free or otherwise) they are a great way of seeing a city – the idea behind 'free' ones are that the guides are slightly better as they are working on getting donations from the group. Our guide, James, was originally from Chicago but had been living in Prague for a few years and was really informative.
At the end of our tour we grabbed a sandwich from Tesco (yes, you did read that right) before meeting up with Sam and Chris and we headed to the National Technical Museum. This is a really great museum, over four floors, and has everything from one of the first cars made in Czechoslovakia to a full TV studio and a section of a mine.
Dinner that evening was in Marina Ristorante, which is a floating restaurant on the Vltava river. I opted for their potato gnocchi followed by pineapple ravioli, both of which were great.
After dinner and thanks to Google, Laura and I found a well reviewed cocktail bar called Bugsy's, which is just off the Old Square. This was a really good find and I'd highly recommend it – I opted for their DNA Punch followed by an Ibiza Casting and both of them were really good. The atmosphere was great as well and they even left us a glass of cheese sticks (as in actual cheese) which were nice to nibble on as well. As with any cocktail establishment, sitting at the bar is always a good call and it's fascinating to see the bar tenders actually making the drinks.
On Sunday morning we headed to JJ Murphy's Irish Pub for breakfast before the little issue of Ireland versus Scotland in the Rugby World Cup. After a good win for Ireland, we met up with Erin and Chris before heading to the Prague Castle with our guide from Get Prague Guide.
Prague Castle dates from the year 870 and is, according to the Guinness Book of Records, is the largest ancient castle in the world. The complex sits on top of a hill so it was a good job that we got a tram from the city up to the castle. We toured the St Vitus Cathedral, complete with a 1.5 tonne silver coffin containing the body of St John of Nepomuk (the saint of Bohemia), St George's Basilica and the castle itself, which has some lovely views over Prague.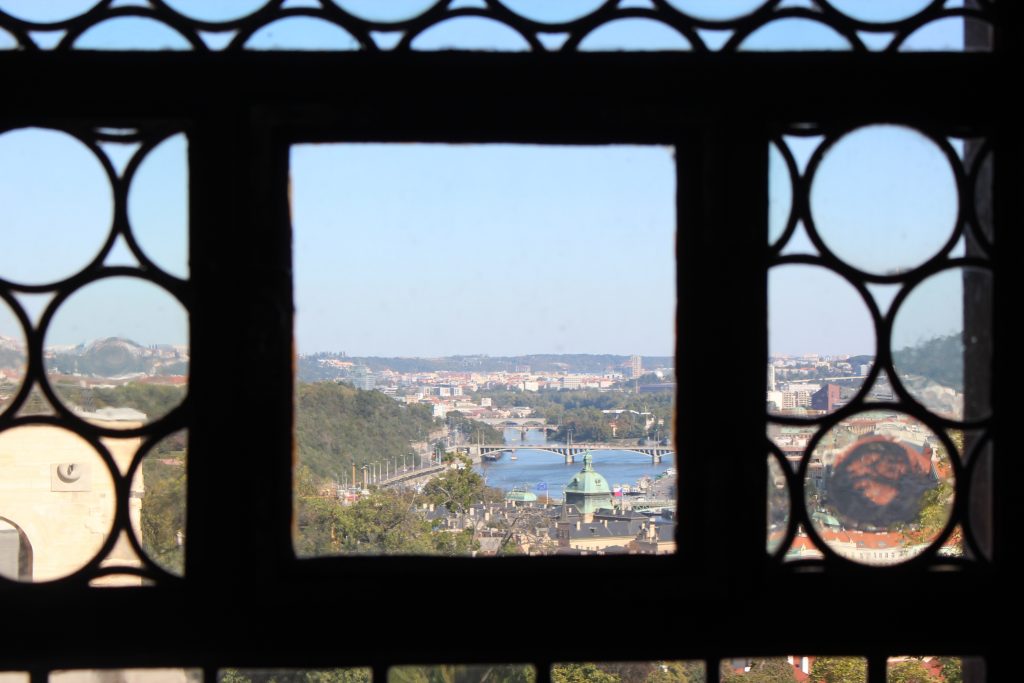 It was then back down the hill for some shopping before we headed back to the apartment. After a quick rest, we headed to the Hard Rock Café, which is one of their largest cafes in Europe. As with any Hard Rock, the memorabilia on the walls is always interesting, but the highlight (no pun intended) is their guitar-shaped chandelier which was custom made just for the café. After dinner we headed for a night tour of the river before heading back to Bugsy's for another DNA punch. It was then back to the apartment to start packing up.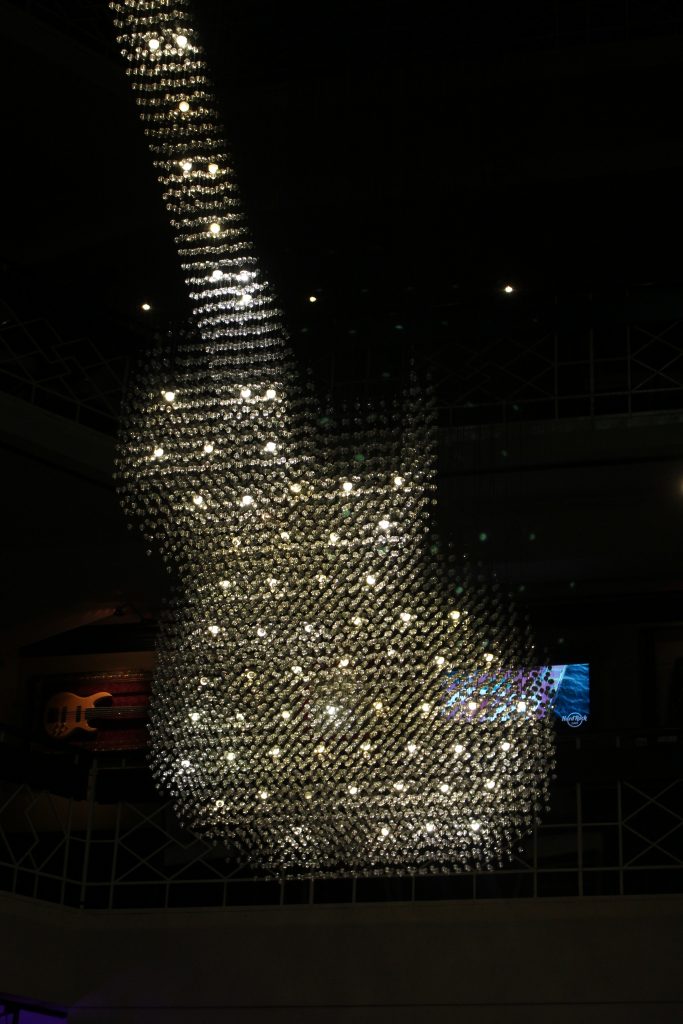 On Monday morning I finished packing before heading to Café 22 again for breakfast. We just about had time for a final quick walk around and made sure we had time to swing by McDonalds for one of their Snicker McFlurry's, which was amazing and really needs to be part of their UK menu.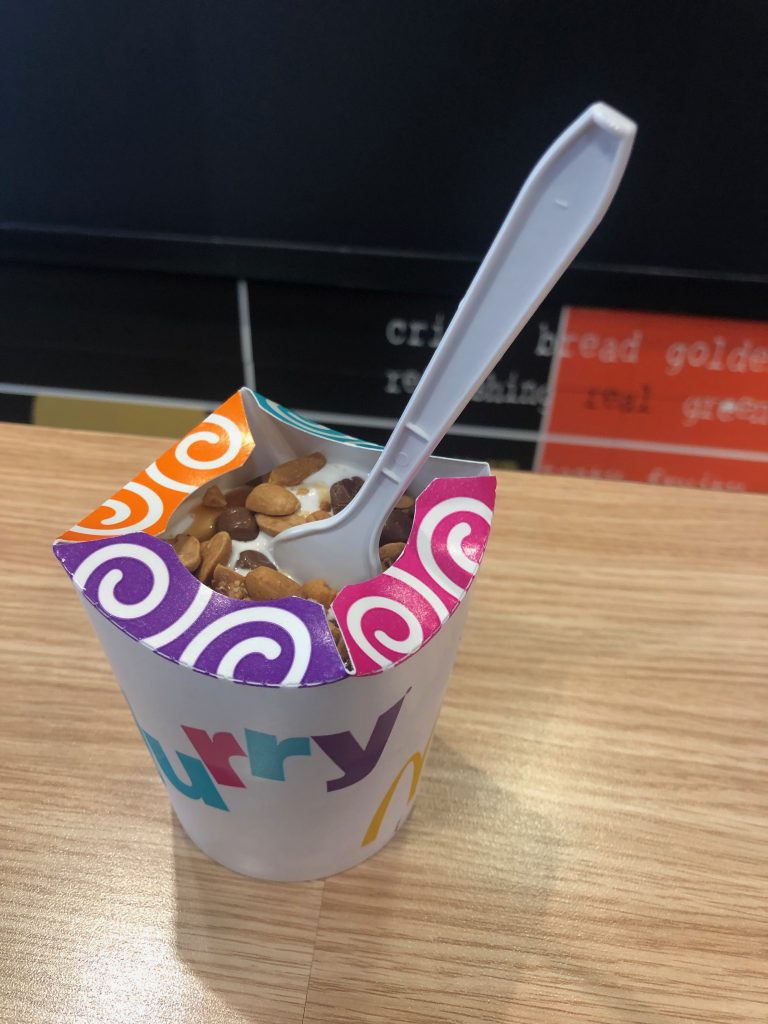 We were then picked up by our taxi and headed to the airport. After getting though passport control, we realised that all of the main restaurants (KFC, McDonalds etc) are in the "public areas" and the options actually inside the terminal were actually very limited. After walking around the options I eventually decided on a bakery for a pretzel and a chocolate croissant.
Another strange thing about the airport was that the security search was actually at the gates, after duty free, rather than being one of the first things that passengers do after passport control.
The flight was fairly uneventful and I got some more episodes of FBI watched. As soon as we landed in Dublin, the person in front of me immediately stood up and had her coat on before we even made it off the runway.
It was then time to grab our bags, make for the car park bus and then head home after a great few days.