Norma Harpur. This is a name that the vast majority of you reading this will not know. However, I have come to realise that what I write, if it helps me or just one other person, then it's worthwhile doing. Norma died last week, aged just 62, surrounded by three of her friends, one of which was my mum.

To start with, it's somewhat ironic that you're reading this online as Norma was very private about the issues she faced. Saying that, I hope it encourages someone…
Norma was my mum's first friend in life. She lived around the corner from where my mum grew up and they both went to Lowe Memorial Presbyterian as well as Finaghy Primary School and what was Princess Gardens, now Hunter House.
Norma became a Christian on 5th August 1971, aged 15, while at Ballycastle CSSM. As she grew up, her faith matured under the ministry of Alan Flavelle at Lowe and she was always so complementary of his ministry, even 40 years later.
After leaving Hunter House, Norma studied French and German at Queen's University and began teaching in Cambridge House School in Ballymena in 1978, where she worked for over 30 years.
Norma moved from Finaghy to Ballymena around this time, where she joined High Kirk Presbyterian. She volunteered in several of their ministries, but greatly enjoyed their Holiday Bible Clubs and since she retired had been helping very faithfully with the English language classes, serving the foreign nationals who work in Moy Park.
Becoming a Christian at Ballycastle CSSM was obviously a milestone in Norma's life and for the next 47 years she was an advocate for the work of Scripture Union as she wanted others to experience the same relationship with Christ that she had. Norma was really pleased when I told her I was leading New Horizon Alive as she had such a passion for seeing people sharing Christ with others.
In 1985, aged just 29, Norma was diagnosed with arthritis. For the next 33 years, Norma lived with increasing pain and disability and suffered from complications from her various medicines.
Over recent years, Norma was sadly a regular visitor to Antrim Area, The Royal and Musgrave Park Hospitals. Throughout these various stays in hospital, she was visited by lots of her friends, mostly from High Kirk, and they were all very faithful visitors and were a great practical, emotional and spiritual support to Norma.
My mum was also a regular visitor and I remember her leaving the house, sometimes several times a week, with the travel Scrabble in hand, ready to (try) and take on Norma in whatever hospital she was in. Sometimes, Norma wasn't well enough to talk, so my mum just sat with her.
Norma's 'teacher brain' remained very active, even well after she retired. She would regularly be at our house for dinner, and she often arrived with a list of things to talk about, or something on her phone that she needed me to fix.
She was direct at times, but you always knew where you stood with her.
It's very difficult to even begin to think of the struggles that Norma lived with, for such a long time. One of her lists that the family found after she died mentioned about how important it was to have a good relationship with your GP – this was sadly someone that Norma saw on a very regular basis given her complex medical needs.
Last year, when she was in Intensive Care in The Royal, High Kirk held a prayer meeting for her – over fifty people turned up. Despite her poor health, she taught courses on gifting, she was a regular on the prayer ministry team and she really enjoyed their English language courses. She made such an impact on her English students that two of them sent flowers when she was in ICU last year.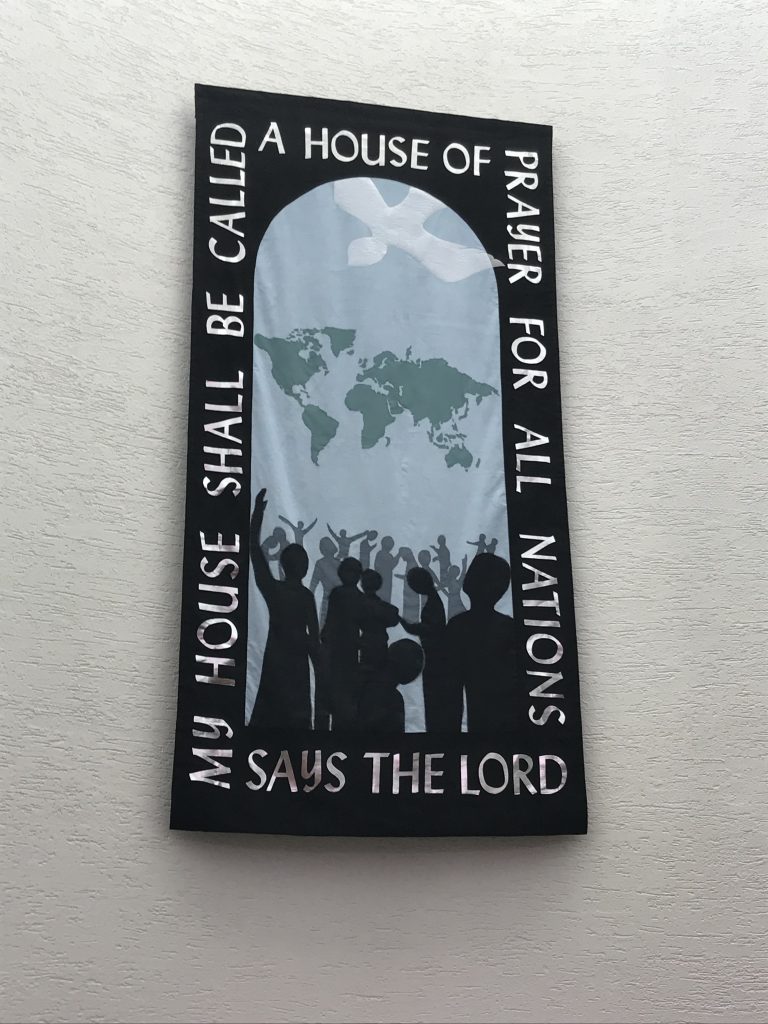 Norma provided a photo which inspired this banner. It is incredibly fitting that it was only finished last week and the first time it was displayed was at her funeral.

Over the past week, she was at the English classes, at her grand-niece's third birthday on Saturday and at High Kirk on Sunday morning. Norma went into Antrim Area Hospital on Monday morning, where she was diagnosed with kidney failure. While she remained semi-conscious, she was promoted to glory at 11am on Tuesday morning.
Norma obviously had lots of struggles over many years and while her death was a very big shock to so many people, it is so reassuring to know that she is now, finally, pain free. Her minister mentioned at the funeral that they had often spoken about how she was ready to go home, given her life of increasing struggle and pain. In the words of the Apostle Paul "I desire to depart to be with Christ which is better by far…" Norma was able to say this, yes because she had a life of such pain, but more so because she had such a love for her Lord.
She had left instructions for her funeral and the first hymn she wanted was the Getty/Townsend song "In Christ Alone" and writes:
"I love this hymn because it expresses what I believe about Jesus Christ. He is the Son of God who came to earth as a man and died on a cross, taking the punishment for my sins. He rose victorious over death and sin. The line "For I am His and He is mine" expresses what has been my experience for most of my life. I became a Christian on 5th August 1971 at Ballycastle CSSM.

The verses John 10: 27-28 were important to me then and they I have proved them to be true throughout my life: "My sheep listen to my voice; I know them, and they follow me. I give them eternal life, and they shall never perish; no one will snatch them out of my hand." Life has not been easy for me, but Christ is my strength. I believe He has been in control of what life has held for me, from birth to death. In His power I stand "Till He returns, or calls me home…" I have no fear in death, because I go to be with the Lord I love and who loves me."
She wanted one of her friends, John Montgomery, to sing 'It is Well with my soul' –
"This song expresses the fact that the most important thing in life is that we are in a right relationship to God. When I became a Christian in 1971, I became a child of God. There have been many sorrows which have buffeted me and made me ask many questions, but I can, by the grace of God, say 'It is well, it is well with my soul'. I know I go to be with my Lord in heaven"
The main thing that has challenged me over recent days is how important it is to try and help people. My mum was regularly adjusting clothes for Norma as she found it difficult to find things that fitted well. Norma has mentioned to my mum that she had always wanted to do the Belfast Bus Tour, which is something that the rest of us would take for granted. Her lack of mobility meant that she couldn't go herself and needed someone to go with. Just two weeks ago, my mum and Norma were able to do the tour together.
Life as a Christian is not easy, and Norma knew that more than most. What struck me most about her funeral on Friday was about how strong her faith was. She had every reason to be annoyed at God for the struggles she lived with, but she simpley wasn't. Norma was a real example of what it meant to live by faith and to do what she could to share that faith with others.
Revelation 21 verse 4 is often read at funerals: "He will wipe ever tear from their eyes. There will be no more death or mourning or crying or pain, for the old order of things has passed away." Last Tuesday morning, for the first time in over 30 years, Norma had her first pain free experience rejoicing with God in heaven.
The closing hymn Norma wanted sang at her funeral was 'Great is thy faithfulness'. Norma wrote
"Through all the years I have followed Christ, God has always been faithful. They way has been hard at times, but God has been with me, giving me the strength I have needed day to day. He does not change, so the God of the Bible is the God I serve now, and He is the God I will spend eternity with."
"Precious in the sight of the Lord is the death of his faithful servants." Psalm 116: 15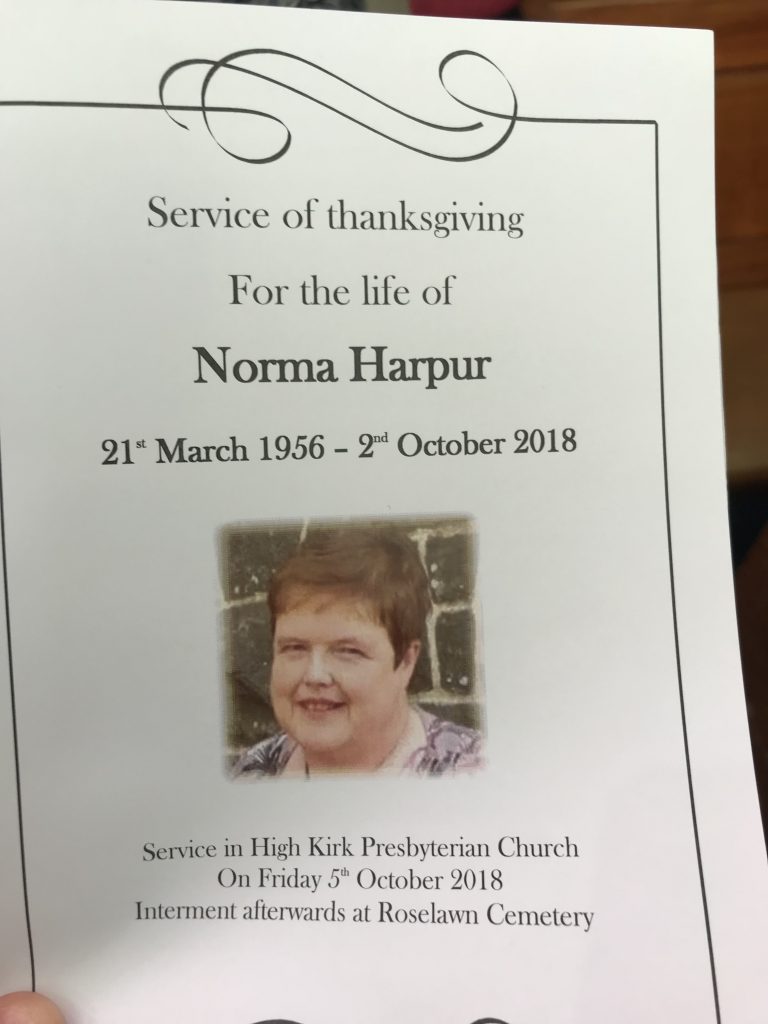 Norma Harpur
21st March 1956 – 2nd October 2018