Everyone has different things they do at Christmas, and that is what makes it unique for each person. My traditions vary from the oldies, such as my Christmas Eve Chinese (don't ask), to my more recent ones, such as seeing 'Ireland in Christmas Praise', performed by New Irish Arts.
If you haven't heard of New Irish Arts before, they were formed in 1994 by the very well known contemporary hymn-writer Keith Getty. They continue to go from strength to strength and now have several hundreds members in both a choir and orchestra and they formed a Youth Choir a few years ago.
All of these very talented musicians, from seven to seventy, come under the baton of the always extravagant and extremely talented Jonathan Rea. Jonathan studied music at Cambridge, winning the coveted Rima Alamuddin prize for performance, before returning to Northern Ireland to teach music. After 10 years as Director of Music at Bangor Grammar School he joined New Irish Arts. Jonathan arranges most of the music himself to add the New Irish twist to a lot of well-known songs, which is always an enjoyable experience.
To say that New Irish are "busy" would be a bit of an understatement. They take part in everything from their own concerts, to collaborating with other groups, to running youth residentials and to special events like leading worship at New Horizon in Coleraine in August.
The highlight of their year is their Christmas event, which continues to grow every year. It started in the Ulster Hall but now, ten years on, they fill the Waterfront Hall on two nights, which is a great achievement. For this year they were in the Waterfront on the 1st and 22nd December, but I opted for the second performance. Or, as Jonathan said last year, it was either as the turkey was still running round the field, or as it was being plucked.
Friday night's concert opened with a carol-esque, a capella performance of "My Lord Has Come", complete with winter coats, scarfs, candles and lovely harmonies.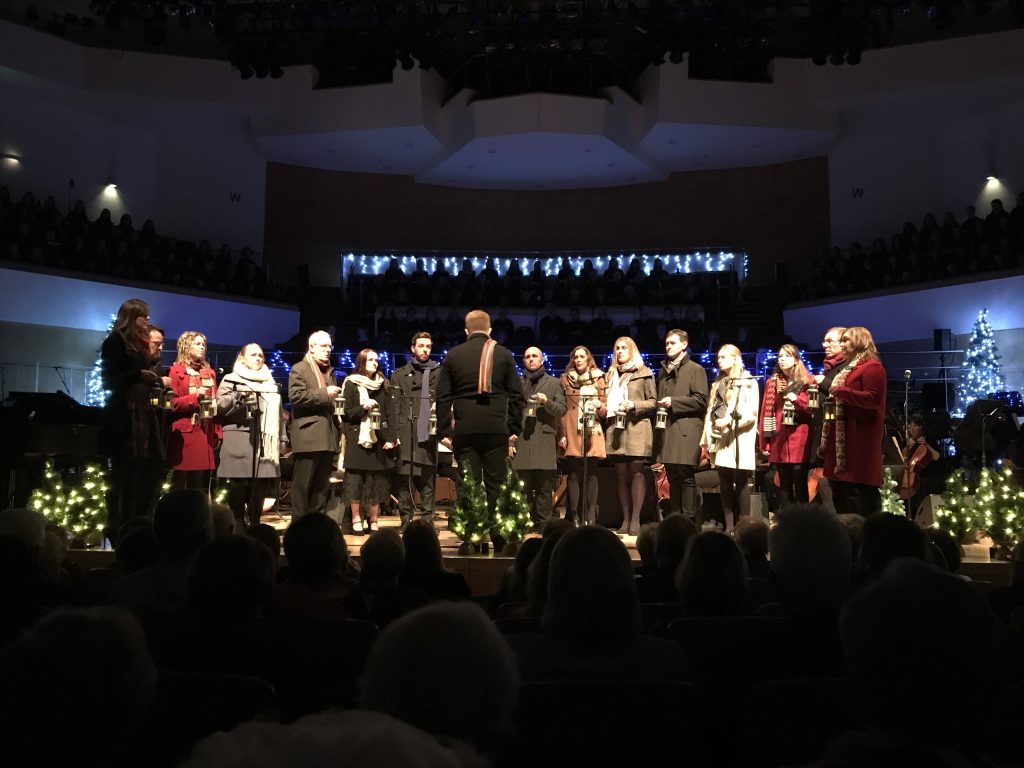 "A Christmas Overture" followed which is a lovely collection of Christmas music before we got our first opportunity for some audience participation as we joined with the choir, orchestra and youth choir for "O Come All Ye Faithful." To hear 2,000 people singing, plus a choir and orchestra, is always an amazing experience.
After we finished, Jonathan commented on the literally three people that clapped afterwards. He said we must all be Presbyterians or Baptists who need to be given permission to clap, and that it was perfectly acceptable to clap yourself.
The next item was a new one for me ("Sing Again the Christmas Story") before we heard from the first guest soloist. Nathan Jess, who first auditioned for New Irish 12 years ago, has grown in popularity around the world as a singer and songwriter. He has toured with Rend Collective, Phil Wickham and Martin Smith and his album 'Pheonix', continues to sell very well.
He sang one of this own ("O What Love That Came") before singing a lovely version of "The First Noel". This was the Phil Wickham version, which I really like and which was performed very well.
Sylvia Burnside is always a New Irish favourite. If you haven't heard of her before, she trained at the Royal Scottish Academy of Music and Drama but now works as a singing teacher for all ages. Unfortunately, she hasn't been well recently and Jonathan told us that she woke up on the morning of the concert with no voice.
For her to be able to sing anything was probably some sort of a minor miracle, but her performance of "Noel" was brilliant and had all around me completely gripped.
A lovely poem from the Northern Irish missionary Amy Carmichael followed before some more audience participation with "Come, Thou Long Expected Jesus". This song was originally written in 1744 by the famous Methodist Charles Wesley, but it has had a new lease of life after being covered by Chris Tomlin a few years ago.
A lovely piece by John Rutter followed, "What Sweeter Music", and although it was written in 1988, it was another new one for me. Any choral music by Rutter is lovely, and this version didn't disappoint.
"I Heard The Bells On Christmas Day" followed, which should have featured Sylvia as the soloist. However, given her recent sickness, the incredibly talented Jamie Williamson sang it in her place. He was apparently a "recent stand in" but it was absolutely not apparent. Jamie is teacher in Lisburn, and has sang with New Irish for a few years and is involved in their annual Youth Choir residential.
It was then time to hear from the next soloist, Graham Kendrick. Graham is one of the best known writers of congregational praise in the UK and has been writing songs for over 30 years.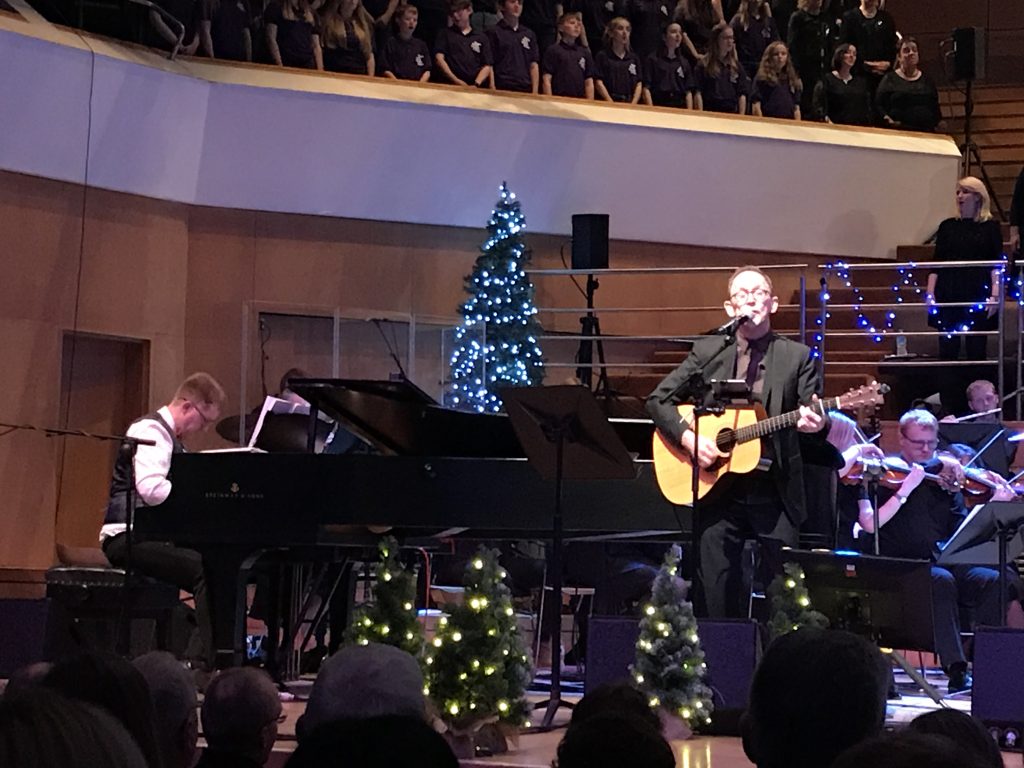 "Thorns In The Straw" lead into one of his more recent Christmas songs, "Adore", complete with some more audience participation. What immediately struck me was that these two pieces were written 21 years apart.
Before the interval, we were joined by two members of the Youth Choir for an amazing performance of "O Holy Night". Theo Rea and Lucas Stanfield did an incredible job singing this and were so composed to be performing in front of 2,000 people. Syliva Burnside usually does a lovely version of this song, however in a few years, I think she'll have some competition. The tremendous applause that followed their performance was not surprising.
The second half started with "A King is Coming to Town", with the annual brass 'rebellion' (as Jonathan called it), complete with Christmas jumpers and hats.
The Youth Choir then sang "Just Another Christmas", which was also brilliant. It would be easy to say that the Youth Choir is good so as not to criticise children, but they really are brilliant. There are around 80 children also under the baton of Jonathan, and they hone their skills throughout the year but also at the choir's residential in the summer. This year, for the first time, New Irish are also running a residential for a junior orchestra.
"Song Of The Angels" followed, which was written by Rosie Elwood. If you haven't heard her name before, that's not that surprising as she is a member of the Youth Choir. She wrote this song, arranged by Jonathan, and combined with the Youth Choir, which was a lovely piece.
Every year at the Christmas concert, New Irish help fundraise for a charity. This year it was the turn of VisPa, who are an education-focused charity working in Kenya. They were founded in 2007 and now support nearly 600 children through their orphanage, nursery and primary and secondary schools. They seek to "nourish each child spiritually, emotionally and physically."
Sylvia, who has been out to Kenya several times, stressed how VisPa invest in the long-term futures of these children, and in 2004 they saw their first pupils achieve the grades needed to get in to university. In the words of the Salvation Army, VisPa is a charity that gives hand ups, not just hand-outs.
At the first concert they raised nearly £6,000 for VisPa and last night raised over £6,000, which obviously means over £12,000 will be going directly to their work in Kenya. VisPa seems to be quite unique as 100% of this donation will be going to support their work in Kenya as there are no administration costs.
Graham and Sylvia then came back for his song "No Need To Fear", which is the title track on Sylvia's new CD. Jonathan said she had been singing this song with New Irish for over 15 years, but this was the first time it was being sung as a duet with the author.
We were then up on our feet again for "Hark! The Herald Angels Sing" before another song that I hadn't heard before, "Son of God" by Michael W Smith.
It was then time for some Christmas reflections by the Methodist minister, and former President of the church, Helen Morris. She urged us to make sure that our Christmas' are not contained.
"Christmas is a reminder that God creator, Saviour, spirit, Lord of all, seen and unseen, will not be contained"
"In The Bleak Midwinter" followed, which is lovely arrangement by Keith Getty before Graham was back with "The Servant King". I remember singing this a lot when I was 4 or 5 and it was a real crowd favourite.
He then sang "The Peace" (yet another new one for me), before what is perhaps his most famous song, "Shine Jesus Shine". This was a real 90's staple for most congregations and proved very popular.
This lead straight into the last item of the evening, which for the past few years has been "Joy To The World". This is an amazing carol and when you add the New Irish twist to it, complete with fairy lights on brass instruments and stands, plus 2,000 other voices, it's a brilliant sound.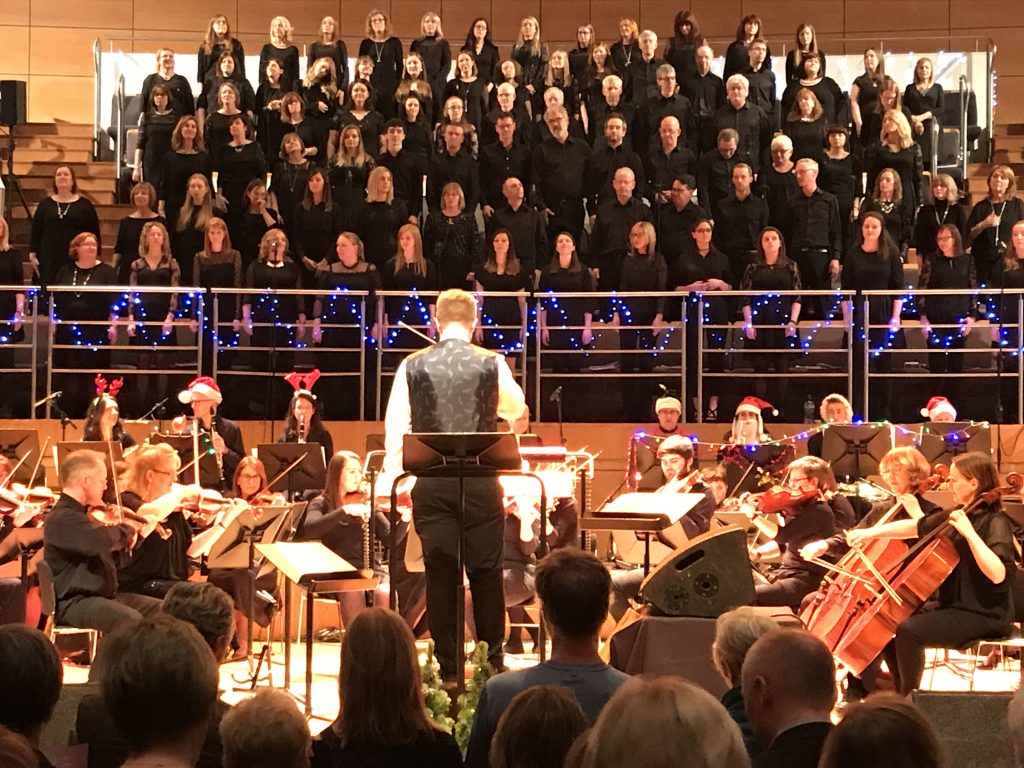 The last verse was sung a capella and the notes seem to hang in the air of the hall. After the soloists had taken their bow, Jonathan returned to play "Slient Night" on the piano. Hearing just one instrument in contrast to the rest of the night was such a contrast and a lovely way to finish off a brilliant night.
There is always a lot of people who need thanked after an event such as this, and there's always too many names to mention individually. However, a few people deserve to be singled out: Jonathan, Events Manager Clara and stage manager Michael have, I'm sure, been busy for weeks (if not longer) preparing for the concerts.
All of the soloists were brilliant, but I want to single out Theo and Lucas in particular. To be so young, they did an absolutely incredibly job, and I have no doubt that we will be hearing a lot more from them in the future.
If this has inspired you to go to a New Irish concert, perhaps for the first time, check out their website and give them a like on their Facebook page.