I first visited Katch 27 in Kircubbin in May with Maria, the niece of our former Spanish neighbours. She was boarding in Victoria College and my parents became her guardians when our neighbours, Pilar and Alejandro, moved back to Spain.
Alejandro and Pilar are over staying with us for a few days and following Maria's positive comments about Katch 27, we decided to take them there for Sunday lunch.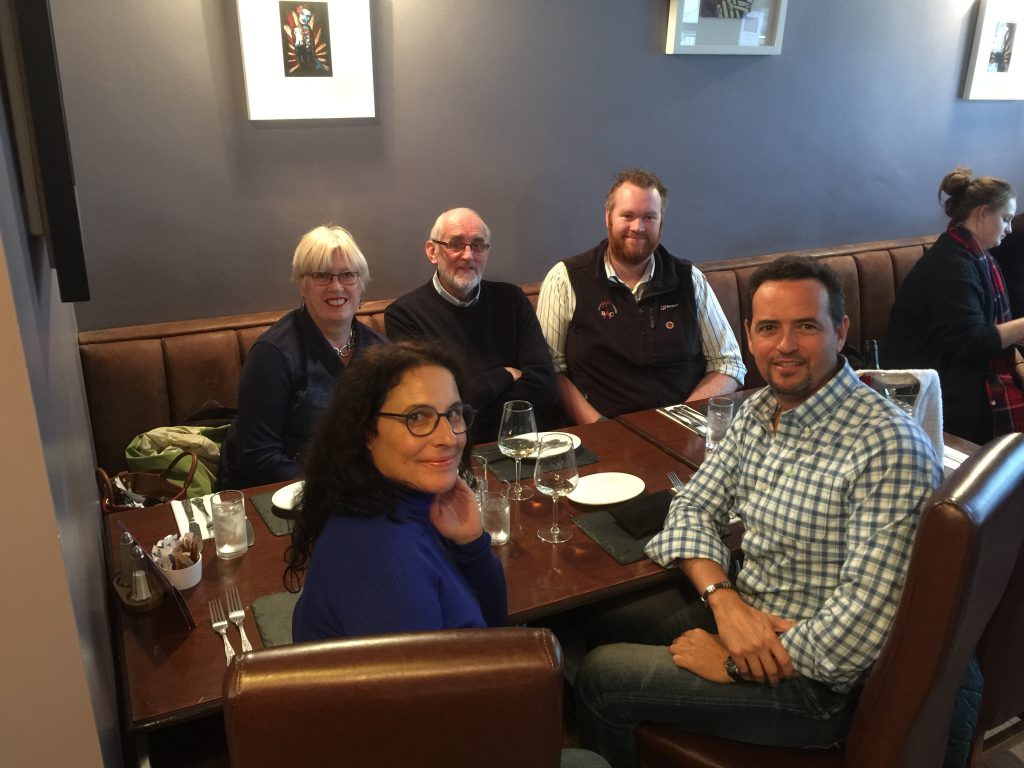 Pilar, Alejandro, mum, dad and me
I mentioned the history of the restaurant in my previous post and nothing appears to have changed since my last visit.
In the same way as last time, the menu and specials again presented problems for me, as there were lots of dishes that I would have loved to have tried.
For started I opted for breaded chicken strips which were served with chef's salad and garlic mayonnaise. The chicken was very well cooked and the dressing on the salad was lovely, as was the dip.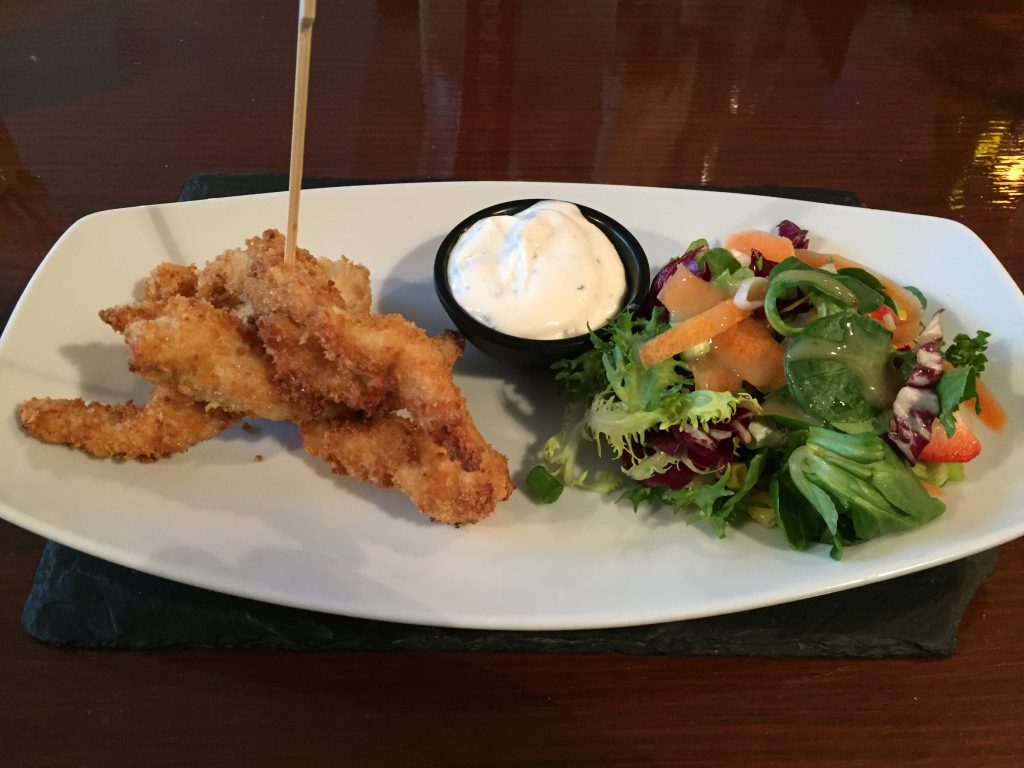 Starter
The rest of them shared starters of seafood cocktail (Portavogie prawns and crayfish with salad and wheaten), Portavogie scallops served with black pudding and potato bread and hake goujons with lobster mayonnaise and salad.
For main course I went for cod and chips, which were served with pea puree and tartar sauce. The batter on the fish was amazing and the homemade tartar sauce was lovely. The addition of some mint to the pea puree was lovely and complimented the rest of the dish very well.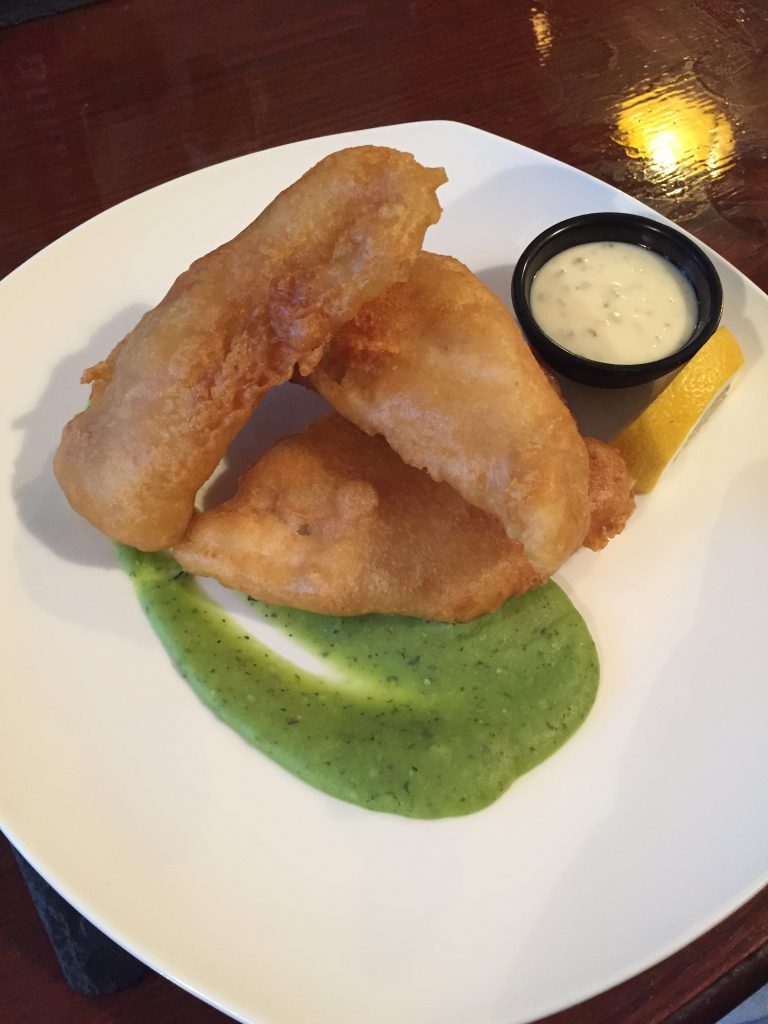 Fish and chips
The others went for sea bass served with Portavogie prawns, lobster with mornay sauce and hake, which came with a tomato and basil sauce and grilled cheddar.
Dessert was always going to be an option so I made sure to leave some room. The first thing that jumped out at me was the Sicilian lemon pie with raspberry sorbet. There must have been a lot of lemon juice in it as it was very tangy, yet lovely. The sorbet was amazing and I wouldn't have minded if that was the only thing on the whole menu.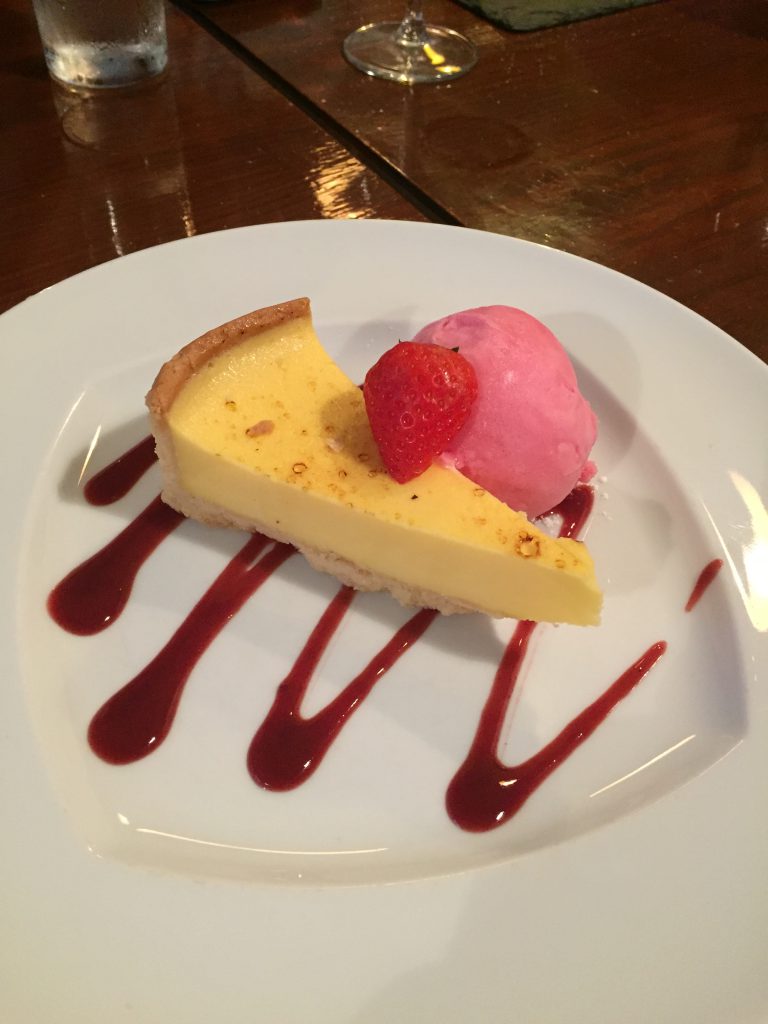 Always time for pudding…
My dad went for the sherry trifle, which was apparently lovely, and Pilar and my mum shared raspberry roulade, which has similarly positive feedback.
I always think that Spanish people know their fish well as they eat so much of it, so it was great to hear that they both enjoyed everything
The service was great and the waiter, Marko, knew the menu very well and was able to answer all of our questions about the dishes, which you don't always get.
We were there during the lull between lunch and dinner but there were a lot of people coming in as we were leaving, and it appeared to have been busy for lunch.
I went to the toilet before I left and was pleasantly surprised by the extensive range of toiletries available and I've never seen so many potions and lotions available anywhere else.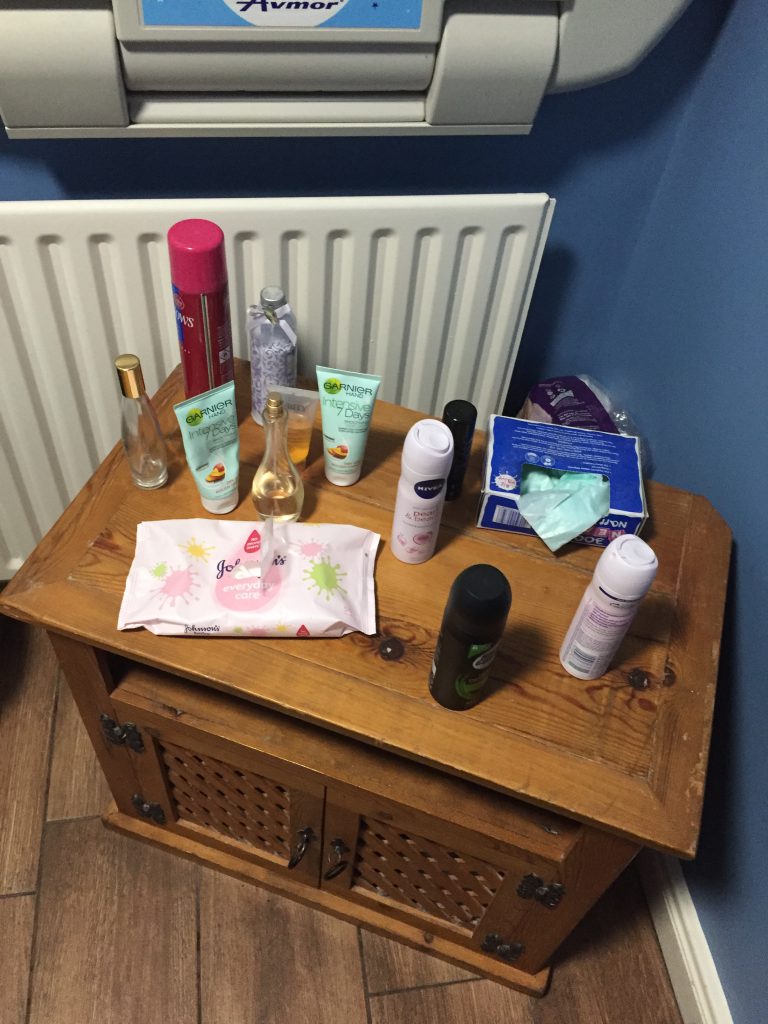 Lots of toiletries
I sent them a message to their Facebook page on Sunday night and they replied within half an hour, despite them being open for dinner on Friday, Saturday and this evening. That is something that you don't often see and most restaurants don't seem to care about their customers after they've paid the bill.
Katch is the sort of place that you might miss driving through Kircubbin, but it's definitely somewhere to stop at.
Practical details
Katch 27
27a Main Street
Kircubbin
BT22 2SR
Tel: (028) 4273 8222
E-mail: leighgamble1969@hotmail.com
Amble parking in The Green which is just beside the restaurant.