I have several Christmas traditions. Some of them are strange, such as having a Chinese for dinner on Christmas Eve, but most of them are perfectly normal, such as always going to get our Christmas tree with my mum. One of my more modern traditions is heading to the Waterfront for Ireland in Christmas Praise, presented by New Irish Arts.
If you have never heard of New Irish Arts, they were founded by the world famous Keith Getty in 1994. As an organisation they exist to "present Christianity, resource the church and support Christians in the arts" and they do this through concerts, workshops and other events.
They formed a Youth Choir a few years ago and have several hundred musicians and singers, all under the direction of the ever extravagant and extremely talented Creative Director, Jonathan Rea.
Jonathan, a Cambridge graduate, spent 10 years as Director of Music at Bangor Grammar School before starting to work with New Irish Arts. Jonathan arranges most of the music himself to add the New Irish twist to a lot of well-known songs, which is always an enjoyable experience.
One of the highlights of their year is their Christmas event, which has gone from strength to strength over recent years and this year included two nights. It used to be in the Ulster Hall before they packed that venue out and it has been in the Waterfront Hall for a few years.
---
Friday night's concert started with a lovely Christmas medley, 'A Christmas Festival', composed by Leroy Anderson. It included two Christmas readings by members of the youth choir and was a great start to the night.
After the first number, Jonathan shared that this was the largest New Irish choir and orchestra ever formed in their 22 year history. He also shared that "God is with us" must be the recurring thoughts for all that we do at Christmas time. Jonathan also said that this wasn't like your normal service and it was ok to clap…and that included yourself.
The first opportunity for some audience participation came with the ever favourite "O Come all Ye Faithful". I say this every year, but the noise of 2,000 voices singing together is always an amazing experience.
Two great pieces from Handel's Messiah followed, 'And The Glory Of The Lord' and 'Glory to God' before the first solo from Sylvia Burnside of 'God Is With Us'. The Handel pieces were very solid and Sylvia's performance could honestly have been taken straight out of a West End musical.
Sylvia has been a member of New Irish for over 15 years and is a singing teacher, with her home studio in Cullybackey . She is always a favourite with New Irish audiences and I always enjoy whatever she sings.
The next soloist was Tom McConnell. Tom is originally from Co Down but now lives in London where he is the worship pastor of his church and tours the UK as a solo artist. He sang one of his own songs, 'A Great and Might Wonder', which was lovely.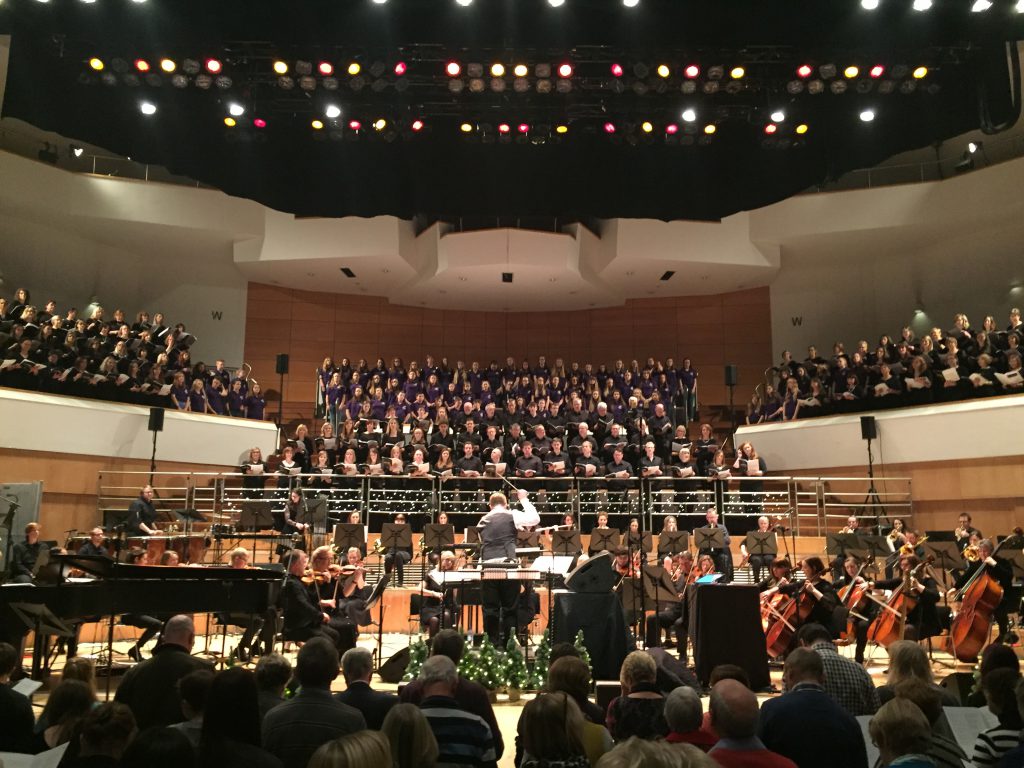 The audience were back into it with 'See Amid The Winter's Snow", which is another of my favourites. The applause at the end was somewhat muted before Jonathan shared that, for some reason, audiences are always reluctant to clap themselves after that carol.
The next soloist was Cathy Burton from Chichester. She just about made her flight on Thursday morning after sleeping in, but her singing of "Breath of Heaven" was lovely. She was struggling with her voice so left out her second song but I will definitely be listening to more of her work.
At every Christmas event, New Irish support a Christian charity and this year they were raising money for MAF (Mission Aviation Fellowship). MAF carry out over 4,000 medical flights per year across the world and help other charities reach areas which otherwise would be practically inaccessible. Most people in Northern Ireland will have heard of the missionary Maud Kells who was shot in the Democratic Republic of Congo in January 2015. Without the life saving medevac from MAF, she may not have survived.
Their goal was to raise £6,000, which will pay for 100 of these medevac flights. Jonathan commented that the work that MAF pilots do is fantastic in aeroplanes that are basically a "Vauxhall Corsa with wings"
Their goal was to raise £6,000 which will pay for 100 of these medevac flights. Jonathan commented that the work that MAF pilots do is fantastic in aeroplanes that are basically a "Vauxhall Corsa with wings"
The guest soloist this year was the fantastic Paul Baloche, author of songs such as "Open The Eyes of My Heart", "Hosanna" and "Your Name". Paul has two Christmas albums and most of the tracks include well know 'oldies' with Christmas lyrics to his own songs. He sang an absolutely lovely version of "For Unto Us a Child is Born", written my Handel into "Your Name".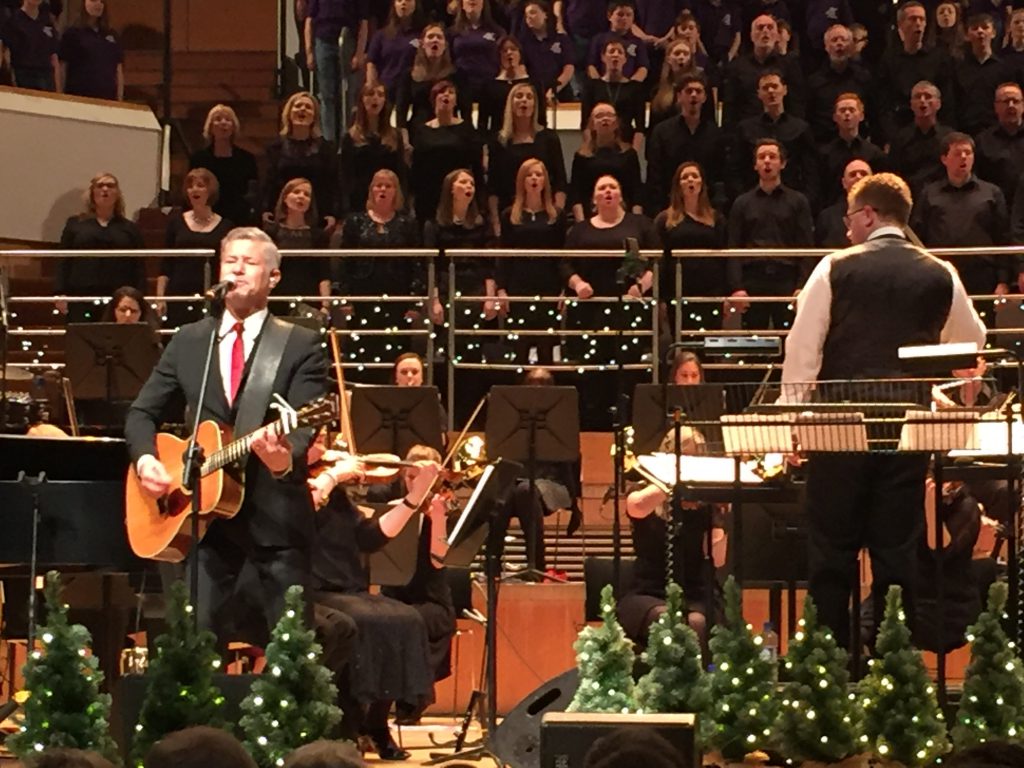 The second half started with the Christmas hit "It's The Most Wonderful Time of the Year". Jonathan shared afterwards that Christmas is wonderful but not because of the reasons mentioned in that song. Christmas is wonderful because God is with us.
"Hard the Herald" followed with some more audience singing before Tom returned with his own version of "Angles We Have Heard on High".
It was then the turn of the youth choir with "When I See The King".
It would be very easy to say that the youth choir were good just because they are young and it wouldn't be seen to be nice to criticise them, but this choir really are something special.
Cathy then returned with a lovely version of "In The Bleak Midwinter". The first verse was just her playing guitar with a cello and double bass accompaniment which sounded great.
Stephen Cave (Executive Director of Biblica Europe) then shared some of his thoughts about Christmas. He said that God was so good at using outsiders, and in particular Mary and Joseph, to share Good News to others. He then challenged our churches as to how good we are at using outsiders.
Sylvia then sang a song that I had never heard before, "God Help The Outcasts". It tied in with what Stephen said and really made me think of the on-going issues around the world and in particular Syria, Iraq and the current migrant crisis.
Paul and Cathy then sang Paul's song "Offering" with some more absolutely fantastic harmonies and then lead into a mix of "Angels From The Realms of Glory" and "Emmanuel", which are taken from Paul's song "Hosanna".
An impromptu interview followed with Jonathan asking Paul what he wants to do when he is leading others in worship and with his song writing. Paul said that a lot of time, especially around Christmas, we need to change some of the words of songs so that we are singing to God, and not just about God.
Paul's next item was his relatively new song "This is Love" tied with the 1744 hymn "Come Thou Long Expectant Jesus". This involved Paul's band and Sylvia singing as well. There aren't that many people who can say that they've been on the same stage as Paul Baloche but even less can say that they have sang with him.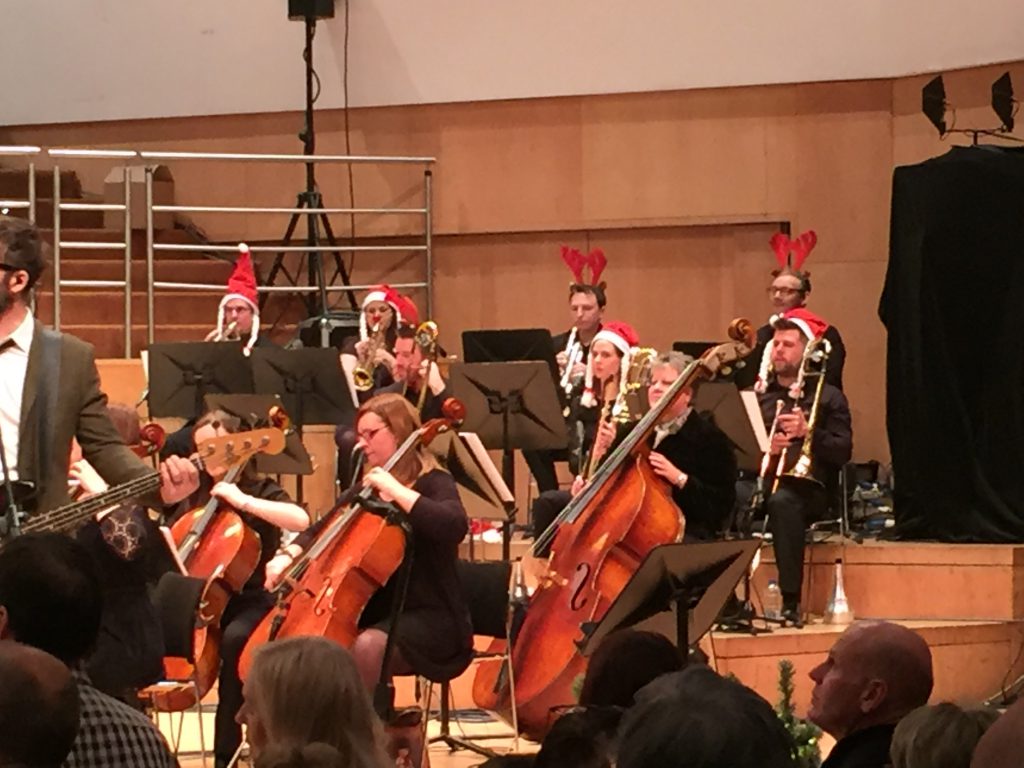 In usual New Irish fashion, the last song in the programme is never the last, which is never a bad thing. As soon as the music of "O Holy Night" started I joined a lot of people around me in closing my eyes and enjoying the moment. I absolutely love the New Irish version of this song and the chills I experienced during this song were amazing.
"In The Name Of The Father" closed another great New Irish concert but not before Jonathan shared these great words with us:
"This Christmas, may you find security in knowing that God is with us. May you celebrate the Prince of Peace in the warm company of your family and friends, May you know the joy of giving as you help the needy and the outcasts And may the songs of your heart always give glory to King Jesus, who is God with us."
As people started to leave, Jonathan headed over to the piano and started what appeared to be an unscripted singing of "Away In A Manger". The relative silence of the audience and choir singing that was very special.
There is a lot of people who would need thanked (and it would take too long to name them individually) but I think it is fair to single out Jonathan, Events Manager Clara, Admin Assistant Laura and stage manager Michael for all of their hard work to make the concert so enjoyable.
If you have never experienced a New Irish concert before, check out their website for their upcoming performances. Next Christmas they will be back in the Waterfront on the 1st and 22nd December, and no, that isn't a misprint. So in the words of Jonathan Rea, you can either experience them early or as the turkey is being plucked.
If you don't want to wait twelve months, they are back in the Waterfront for part of OM's (Operation Mobilisation) 60th anniversary concert in September so keep checking the Waterfront's Box Office for more details.