I've written twice about Katch 27 in Kircubbin here and here, but I feel it is worthy of another mention following my (long overdue) visit last weekend.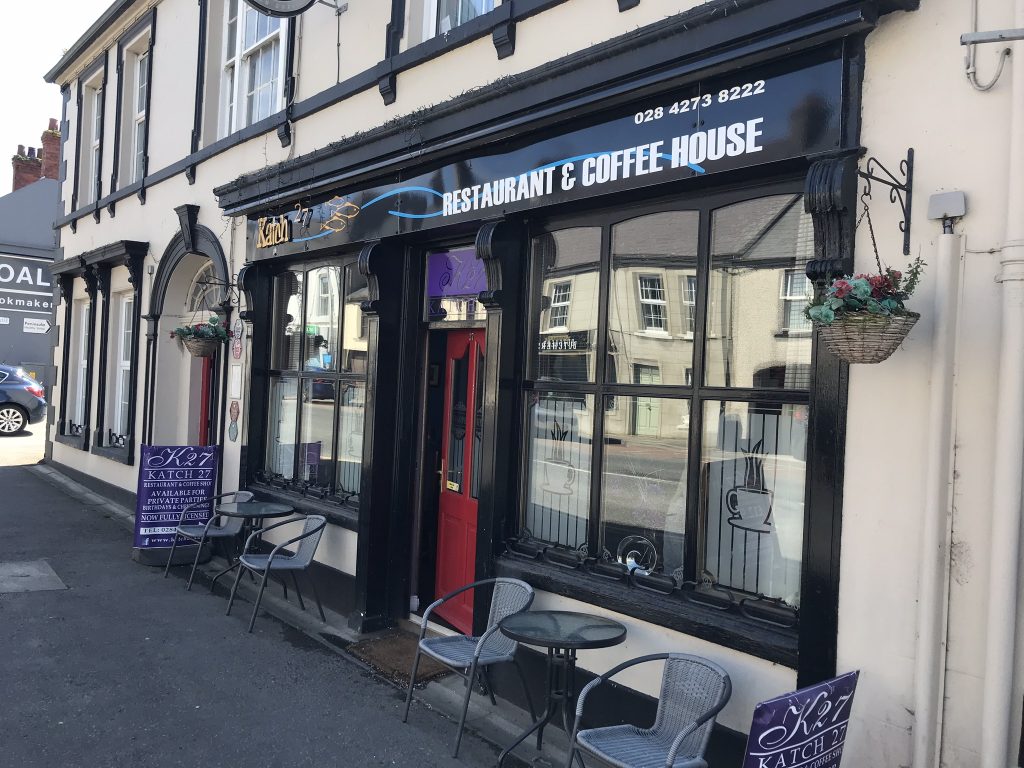 I saw a photo that they uploaded last week with the simple caption of "Dad and Geordie enjoying the chowder". One of the people in the photo looked familiar and after a few messages to their Facebook page, I found out that the man in the photo was my old music teacher for a few years while I was part of the Belfast School of Music.
The photo seemed to kick-start something in my brain and I realised that I hadn't been to Katch in well over a year. As my girlfriend and I were heading to The Somme Centre on Saturday, we decided to head here for lunch beforehand.
I knew they had recently been shortlisted as part of The Food Awards Northern Ireland 2018 for the best restaurant in County Down and had won the title of Best [UK] Seafood Restaurant of the Year from M&A Today.
For a bit of background, Katch 27 was opened by Head Chef David Cardwell and his partner Leigh Gamble (who is the daughter of my former music tutor) and cooks up breakfasts and lunches daily and dinner on Friday and Saturday evenings.
David was head chef in the nearby Quays restaurant for 9 years (which won AA Seafood Restaurant of the Year 2006) before he set out on his own.
Seafood is obviously a speciality in Katch 27 and everything on the menu is locally sourced. The Friday and Saturday menu changes regularly depending on what is landed at the harbour but hake, monkfish, Strangford mussels, Portavogie prawns and lobster are regular favourites.
In the same way as my last two visits, I spent a long time trying to decide what to have for my lunch. I was torn between several of their seafood options before I decided on the Caesar salad with a side of sweet potato fries, as I find myself always doing when they are on the menu. Laura went for the duck and soy sauce wrap with chips.
The first thing that struck me when the salad arrived was the sheer amount of work that went into the presentation of the dish.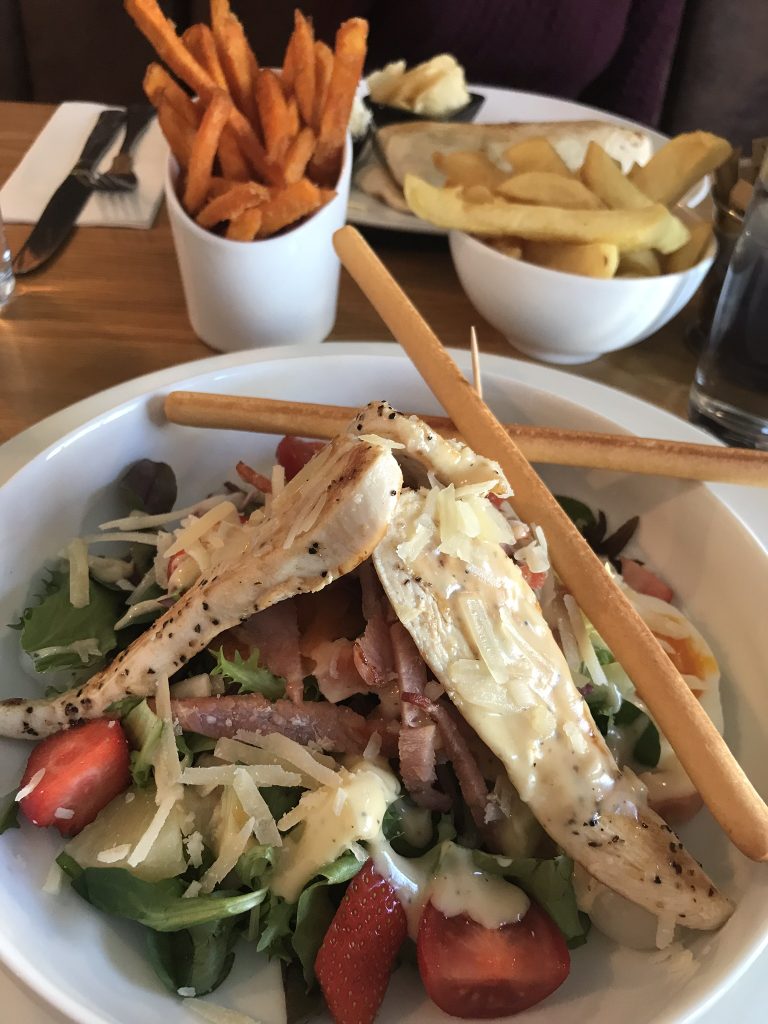 Always need sweet potato fries…
I've never had strawberries in a salad before, but they were a really nice addition to the salad. The chicken was really moist and tender and the bacon and boiled egg were really nice additions to the salad.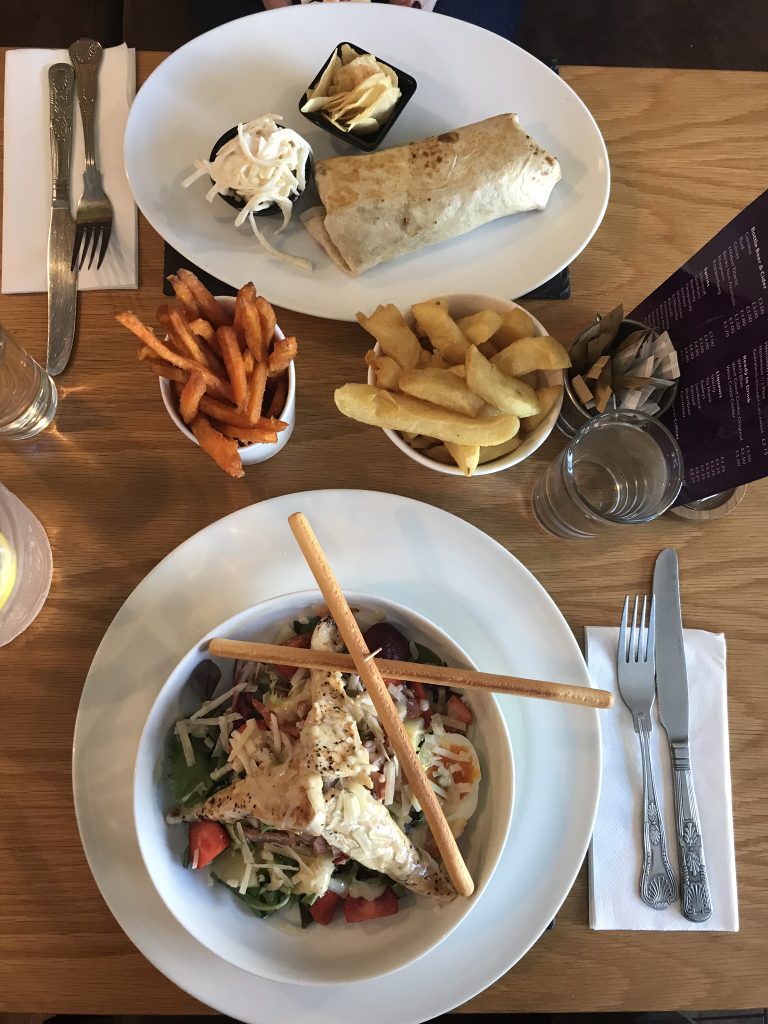 The view from above
The service was great and the waiter, Marko, was very attentive and made sure we had everything that we needed. My only gripe about the salad was that I had no room for dessert as I had very good memories of their pavlova…until next time, which will be sooner that it was the last time.
One thing I have mentioned before was the toilets have a good range of toiletries available, which is a really lovely touch.
Katch is the sort of place that you might miss driving through Kircubbin, but it's definitely somewhere to stop at… if you like fish, or even if you don't, you really need to check them out.
Practical details
Katch 27
27a Main Street
Kircubbin
BT22 2SR
Tel: (028) 4273 8222
E-mail: leighgamble1969@hotmail.com
Ample parking in The Green which is just beside the restaurant.