If you have been a follower of this blog for a while, you will have worked out that I am a big fan of New Irish Arts. Indeed it has gotten to the stage where members of the group refer to me as some sort of "groupie" and I think some start and get a bit nervous when I don't show up to things.
It's because of my (strange??) fascination with all things New Irish that I ended up in the Waterfront Hall last Saturday night for the 60th anniversary concert of Operation Mobilisation (OM).
If you have never heard of this organisation before, it was founded in 1957 by George Verwer, Dale Rhoton and Walter Borchard. They started their mission by driving from the United States to Mexico (in a beaten-up truck) to distribute Bibles. Three years later, they had turned their eyes to Europe.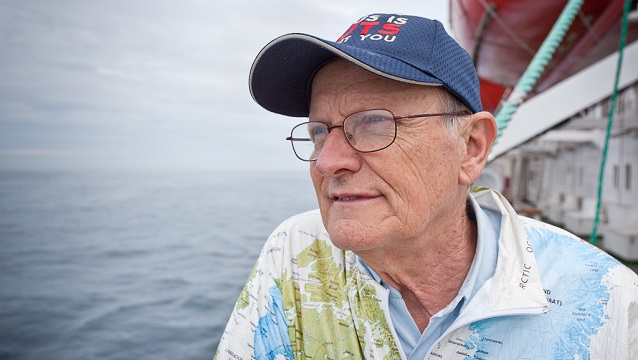 George Verwer in his famous "world" jacket
In 1962, OM's first summer teams headed from the USA to the UK, Spain, Amsterdam, Germany and several other countries. Just one year later, they had sent 2,000 volunteers to Europe and started teams to India and the Middle East.
They bought their first ship, the MV Logos in 1970 and added to their fleet with the MV Doulos, MV Logos II and MV Logos Hope (the only ship still being used). This ministry is perhaps what they are best known for, and I have been fortunate enough to have been on the Logos II and Logos Hope on several occasions when they were in different ports around the UK.
OM continue to travel the world offering practical help to some of the poorest communities in the world as well as offering over 5,000 different books for sale at a vastly reduced cost. Since 1970, OM ships have visited 480 different ports in 151 countries and have welcomed over 45 million visitors onboard and they have shared the Gospel with over 1 billion people.
However…back to the concert…
Jonathan Rea, Creative Director of New Irish, is an incredibly gifted conductor and orchestrator and as a result, anything that the New Irish choir and orchestra turn their hands to is always great.
The programme featured a variety of numbers with Sylvia Burnside taking the opening solo before we welcomed our first guest of the evening. Nathan Jess is rapidly becoming a well-known singer/songwriter and has toured the world supporting Rend Collective, Phil Wickham, Martin Smith and several others. He has also written some songs from his new album ("Pheonix) with Matt Redman and I would highly recommend his new album.
Next we heard from the founder of OM himself, George Verwer. I first heard him speak a few years ago and his passion for the work of OM is unbounded. He is now nearly 80 but he was so energetic and passionate on the stage that he could easily pass for a 60 year old.
He said that his neighbour first put him on her "Holy Ghost hit list" when he was a teenager and he became a Christian, at the age of 16, while at a Billy Graham event.
George led Operation Mobilisation for over 40 years before he stepped down in 2003. However, he still takes an active interest in the work of OM and continues to travel the world to speak at conferences and events such as this. He is such an inspiration to so many people and his passion to see the Gospel spread is very challenging.
The first half was finished with three pieces by Belfast singer/songwriter Robin Mark. Robin has been a worship leader in Christian Fellowship Church in Belfast for over 25 years and had written some of the most well-known worship songs in the UK.
Some songs from Sylvia's latest CD (available here) followed after the interval before we heard from Robert-Jan Sterk and then Matthew Skirton. Robert-Jan has worked for OM for several years in Holland and is now the Director of OM's new Riverboat project which will visit several ports in The Netherlands, Germany and France over the first three months of next year. This is a very exciting project for OM and their desire to charter a riverboat to carry out this ministry is brilliant.
Like a lot of missionaries, Matt joined OM on a short-term mission trip in 1994 and has been on the staff of OM ever since. Matthew is now Director of OM in the UK after having worked for OM in Moldova for 21 years. Matthew shared from Psalm 67 about how Christians are compelled to share the Gospel with all nations and with all people.
I unfortunately had to leave very quickly afterwards for another night around the Lagan with the Community Rescue Service  but it would have been amazing to have spoken to George afterwards.
There are some photos on the OM Northern Ireland Facebook page of what was a really great evening. Lots of thanks go to William Mateer, the Area Partner Development Manager for OM in Northern Ireland, for all of the work that it took to put on the evening. As he said, what was 2 years in the planning was 2 hours in the doing.
I have always supported what OM does, both in the UK and around the world, but there was something special about Saturday night's event (it might have been seeing all those people who had served on OM ships standing up to be recognised) which had spurred me on.
We all might not feel called to head off on a ship for a few months, but there are lots of ways to get involved with OM but locally and nationally. You can find out lots more about volunteering opportunities here and there is lots more details on OM generally here.