On Friday night I headed to The Dock Café as part of a group from my church church.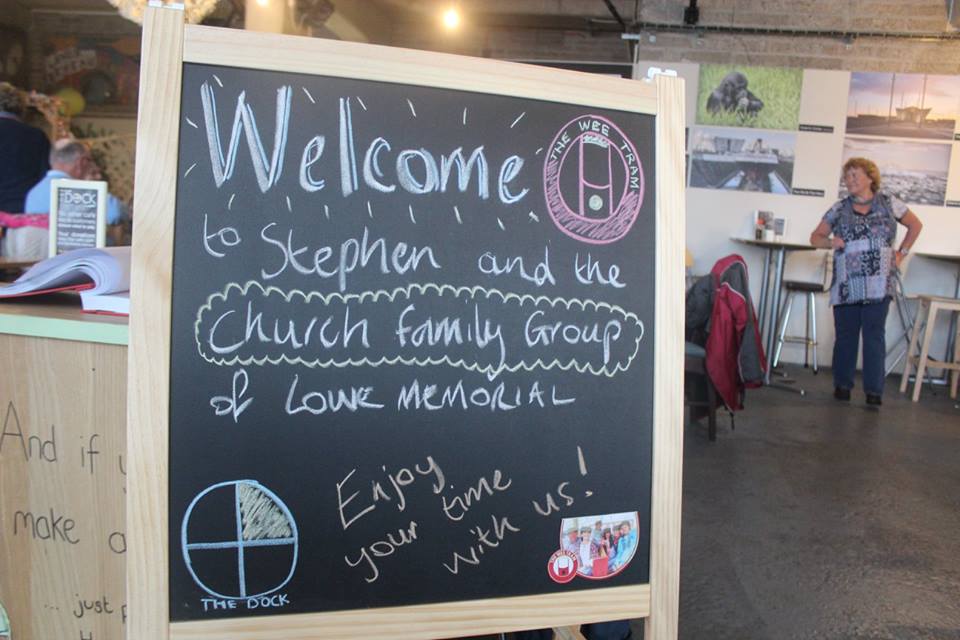 At the outset, I will hold my hands up and say that despite the fact that The Dock Café has been opened for over four years and the fact that I live just 15 minutes away from it, it was my first time inside.
If you have never heard of The Dock, it all began in 2009 when Rev Chris Bennett was appointed as the first Chaplain to the Titanic Quarter. The post came about due to the major redevelopment of the area which included several businesses, the new Belfast Met college campus and the construction of around 1,000 apartments.
As we all know, Belfast is (in)famous for separating people into different 'sides' and the Titanic Quarter development was designed to be the opposite of that. The Dock Café sought to be a place where people from whatever background from whatever faith background, or none, could come together and get to know their neighbours.
The journey of the Dock Café began with a miniscule budget which meant Chris and his team could only afford to buy 10 deckchairs and a kettle. On Saturday mornings and Sunday afternoons they facilitated neighbours coming to meet each other and to share a cuppa.
After a while the developers (Titanic Quarter Limited) started to show an interest in what the Dock volunteers were doing. Before they even laid a brick, they developed a strapline for the redevelopment – "Where once we built ships… today we build community'.  This became a reality when they offered Chris an empty shop unit on a 'meanwhile lease' which meant that the developers could ask for the premises back, whenever they wanted.
So 100 years after the sinking of the Titanic, Chris and the rest of the volunteers began the titanic quest of turning a concrete shell of a building with no electricity, no water and no furniture into something which vaguely resembled a coffee shop.
The Dock Café opened in March 2012 with just those deckchairs and that kettle but as the months went on they started to get donations of armchairs, tables, mugs, art, games and lots of other quirky things which really makes the Dock feel like home.
What is fantastic about the Dock is that their volunteers are representative of those they are serving – there are young professionals who live in the upstairs apartments to students at the college across the road – and they are passionate to make this new community their home.
What is special about the Dock is that there is absolutely no price tag attached to anything – you simply pay what you think your coffee or whatever was worth. This idea was featured in the media across Northern Ireland and further afield and people didn't think it would work… in reality it's one of the best ideas the team have had. The honesty box means that those who can afford to pay a little more are able to do so and that those who can't just give what they can.
The Dock display some of their statistics on the wall and it's an amazing read. Each month they serve nearly 3,000 bowls of soup, over 1000 cookies, 2,500 cups of tea, 5000+ mugs of coffee and over 1500 scones.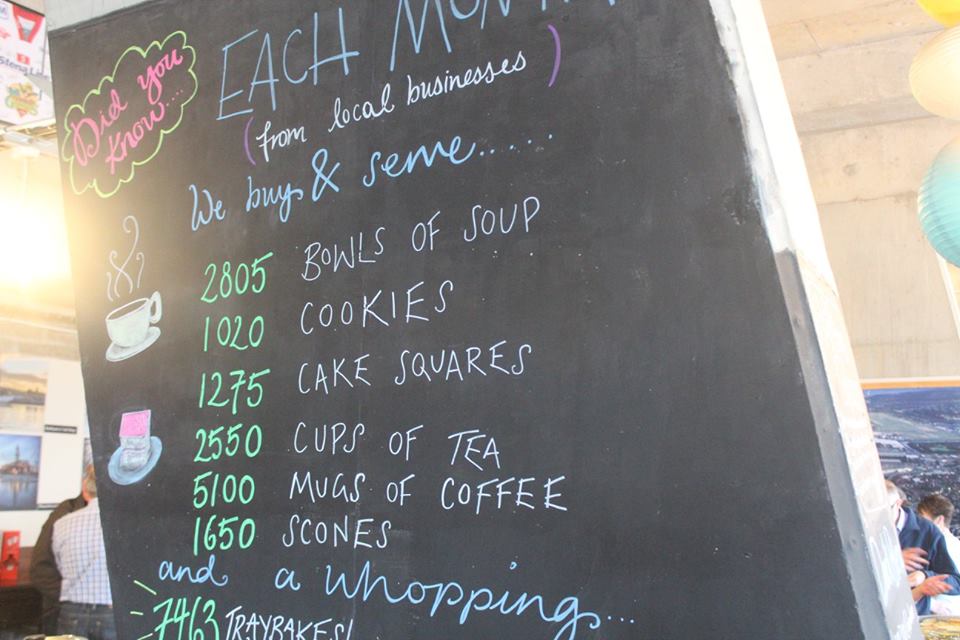 A few years ago Chris and The Dock team took the opportunity for another 'meanwhile lease' for another empty shop unit and set up The Dock Market. This is a great place for local ice-cream makers, knitters, photographers, artists and craft people to display and sell their creations and is going from strength to strength.
Anyway back to my night out – we headed to The Dock for dinner and I didn't have overly high expectations as to what to expect. I could not have been more wrong. We were greeted with homemade lasagne with garlic bread, chicken and broccoli pasta bake and chicken curry and rice and lots of salad. I opted for the pasta bake (and possible some lasagne) and it was really tasty. What followed afterwards was fantastic (Belfast brewed) coffee from Bailies or tea from Suki and lovely tray bakes made by French Village Bakery
After dinner it was outside for a trip on The Wee Tram. As the name suggests, it is a smaller version of the trams which used to run though the Titanic Quarter in years gone by. A standard journey on the tram takes around an hour and during the day it operates a hop on, hop off service but the main stop is just outside Titanic Belfast.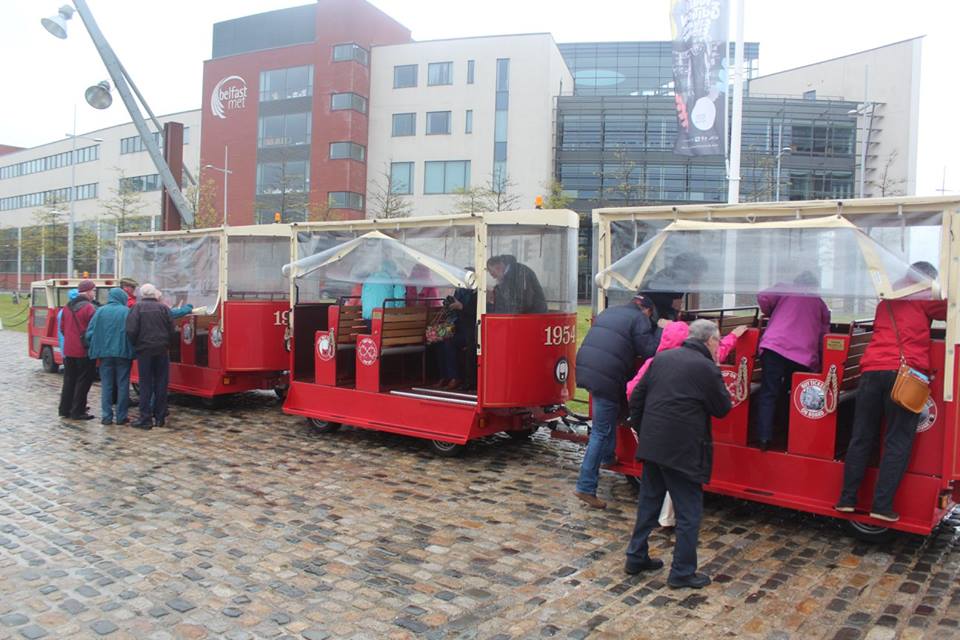 Our journey started by passing the place where Titanic was constructed before heading around to HMS Caroline, the Titanic Film Studios, going practically underneath Samson and Goliath before finishing by passing T13 and the Harland and Wolff drawing offices.
I have lived in Belfast my whole life but the Titanic Quarter is one place where I haven't spent that much time and ashamedly I've never even made it to Titanic Belfast. However, standing overlooking the Thompson dry dock where Titanic was fitted out was an amazing experience. I obviously knew that the Titanic was the largest ship of her day but the dry dock really gives you an idea of the sheer scale of the ship.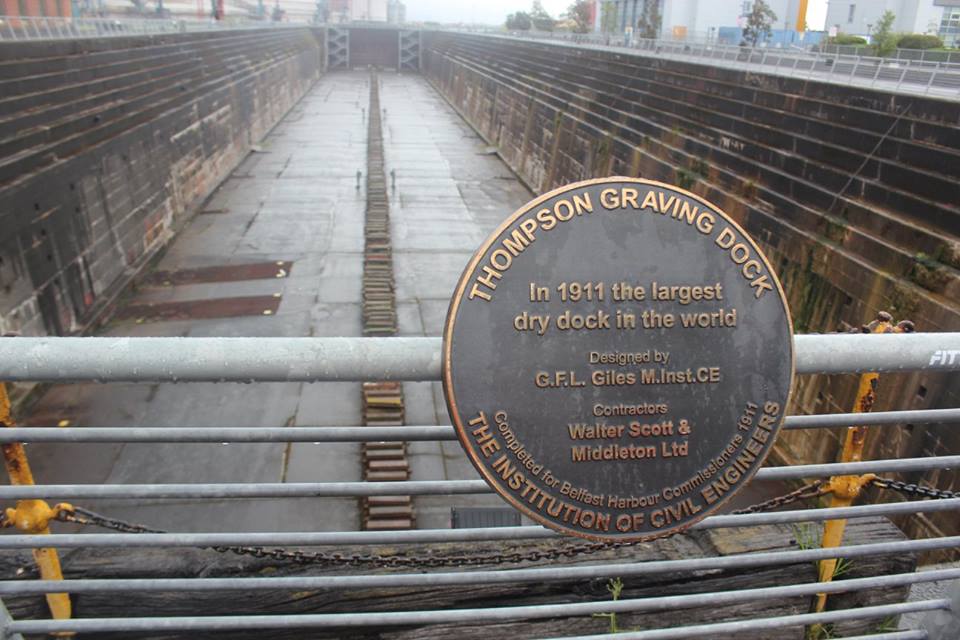 HMS Caroline is due to open to the public in June following her restoration as she plays her part in the 100th anniversary commemorations for the Battle of Jutland. Caroline is the only surviving ship from that battle so to have her moored in Belfast is a real privilege.
The Titanic Quarter is definitely a place that I will be making a conscious effort to explore in the coming months.
You can check out the rest of the photos from the evening here.
Practical information – The Dock Café
2K Queen's Road (near the SS Nomadic)
Belfast
BT3 9DT
Opening hours: Monday to Saturday: 11am – 5pm
The Dock website
The Dock Facebook
The Dock Café Facebook
The Dock Market Facebook
Practical information – The Wee Tram
Ticket pricing and online booking here
The Wee Tram website
The Wee Tram Facebook