West Side Story
Friday 21st August took me to The Mac in Belfast. It was my third time in the venue and my second time seeing a  performance, after seeing Les Miserable on the same stage in 2013.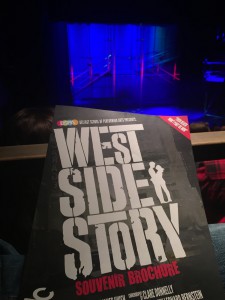 It was a bit of a last minute decision to go and see West Side Story and as a result I was obviously limited in my seat selection. However, I ended up in exactly the same seat that I was in for Les Mis, which was in row 'L'. If you ever go to a show in The Mac, I would seriously consider a seat in L 15-17, if you can. The seats are normal chairs, which means you can move them around a bit and for someone who is tall, that means you get loads of legroom.
Before the performance started I was reading through the programme but was a bit disappointed that it did not include a clear running order of the musical items. However, the programme contained a lot of information about the cast and crew as well as lots of information about the background to the original author, composer and lyricist, which was good and passed the time before the 'curtain' lifted.
As I was flicking through the pages, the people who were sitting beside me arrived. They turned out to be German tourists who always try and make a point of attending a theatre in every city that they visit and they have the (what I think is rather ambitious) wish to visit a theater and see a show in every capital city in Europe. So far they are up to over 20 in just over 3 years.
For those who don't know, West Side Story is set in the Upper West Side (hence the name) of New York in the late 1950's. It is a love story between two people who would not traditionally be suited and could be described as a "modern" take on Romeo and Juliet. On one side we have The Jets, led by Riff, who are the Caucasian gang who are fierce rivals with The Sharks, lead by Maria's brother Bernardo, who are from Puerto Rico.
The performance started slightly late but it appeared to be a virtually full house with less than a dozen empty seats. I was very impressed at the wide range of the ages of the audience from people who were obviously seeing friends perform up to doting parents and grandparents.
The first thing that struck me was that for such a young cast both the American and Puerto Rican accents were very good with only the odd word slipping back into the Northern Irish vernacular. Another impressive fact was the level of diction during the musical numbers, particularly from Tony, Bernardo, Anita and Maria.
Tony and Maria's vocal range was also very impressive and it never appeared that they were struggling with the lyrics (which can be fairly complex in places) or with the vocal range of the songs.
One of the older cast, Ben Smith, playing Glad Hand was brilliant as the 'nerd' who tries to organise the rival gangs at the dance and got a great reception from the audience.
The balcony scene that followed was very 'Romeo and Juliet' like with some ad-libbing from Tony and Maria, which showed a lot of confidence from such young performers.
One thing that also struck me from Act 1 was that while the set was quite simple with just some scaffolding at the rear and side of the stage with minimal props, it was very effective and goes to show that you don't need to have massively integrate background to help set the scene.
Two (very) small negatives from the first half were that the police siren at the end of act one went on too long and was beginning to drown out some of the dialogue. Another minor point was that the combination of cast singing and orchestra playing was very loud in places. I know that phone apps are not the most accurate things in the world, but my phone showed 99dB at one stage and I noticed a lot of the more elderly audience looking uncomfortable at the sound level.
However, the penultimate song of Act 1 ("Tonight Quintet") in itself far outweighed any of the negatives and further demonstrated the vocal talents of the cast with some of the harmonies sounding fantastic. Act 1 finished just after 9pm, so a total running time of around 90 minutes for the first half.
Over the interval I took the opportunity to firstly cool down (the auditorium was exceptionally warm) and to secondly explore some of the artwork on display in the foyer areas. As there was no mention in the programme of how long the interval was, there was about 10 people who were back in late for the second half.
But Act 2 started after about a 20 minute interval with a very good rendition of one of the most well known songs, "I Feel Pretty". Again this item showed the talents of the cast singing in an accent with some more great ad-libbing in both words and actions.
While I have seen West Side Story before, the song "Gee, Officer Krupke" was one that I didn't immediately recognise but was one of the songs that had the rest of the audience, including myself, actually laughing out loud.
The final scene was actually very moving and I got a real sense of what it would have been like to have lived in New York in the late 1950's and to have been in the middle of gang fights, in this case between the Americans and Puerto Ricans.
It was hardly a surprise for the audience to give the cast a standing ovation at the end, which was thoroughly deserved. If I had seen this production in London I would have been impressed, but I had to keep on reminding myself that the majority of the cast were aged between 15 and 21. For young aspiring actors and actresses, to be able to perform 5 shows in 4 days to such a high standard is incredibly impressive.
Of course the cast of around 60 are under the excellent guidance of director (and founder of BSPA) James Huish along with musical director Wilson Shiels and choreographer Clare Donnelly, but there is little doubt that the cast have put an incredible amount of work into the show. The dance routine of "America" was completely memorising and I struggled to keep up with all that was going on so I have no idea how the cast managed it so well.
While I don't like singling any member of a cast (both on stage and behind the scenes) out, there are some people that I definitely need to talk about.
Emma Martin played a fantastic Maria. If you hadn't of purchased a programme and someone told that that she was only 16, you would definitely not have believed them. Her vocal performance was fantastic and her natural chemistry with Matthew (Tony) was really a joy to watch. Look out for her name appearing in lots more productions in the future.
Matthew Quinn was a natural Tony. Again his vocal performance was faultless and the small touches added to particularly the balcony scene were fantastic. He has just left St Malachy's College and is going to read music at Manchester and I again have no doubt that he will be on the stage for many years to come.
Anita was played by another recent school leaver, Naomi Smyth. The emotion she showed after her lover, Bernardo, was shot was fantastic and she had the audience captivated on several occasions.
Bernardo, played my Matthew McConnell, brought some real passion to proceedings and it is no surprise that he is currently studying drama and theatre at the University of Birmingham. I first met Matt in 2012 in a completely different context (we were doing a week long kids club together) and you constantly heard him singing lines from Les Mis, which was the BSPA show in 2012. Again he is another young actor and I have no doubt that we will be seeing a lot more off in the future.
Three others to mention were Sarah McFarlane (Anybodys), Ciaran McCormack (Action) and Ellen Mawhinney (Teresita and soloist in "Somewhere"). Their performances were again fantastic and while sometimes the supporting cast of a production can be overlooked, these three are also ones to watch out for.
A final mention goes to one of the adult cast, Billy Rea who played Doc. The character of Doc owns a drugstore, where Tony works, and where The Jets and The Sharks meet to organise their fight. You got a real sense of the frustration that the character would have faced when he saw young people who were intent on fighting and his outbursts to try and calm the boys down were incredibly moving.