My final post about my cruise holiday includes a visit to Cannes, a behind-the-scenes tour of the ship, Palma and home. You can read the first, second and third posts by clicking on the links.
---
Day 8
Our penultimate stop took us to France and the city of Cannes. We had been here while on holiday to Nice in 2006 so just took the local bus to the village of Antibes, just a few miles around the coast.
We started off at the local market with my mum forgetting we were in France and thanking people in Spanish, but that was an easy mistake to make having visiting three different countries in under a week.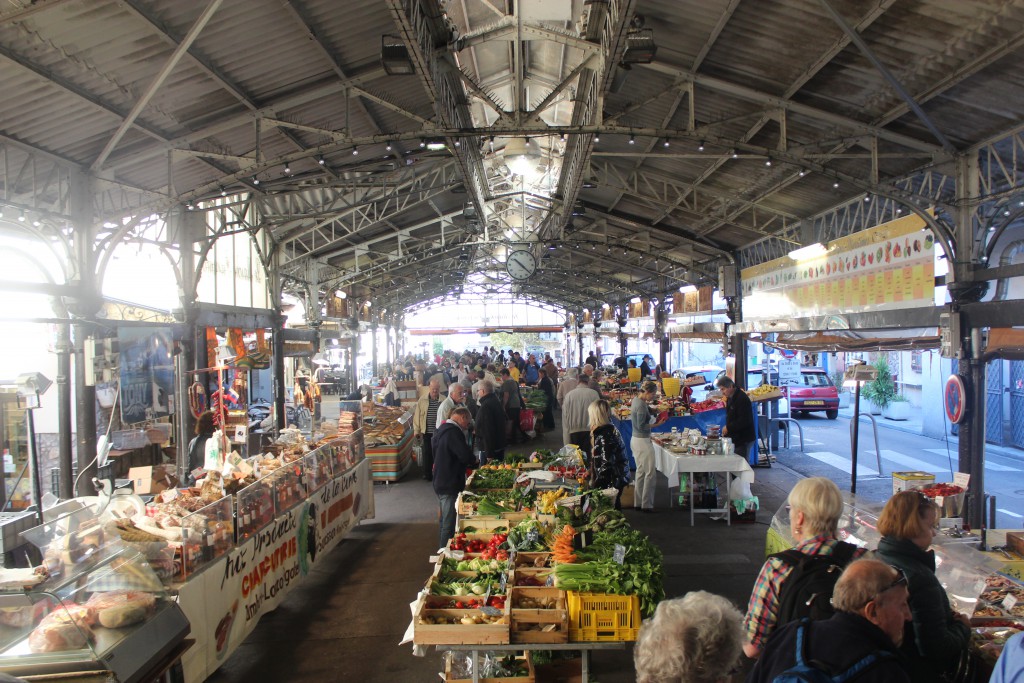 The market in the middle of Antibes
We stopped for a quick coffee before spending a few hours walking around the town and looking at some of the boats in the harbour, including seeing the 'Dilbar' which is the 26th largest yacht in the world.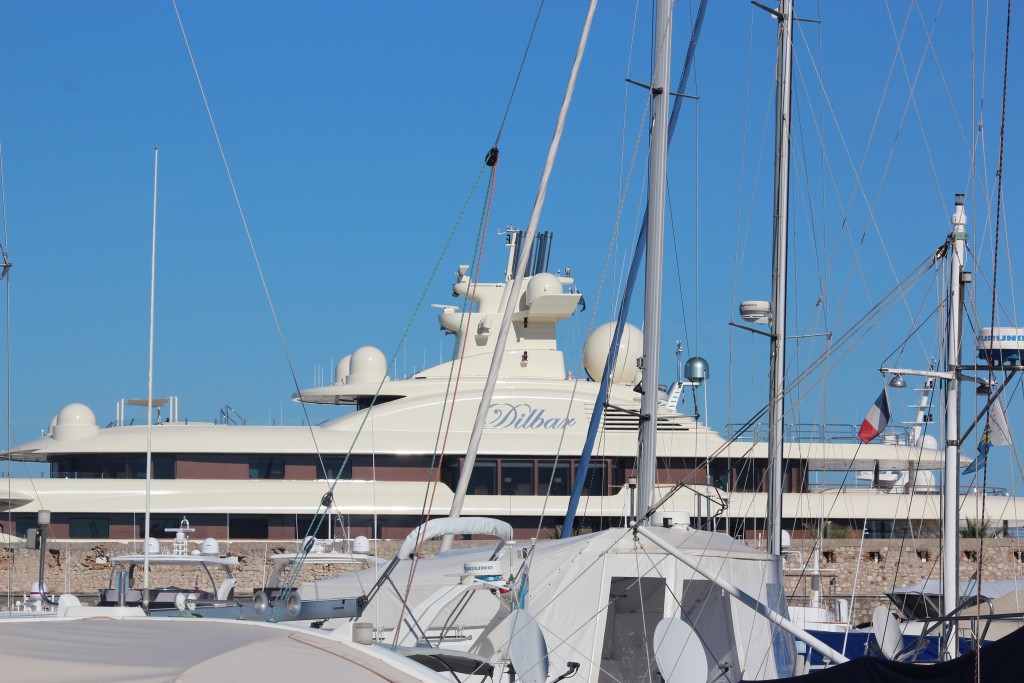 The top of the Dilbar…it can hold 12 passengers and 48 crew.
Back on board the ship we went for dinner to Moderno, which is a Brazilian restaurant. I've never eaten in a Brazilian before, but the promise of unlimited meat served at your table appealed greatly to me. After several servings of beef, steak, chicken, ribs and sausages, I was beat.
Day 9
We were not due into our final port until the early afternoon, but there was no lie-in as my mum and I were booked on a 'behind the scenes' tour of the ship at 9am. I would highly recommend doing this as it gives out a fantastic insight into how a cruise ship runs. We visited the kitchens, laundry, bridge, staff areas and heard some fascinating facts:
There are 500 costumes, 700 props and 300 wigs used during 'Priscillia, Queen of the Desert'.
It takes the stage crew six hours to change over sets between 'Priscilla' and 'Burn the Floor'.
90% of all waste produced on-board is recycled and there is an average of 50 pallets of rubbish off-loaded every week.
There are 21 separate galleys which produce nearly 20,000 meals per day including 500 pounds of rice.
There are 100,000 hands of blackjack dealt every week.
The dice used for craps are thrown forty times the length of the ship.
There is enough gold chain sold every week to wrap around the ship thirty times. The slot machines spin 3 million times a year and pay out $5 million times annually.
They have a machine which dries, irons and folds every sheet, towel, tablecloth, pillowcase and napkin (you can see it in action here)
After the tour, we had lunch in preparation for our arrival in Palma de Mallorca. We had visited here many years ago but started our afternoon at the Hard Rock Café for (yet) another badge before heading towards the old town.
We spent the short time in Palma walking the narrow streets of the town with a quick stop at a café for a cold drink.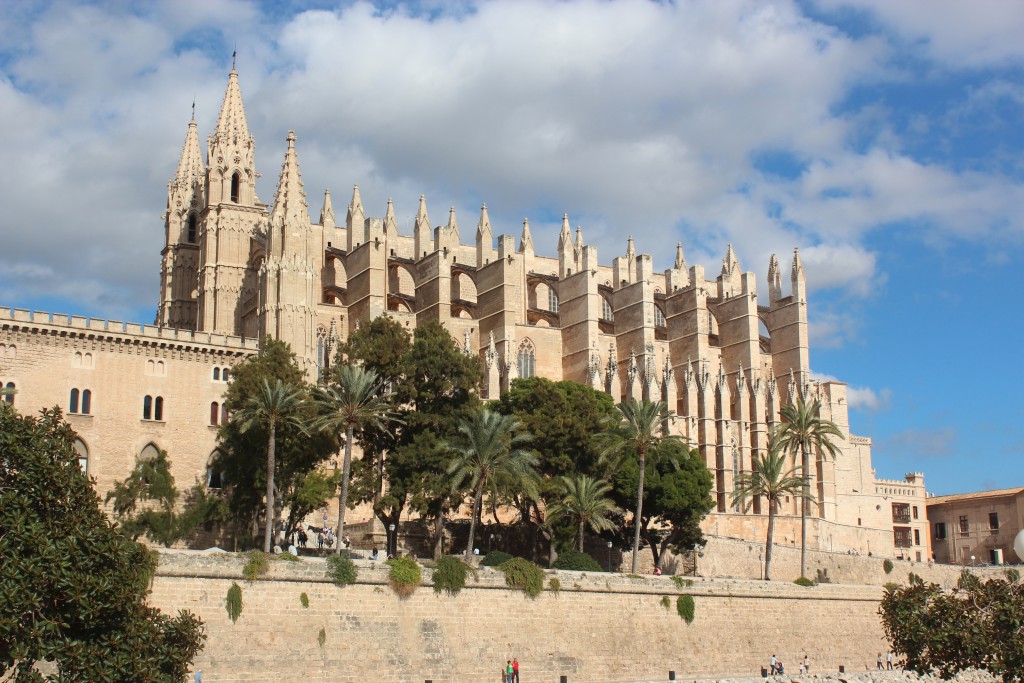 The Catedral de Mallorca
Back on board, we went for dinner to the main dining room before our final show, Burn the Floor. This is a, eighty minute dance show with an international cast dancing everything from the waltz, to the tango, rumba and the foxtrot. This was again a great display and again exceeded my expectations.
After the show we were intending to start packing when we discovered the Howl at the Moon duelling piano bar. This brand comes from America and involved members of the audience suggesting songs to be played on town grand pianos. It was completely mind-blowing to see someone read a piece of paper and literally five seconds later starting to a song – we stayed for nearly an hour and the music featured a lot of different artists including Queen, Elvis, Katy Perry, Charlie Daniels and even some Cheap Trick.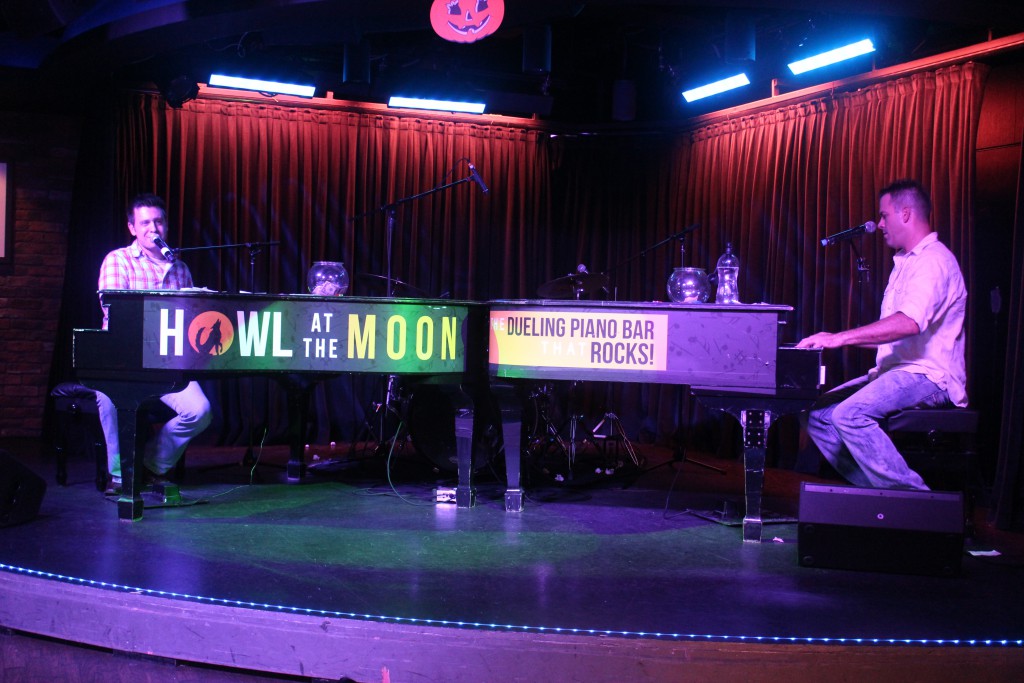 Front row for Howl at the Moon
Day 10
Due to our interest of Howl at the Moon, we were up at 6am to start the chore of packing – this was a bit of a stress session as we tried to fit everything that we had bought for presents into our cases. After about an hour of moving things from one suitcase to another and filling our hand luggage, the process was complete and we headed for our final breakfast.
Our journey off the ship and into a taxi was seamless until we arrived at the Aer Lingus check in line. This queue would become our new friend as we stood in it for over 45 minutes. Once past security, we were welcomed with nearly a half mile walk to our gate area which resulted in us only arriving at the gate 15 minutes before it opened – from stepping out of the taxi to the gate took us over 75 minutes.
We landed in Dublin to warm weather (ironically) and caught the car park bus back to the car – the car park at Dublin airport is massive so this journey took over 20 minutes – and then it was back to Belfast, via a stop in Drogheda to visit the Aldi.
Some final thoughts:
Dublin Airport again gave us a better travel experience than either of the Belfast airports and was cheaper, even with paying for fuel and car parking. This is unfortunate but if you are not overly constrained for time, I'd recommend it.
Barcelona is somewhat over-rated. Yes, it was lovely to see the architecture but I don't see myself going back any time soon.
Norwegian Cruise Lines are so efficient at everything. They have thought about everything, right down to the carts used for serving the rooms having Velcro straps for when it is rough and there was some ingenious storage spaces inside the cabin.
Every NCL staff member works so hard. Most of the management staff on board work a three months on/three months off rotation with the cabin stewards, kitchen and laundry staff working ten months on and two months off. Our cabin steward Roberto will not get to see his wife and three children until next year and says while he can video call them, he doesn't want to see their faces, which must be so difficult.
Fabrizo and All Around Italy tours were absolutely fantastic and I would have absolutely no hesitation in recommending them to anyone.
Whenever you mention to Americans that you live in Northern Ireland, 80% of them will say "I am part Irish" from several generations ago.
I made keyrings to give out to the people who were at the meet and greet event but had some left as small gifts for the staff. It seems that most cruise people complain, so these were greatly appreciated by everyone and I'd make some for my next cruise.
Booking with a travel agent takes a lot of the stress out of the whole thing and I will definitely be keeping Oasis Travel in mind for the future.