The third instalment which includes a visit to Rome and Florence. You can read the first, second and fourth posts by following the links
---
Day 6
Our second stop was into the port of Civitavecchia, which is the main sea port for Rome. However, it had rained most of the night and our first experience of Civitavecchia more resembled a cold and wet Portrush.
Fabrizo met us, umbrella in hand, with the lovely greeting of "you have brought your UK weather to Italy…why?" We drove the 90 minutes or so into Rome, with the wipers constantly on, and Fabrizo telling us some of the history about the city.
Our first stop was to a car park, well off the beaten track. Fabrizo told us to get out of the van and to look through a keyhole of a large wooden door. We thought he was joking, but curiosity got the better of us – what we saw was the dome of the Sistine Chapel, nearly 3km away.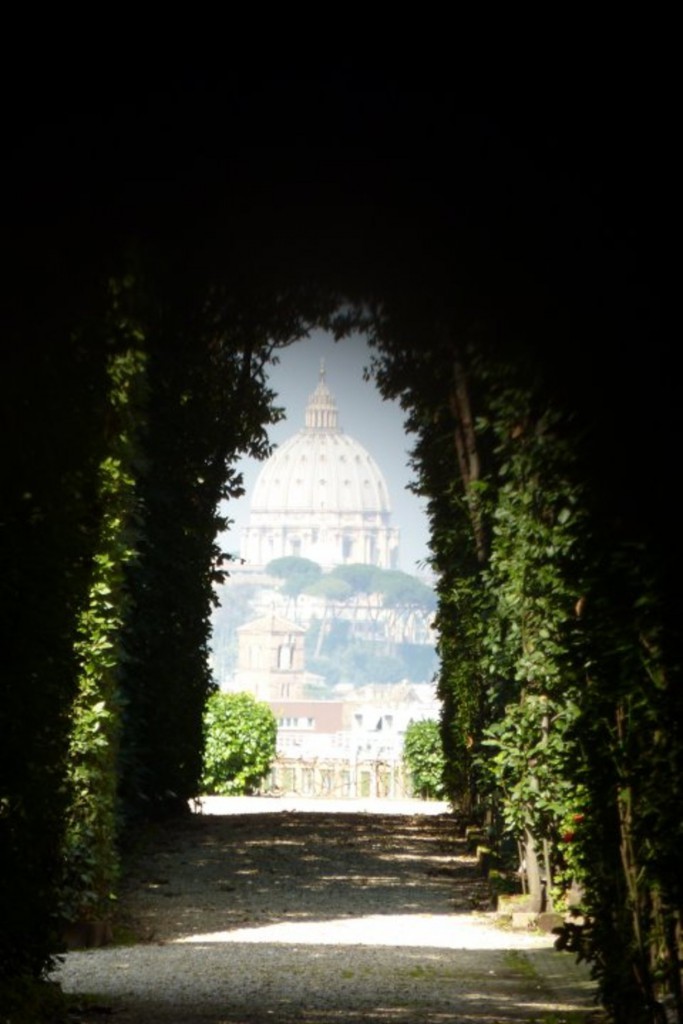 The dome of the Sistine Chapel, literally through the keyhole.
Fabrizo then drove us towards the Roman Forum where we had about half an hour to try and begin and imagine what the buildings would have been like 2000+ years ago.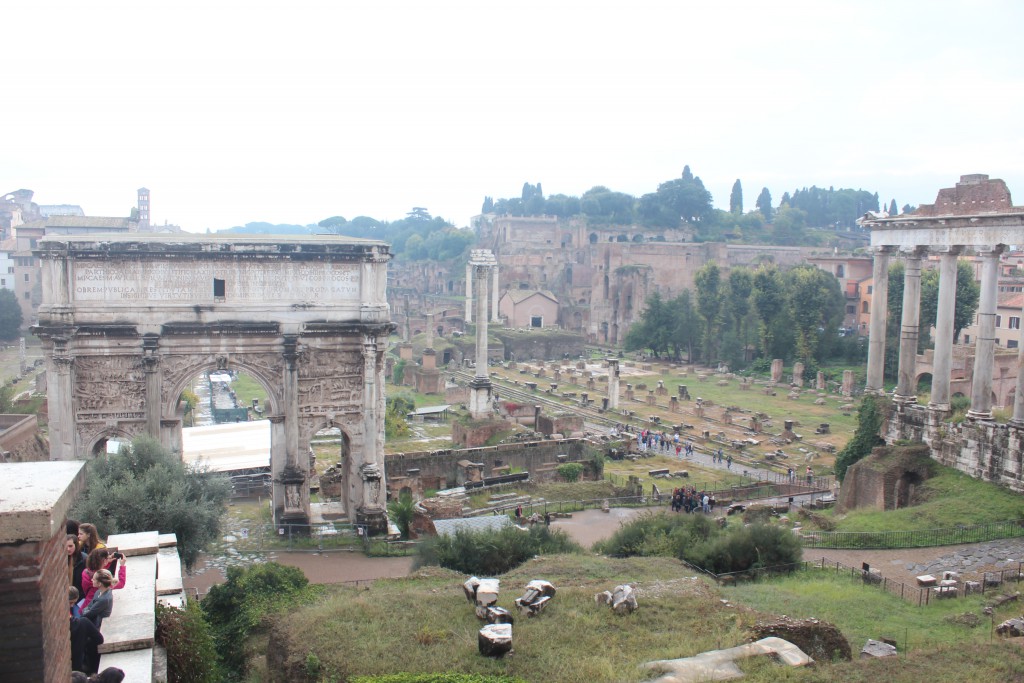 The Forum
We were then driven to the Colosseum but decided against going inside as it allowed us to see more of Rome and we will look to take a long weekend in Rome at some stage.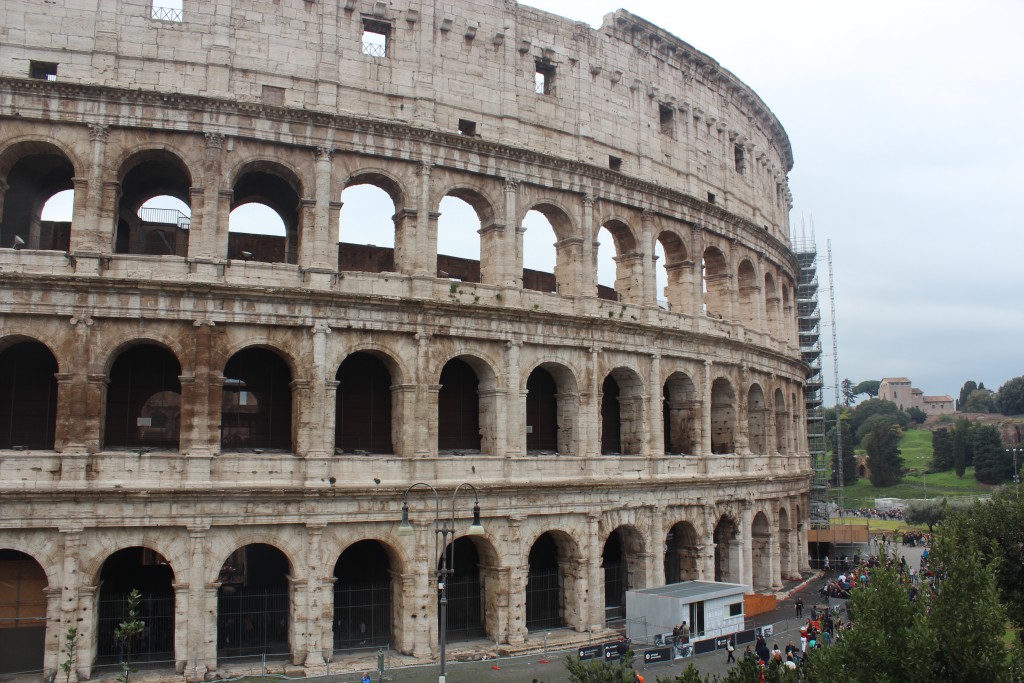 The front of the Colosseum
Our next stop was to San Pietro in Vincoli (St Peter in Chains) church which is home to the Michelangelo statue of Moses in chains. So far, it had been amazing to see with my own eyes so many things which I had learned in history at school or from television programs or movies, and this statue was another example.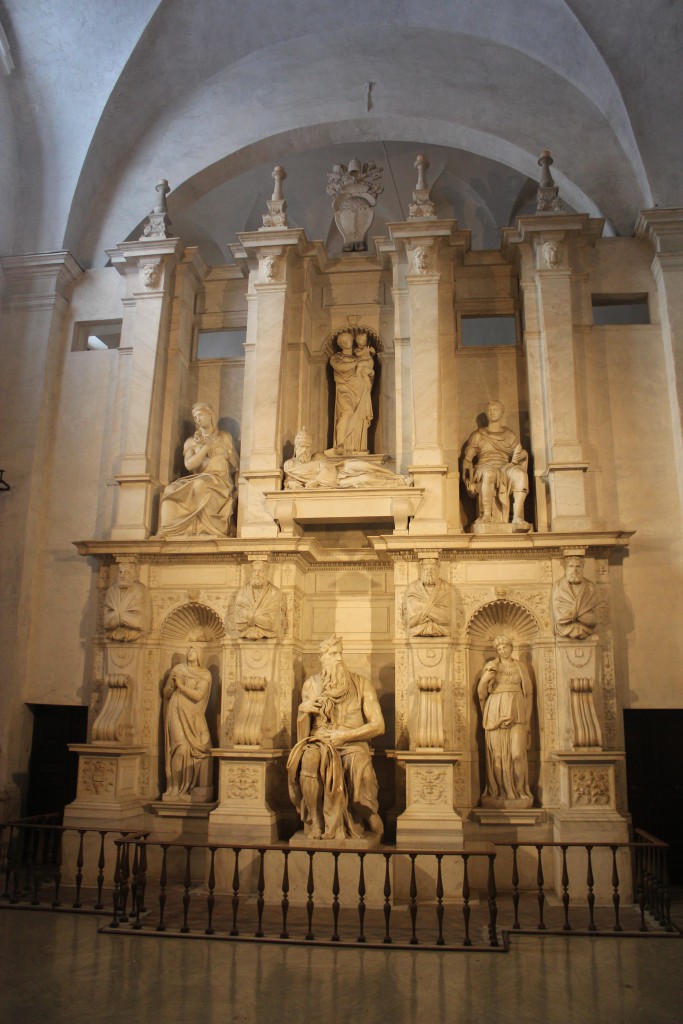 Moses in chains
We then headed to the Trevi Fountain which, despite being under restoration, was a fantastic sight and was far bigger than I was expecting it to be. The Pantheon was calling aftwards which again was such an impressive building to see.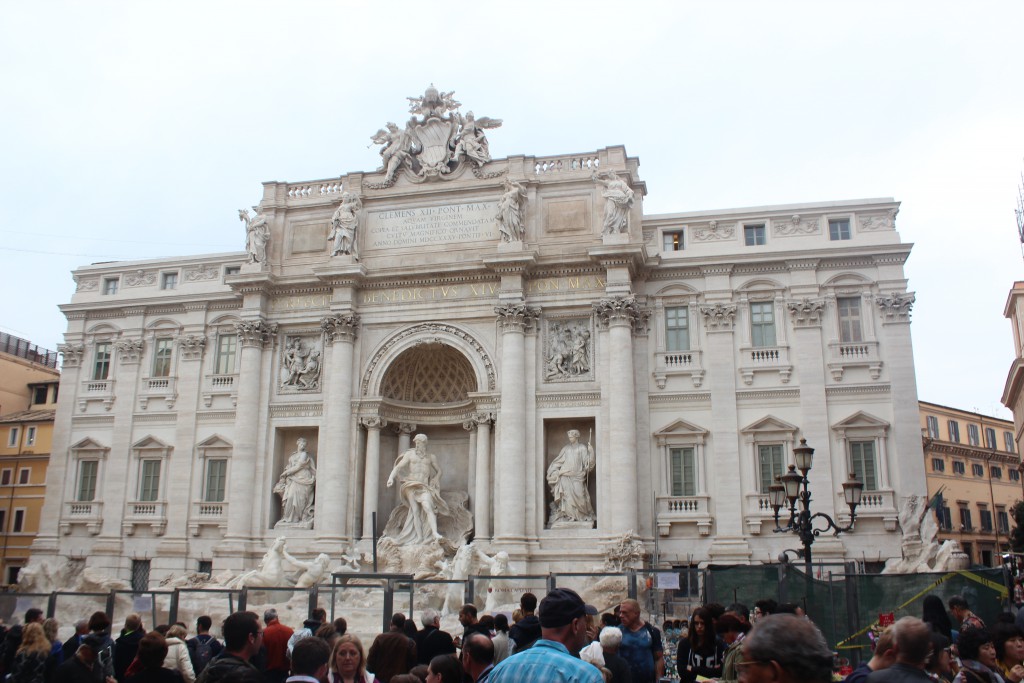 The Trevi Fountain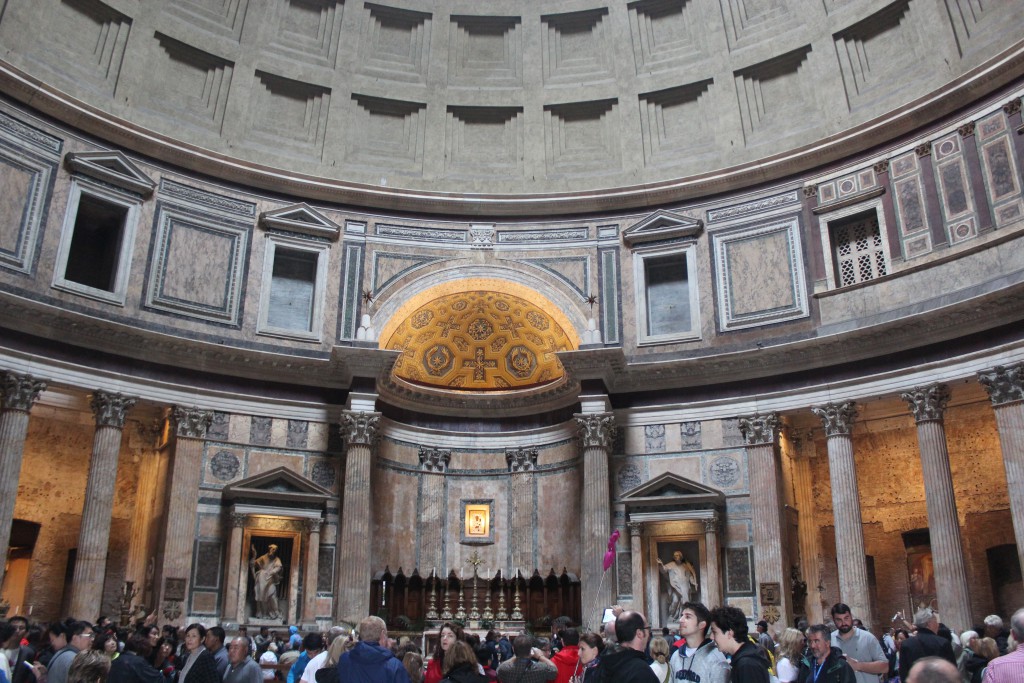 The inside of the Pantheon
Our stop for lunch was to a tiny restaurant called L'Angoletto Romano.Fabrizo ordered for us which resulted in a bit of a nervous wait but our starter of meats, tomato, balsamic vinegar and bread was gorgeous and the spaghetti and pasta that followed was equally good.
Our final stop was to meet Barbara for a tour of the Sistine Chapel and the Vatican. This was another building that everywhere you looked there was something amazing to see and again you would need at least a full day here to do it justice.
As we headed back to Civitavecchia the rain came on harder than this morning and the road was starting to flood. But through some good driving and route choices, Fabrizo had us back to the ship in good time.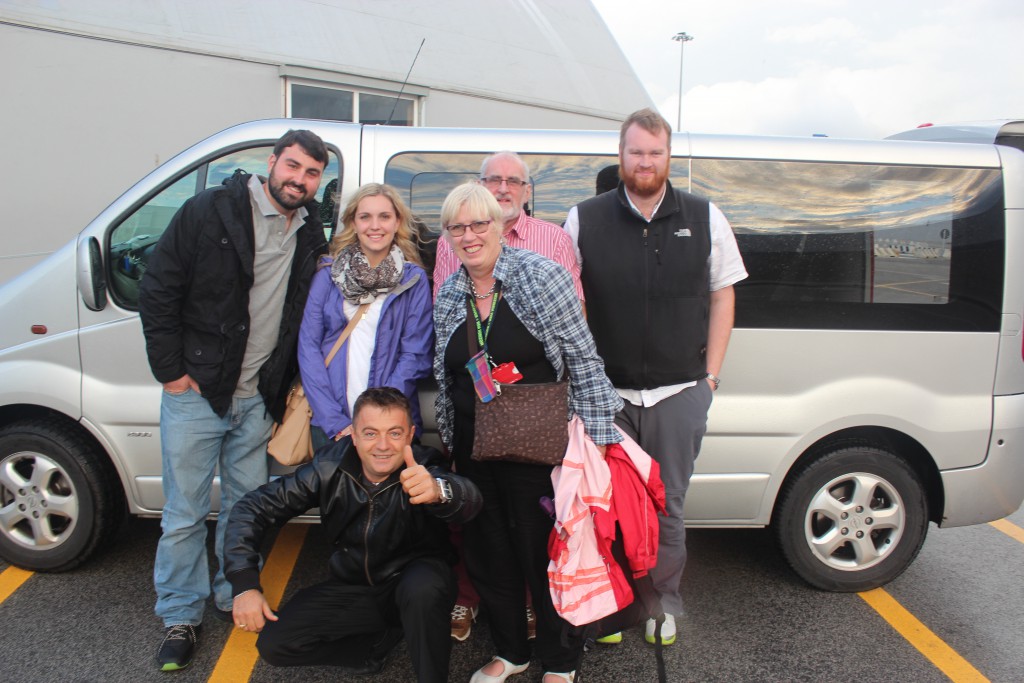 Michael and Morgan from Long Island, Fabrizo and us
Day 7
Our next port of call was to Florence where we met Maflada, or Mafi. Fabrizo was busy on another tour but he sub-contacts Mafi to do tours in Florence if he can't make it.
To start with Fabrizo and Mafi have very different styles, with Fabrizo being very expressive and Mafi more subdued, but we quickly discovered that we would be in for a great day with Mafi.
Our first drive (in the rain again) was towards Pisa and the world famous leaning tower. We stopped here for about half an hour which was just enough time to try and recreate the famous pose of trying to hold it up. I never realised before just how much the building leaned (4 degrees) in comparison to our Albert Clock which leans less than 1 degree.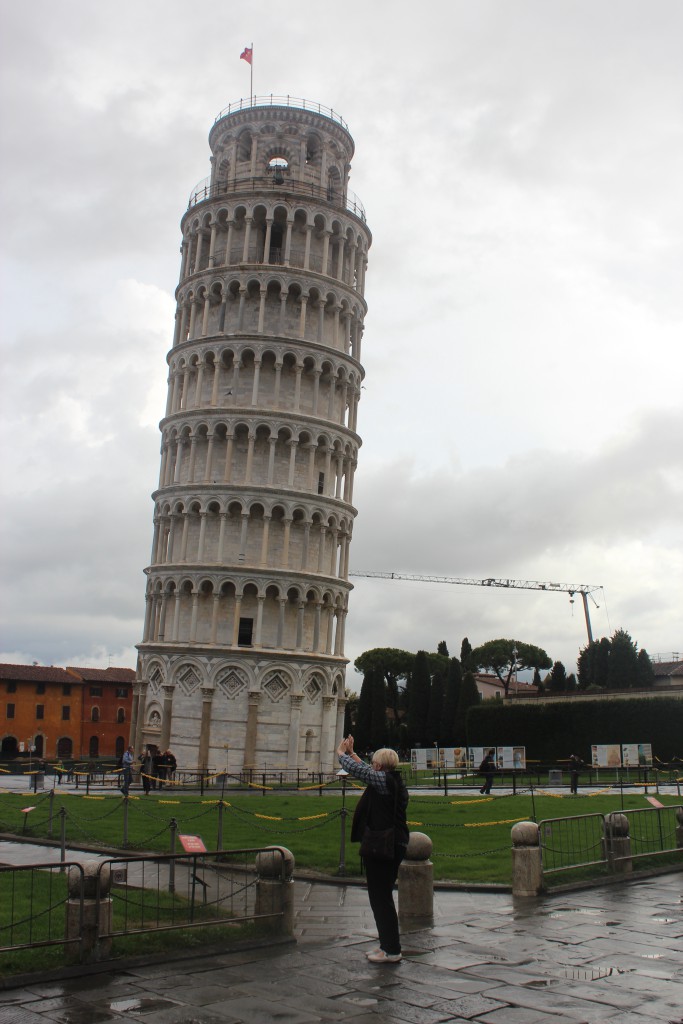 My mum trying the pose.
Our drive to Florence took just over an hour which allowed us to chat with some of our fellow passengers. Our first stop in Florence was to the Piazzale Michelangelo which allowed us to get a great panoramic view over the city and thankfully the drizzle had started to clear for us.

A great view over Florence.
Mafi told us some of the history of Florence and some things to look out for the city and then it was back into the van and to the Basilica Santa Croce. This is the largest Franciscan church in the world and is the burial place of some of the most illustrious Italians, such as Michelangelo, Galileo and Rossini.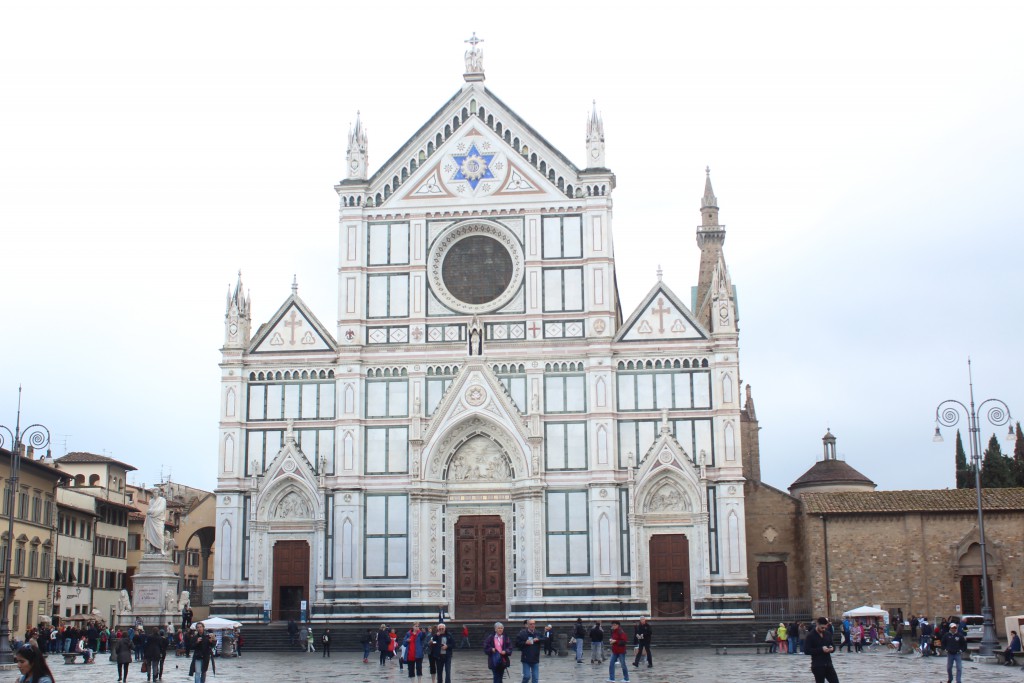 The front of the Basilica Santa Croce
We stopped here for about 45 minutes which allowed to do some shopping and to grab a quick slice of pizza before it was off to the centre of Florence. We had all afternoon in the city which allowed a lot of shopping to take place! I started at the Hard Rock Café (again) before it was off to the Cafe Scudieri for lunch
We spent the rest of the afternoon walking around Florence with a stop at the famous Ponte Vecchio bridge for a photo opportunity.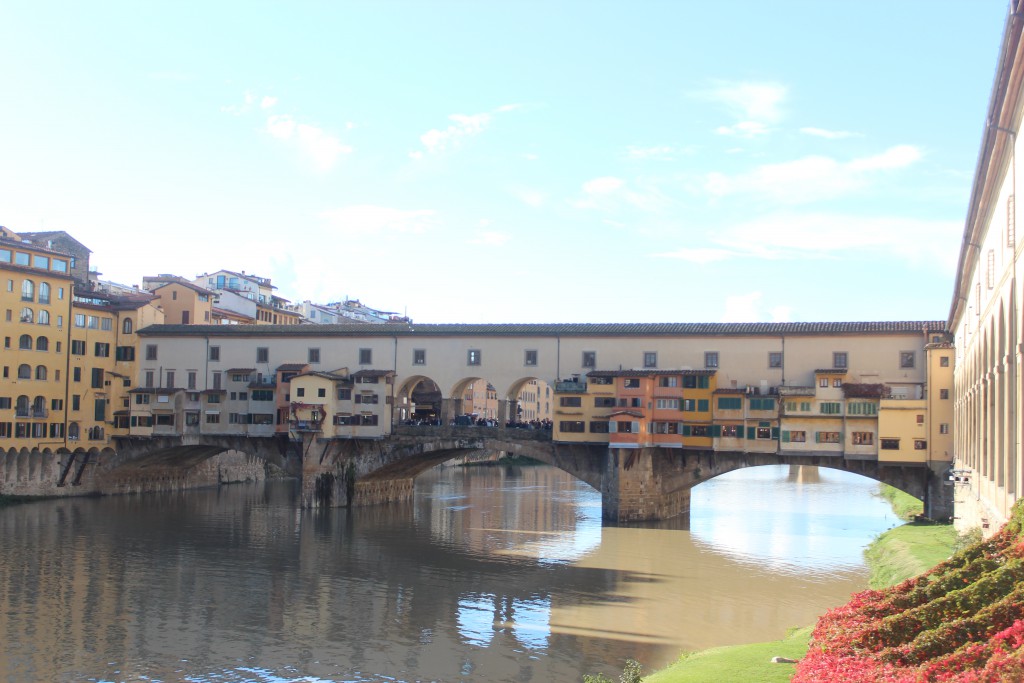 The Ponte Vecchio bridge.
Before we left Florence, Mafi suggest a gelato stop…who could say no to that? So she took us to her favourite place, Gelateia La Carraia for some salted peanut and mixed nut gelato…I could have eaten if from now until the cows come home (geddit?)
Our drive back to the ship resulted in some more rain (which was somewhat of a recurring theme) but we arrived back in good time for another group photo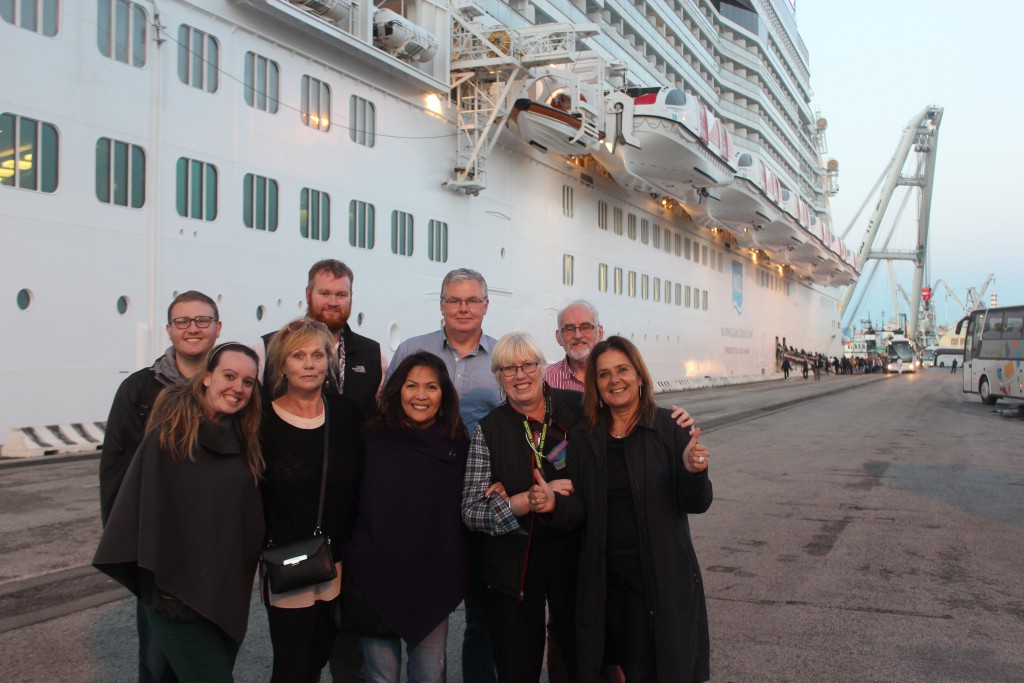 TC and Taryn from Florida, Debra from Nova Scotia, me, Neth (again) from California, John from Nova Scotia, mum ,dad and Mafi
Our entertainment for the evening was in the form of the Broadway musical, Priscilla, Queen of the Desert. This show was adapted from a 2004 film and turned into a musical show which has toured the world and has only just started on board the Epic.
I didn't have too high expectations as to how much I would enjoy it, but it really was fantastic. When you look at the price of a cruise, it appears expensive at the outset until you start to realise the sheer quality of all of the entertainment on board, which is all included in the price. This show is a proper West End or Broadway style production, complete with two stage managers, a production manager, lighting and sound designers and at least ten other crew.