The second instalment in my travel diary (you can read the first, third and fourth posts by following the links) and  is my day at sea and then a stop at Naples with a visit to Pompeii.
---
Day 4
Our first full day on board was a day at sea which allowed us to explore some more of the ship. The only thing that we had planned was a "meet and greet" event for the members of the Cruise Critic online forum. This is a great website to allow people to meet up before hand and allowed me to book private tours for some of our stops, but more of that tomorrow. The event allowed us to meet some of the ships senior management for some questions and answers and then some of us took part in a gift exchange. As the name suggested, this involved bringing a small gift from home and have a sort of raffle to get something else – I had brought some tea from Titanic Belfast which seemed to be very popular.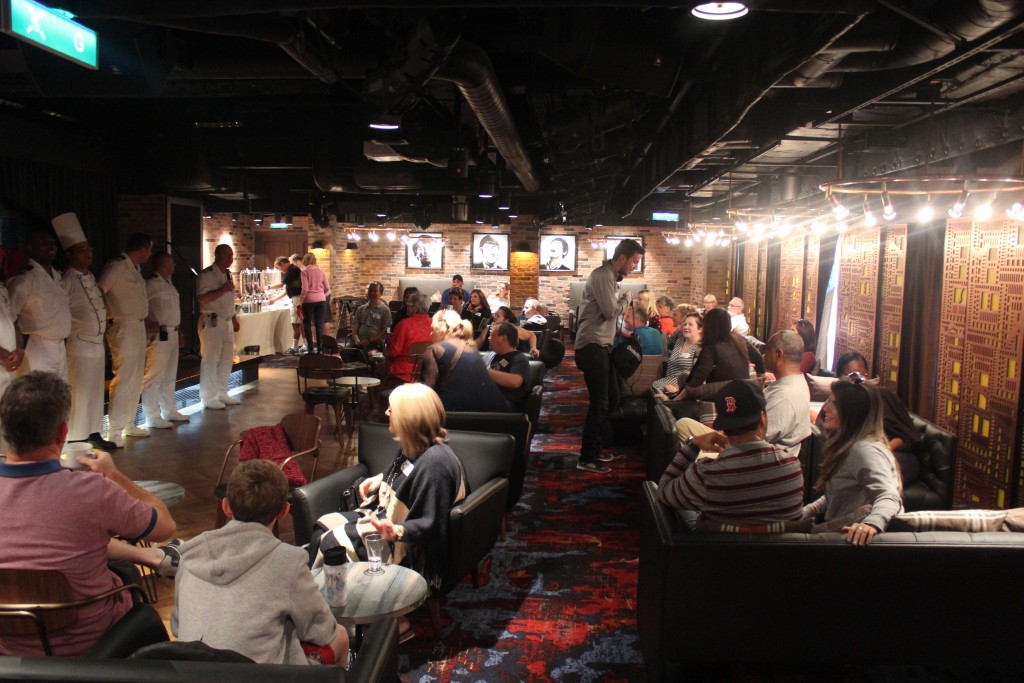 The Meet and Greet gets underway
The rest of Monday was spent exploring the ship, some more food, and partaking in some shuffleboard activities.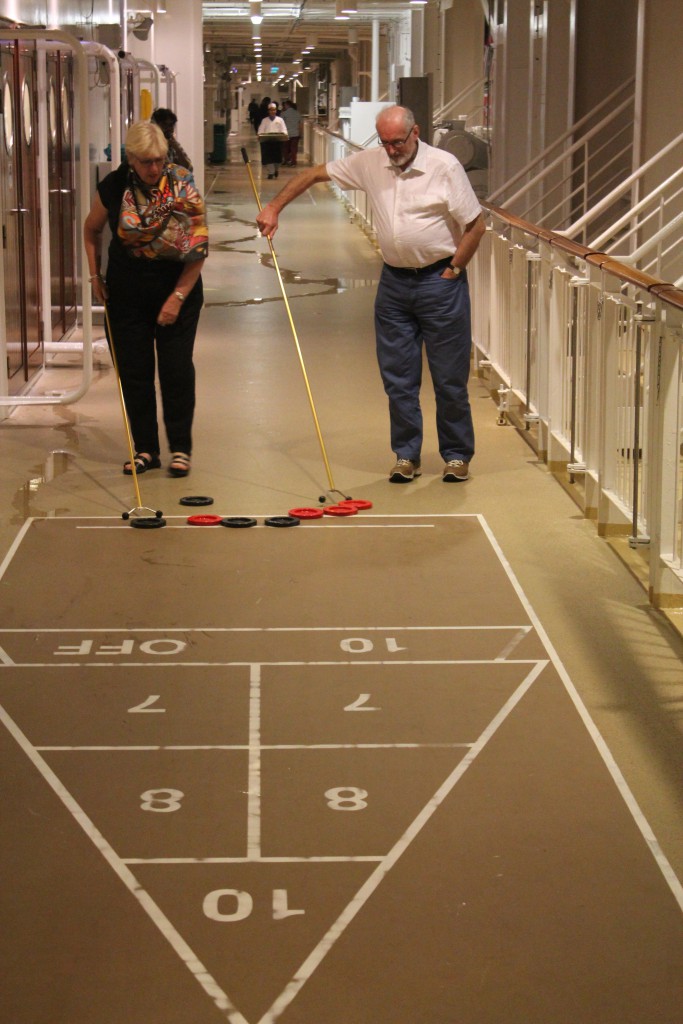 I won't say who won, but they aren't in this photo…
Our evening entertainment was in the form of the fantastic Christian Miro, the on-board magician, who had us in stitches on several occasions.
Day 5
Today we had our first stop which was the port of Naples. Here we met our private tour guide, Fabrizo who owns and runs All Around Italy tours. I stumbled across this company somewhat by accident on Trip Advisor but the prices for an eight person tour were exceedingly cheaper than the excursions organised by NCL and I liked the idea of a more personal tour rather than being stuck on a coach with 50 other people.
However, as there were only three of us to start with, that meant having to find more people to share with us, which is were the Cruise Critic website came in. It was a lot of work to organise the tours, but within the first 30 minutes of Fabrizo driving us, the many hours spent organising it were completely justified.
Fabrizo lives in Rome so had a 4am start to meet us in Naples as he wanted to be in the first car parking space for us. His general demeanour was fantastic – he loved a laugh and knew absolutely everything that there was to know. Despite owning the company and having about 10 people work for him, he still does as many tours as he can and it's obvious that he gets a real buzz out of showing people around his country.
The first item on the itinerary was a drive along the beautiful Amalfi Coast towards the village of Positano.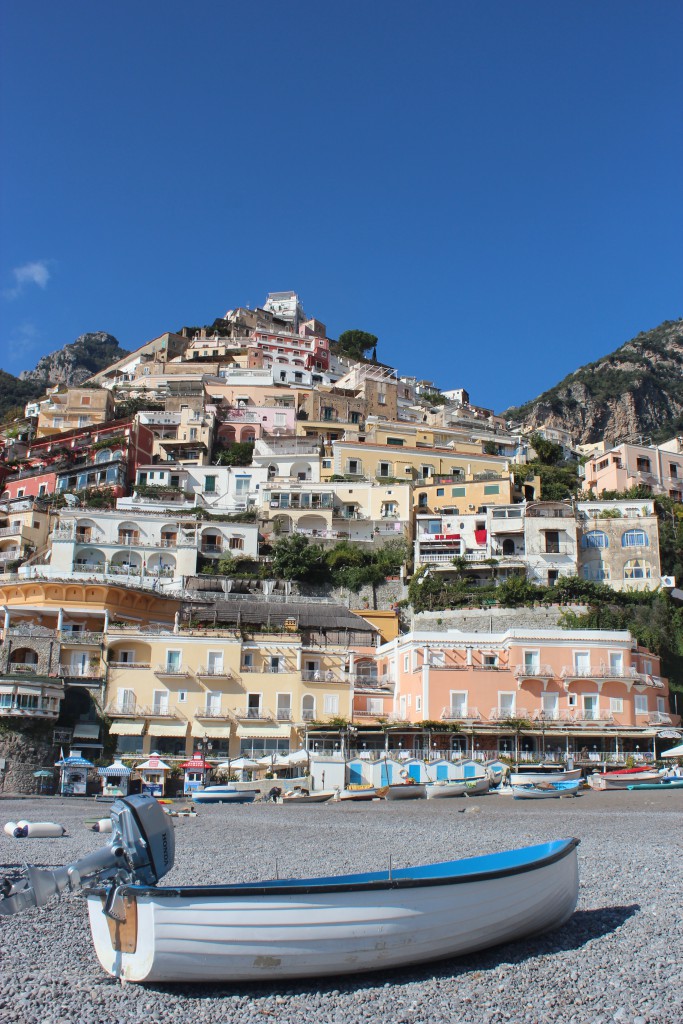 The beautiful Positano from the beach.
It was a lovely place to stop for an hour and was more special as my grandparents used to visit here and they always talked about how special it was. I remember listening to them talk about the place and never thought that I would ever get to see it.
After Positano, we piled back into the mini-van and headed towards the larger town of Sorrento. Fabrizo suggested a few places for lunch, and we all set off in our different directions. However, we all arrived at Pizzeria Aurora , just off the main square. Fabrizo had promised good, traditional pizza, and he wasn't wrong.
After lunch we had a quick walk around the town and stopped for some gelato – after all in when in Italy you have to have pizza followed by ice cream for lunch, correct?
Our final stop of the day was to see Pompeii. On our cruise in 2013 we had see Ephesus so weren't too sure how different Pompeii would be, but it's on a different level entirely. To be able to stand in a roman bath and see original artwork from 2000+ years ago was amazing.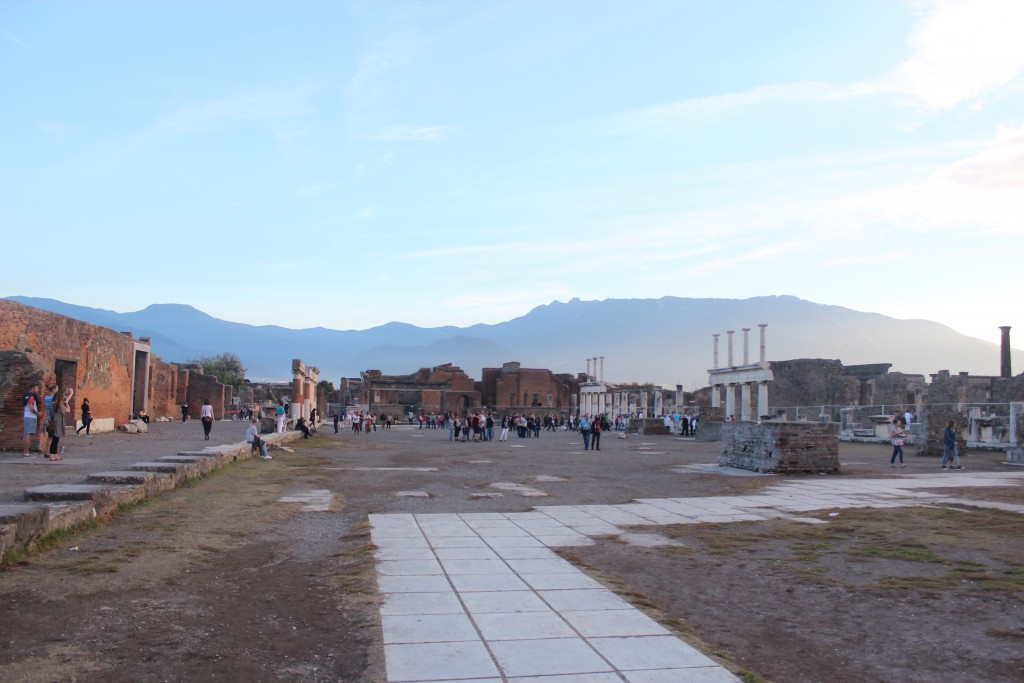 What would have been the main square in Pompeii.
You could spent a whole week around Pompeii (it extends to over 100 acres) so in three hours, there was obviously only so much that we could see. Our guide, Nancy was booked through All Around Italy and she was fantastic. She showed us the baths, where the shops were, some of the houses, the churches and some of the streets. We were a bit apprehensive as to whether a guide would be necessary, but without having Nancy, all we would have been looking at would have been a collection of ruins.
We left Pompeii and headed back to the ship were we took a final group photo before going our separate ways back onto the ship.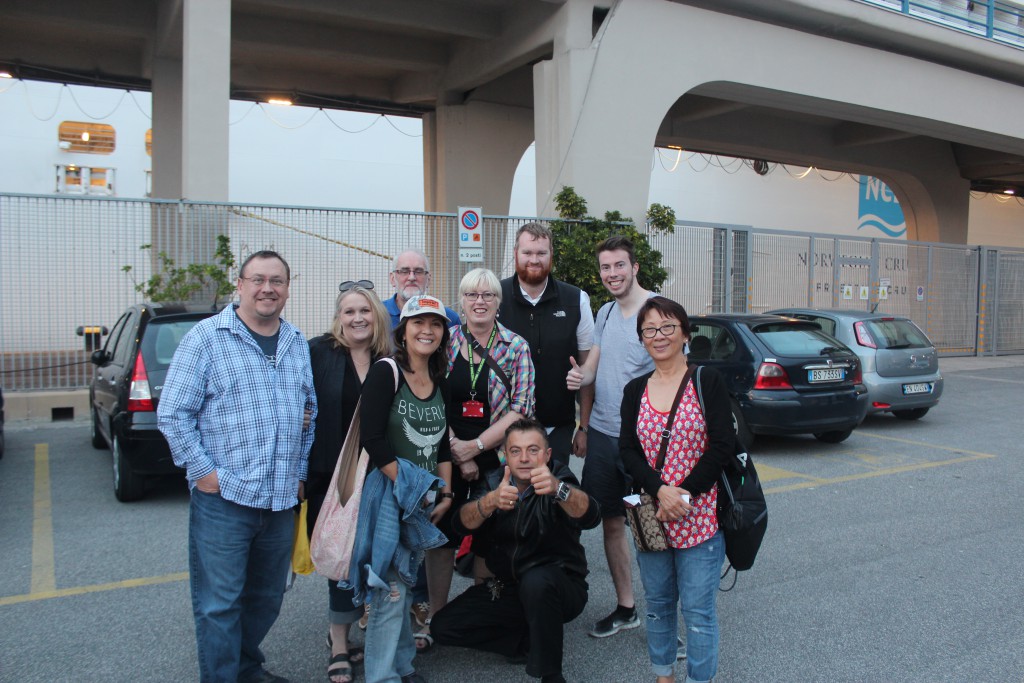 Ed and Jackie from Michigan, dad, Neth from California , mum, Fabrizo, me, Benjamin from Belgium and Kim from California