Following on from my Halloween, our summer holiday this year was another cruise, this time around Norway. This time we decided on Holland America Line, out of Amsterdam. This was mainly due to the price but it was a fortunate coincidence that the cruise was on the MS Koningsdam which was only launched in May 2016.
We again booked through the Lisburn Road branch of Oasis Travel. Every time we travel with Oasis we are continually impressed, and I would highly recommend them to anyone.
Looking at flights to Amsterdam, it quickly became apparent that it was considerably cheaper to fly out a few days before hand. Our Norway adventures therefore began with a Thursday afternoon flight to Amsterdam and a few days stay at the Hotel Rokin.
Day 1
I was working the morning of my flight, so I was a bit rushed getting to Belfast City Airport but it all worked out in the end.
My first experience of Schiphol Airport was great and our baggage arrived very quickly, which is always a bonus. We bought some train tickets to Amsterdam and made our way to the train platform. When the train arrived we lugged our cases on and were disappointed to see the ultimate lack of luggage space. As a result, I stood for the 20 minute journey to Amsterdam trying to hold onto three cases.
Once we arrived at Amsterdam Centraal station, we decided to just walk the half-mile to our hotel. As we are good tourists we had read up on Amsterdam thanks to Lonely Planet, and so decided to head to what was described as the best chips in Amsterdam.
We made towards Vleminckx but arrived just to see the staff closing the doors. After consulting the book, we decided on another highly rated place nearby, Villa Zeezicht
We opted for a more tapas approach to dinner and shared prawns in garlic butter, bread with aioli, nachos and bitterballen (a traditional Dutch meat based dish). It would have been rude not to finish with some apple pie and everything was washed down with a local beer.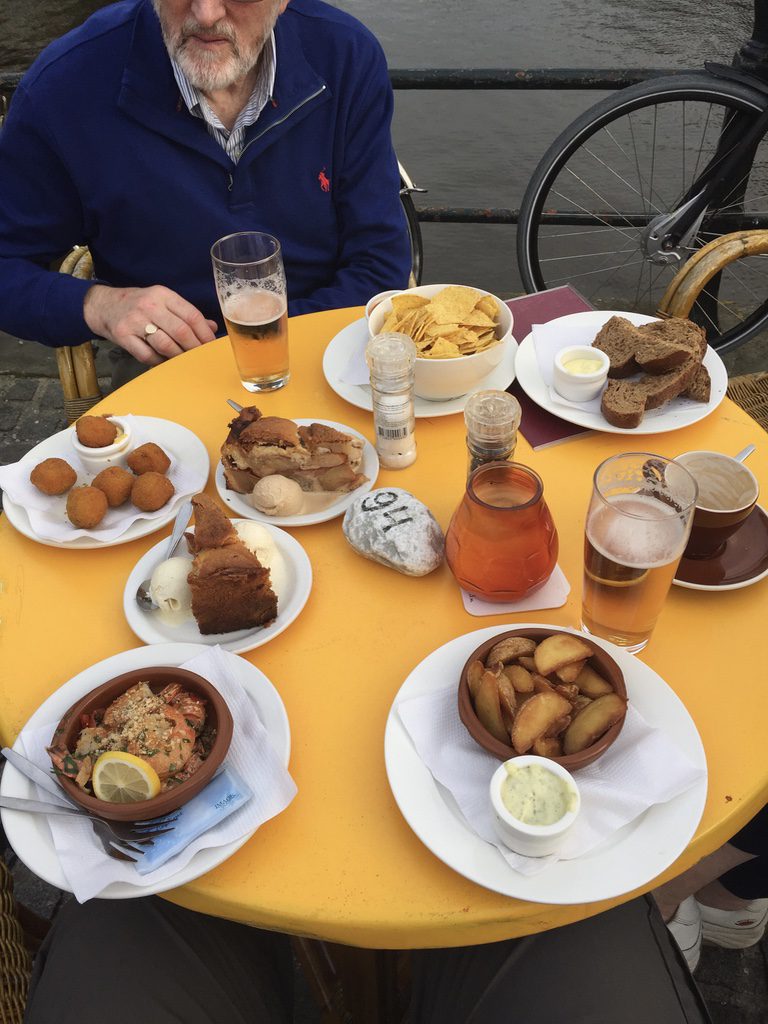 After dinner we walked along a few canals before heading back to the hotel and bed.
Day 2
After a decent hotel breakfast we headed to the Amsterdam Sign. This is a fairly major tourist attraction and it took some time for me to get a photo with not that many people on it. For something so simple, it is highly effective and the phrase "I AMsterdam" is the city's main tourist slogan.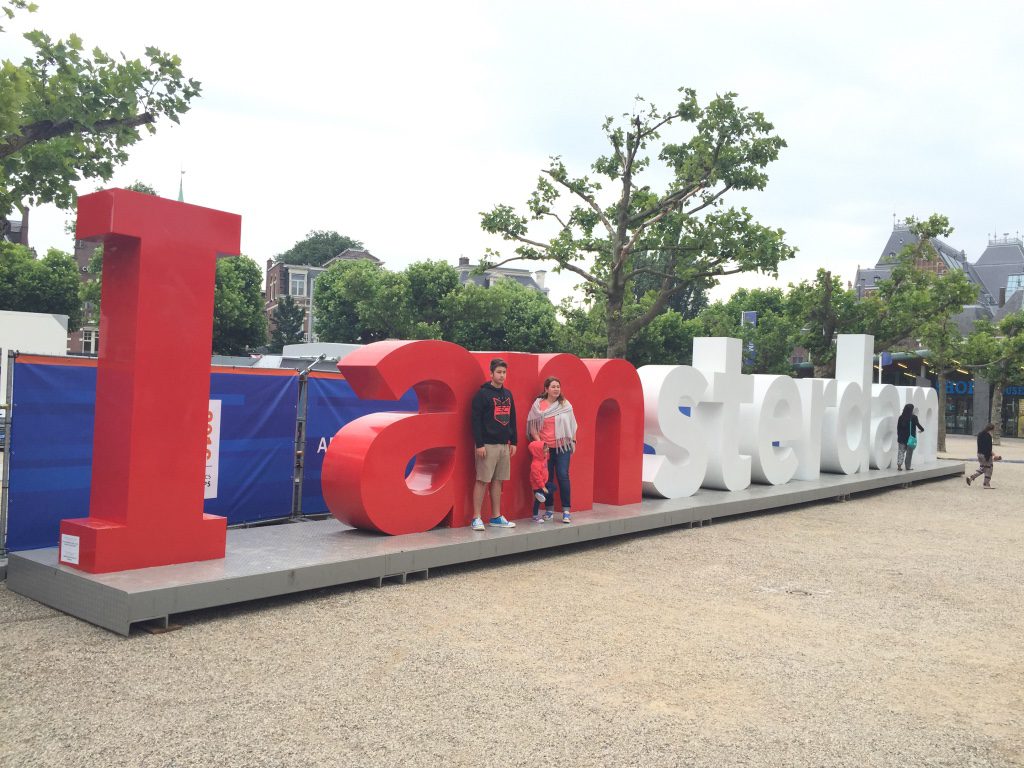 We then headed to a local market, via the Hard Rock Café for me to add to my growing glass and pin collection. The market had some of the local wares along with the same sort of things which you find in markets around the world… tat.
It came on a heavy rain shower so we decided to take some shelter in another recommended restaurant, Geflipt. I opted for a burger and chips while my parents shared chips as they had eaten in the market. The burger was slightly undercooked (which was partly my fault for not specifying a medium to well done patty) but was delicious non the less. It was also very reasonably prices with a burger, two portions of fries, three coffees and a beer coming to €35.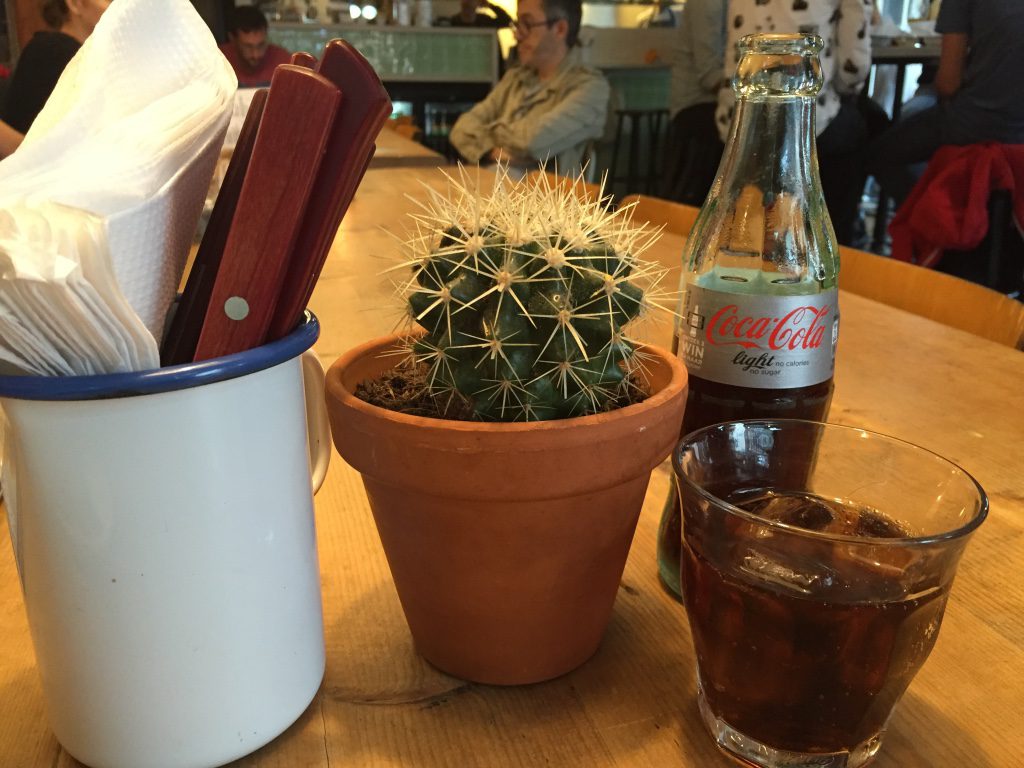 After this pit stop we headed towards the Verzetsmuseum or the Dutch Resistance Museum. I thought I knew quite a lot about what life was like in Holland during WW2, but this museum taught me many things which I wasn't aware of. It highlighted really well the struggles which the locals faced on a daily basis during the Nazi occupation.
We had booked dinner in Seasons Resturant so headed there next. Their menu presented me with several problems as there was a lot which I wanted to try. I eventually settled for smoked chicken and mango salad, chicken tikka masala and waffles. I also ordered a ginger twist tea (which was a bit cannibalistic) which was served with a passion fruit and lemon curd dessert, and both were delicious.
Day 3
We were headed to Arnhem this morning which meant an eighty minute train journey. After arriving at the station we hopped on a bus and made our way towards the town of Oosterbeck and the Airbourne Museum Hartenstein. It got this name as when the Allied landed in 1944, they set up their headquarters in the Hartenstein Hotel.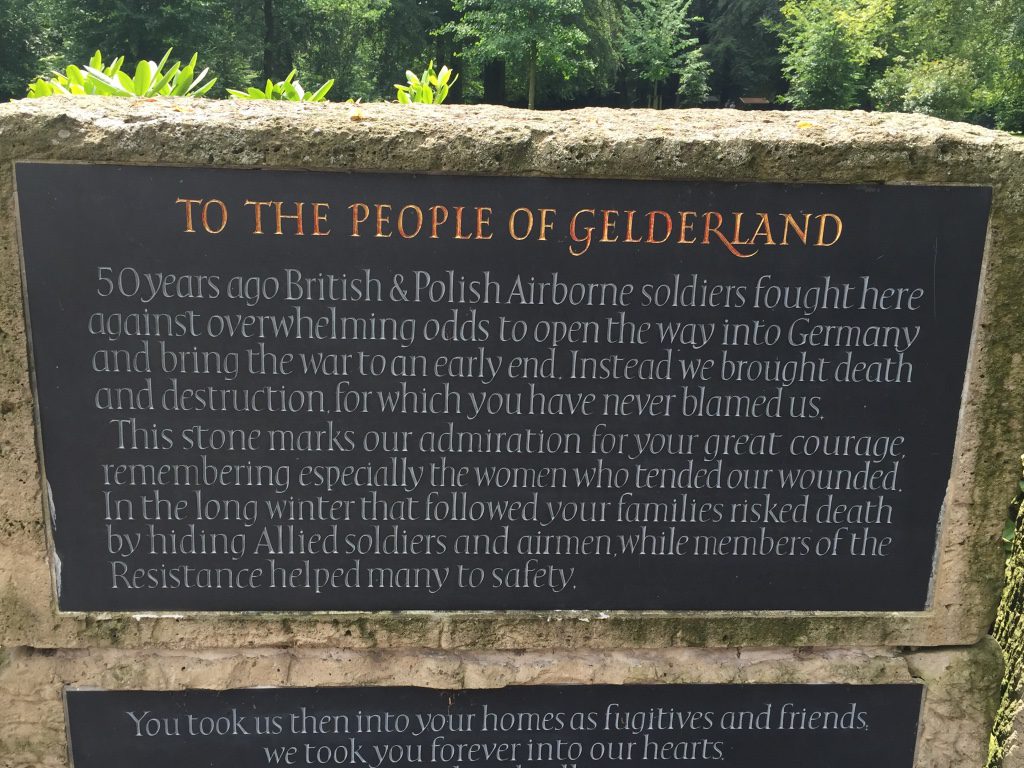 The museum tells the story of Operation Market Garden (the Allied invasion of France in June 1944) and obviously focuses on the attempts to liberate Arnhem from the Nazis. In short, the Allied operation was failure and resulted in a massive loss of life in just 9 days of battle. There were 3,000 Allied and 3,600 German soldiers injured, with 1800 Allied, 1485 German and 1,000 civilian deaths. In short, it was a disaster, and, as the title of the movie title suggested Arnhem was 'A Bridge Too Far.'
After the museum we headed to the Arnhem Oosterbeek War Cemetery where most of the Allied soldiers killed during the Battle of Arnhem are buried. The Commonwealth War Graves Commission records are always exemplary and I took some time to read the names of some of those buried there.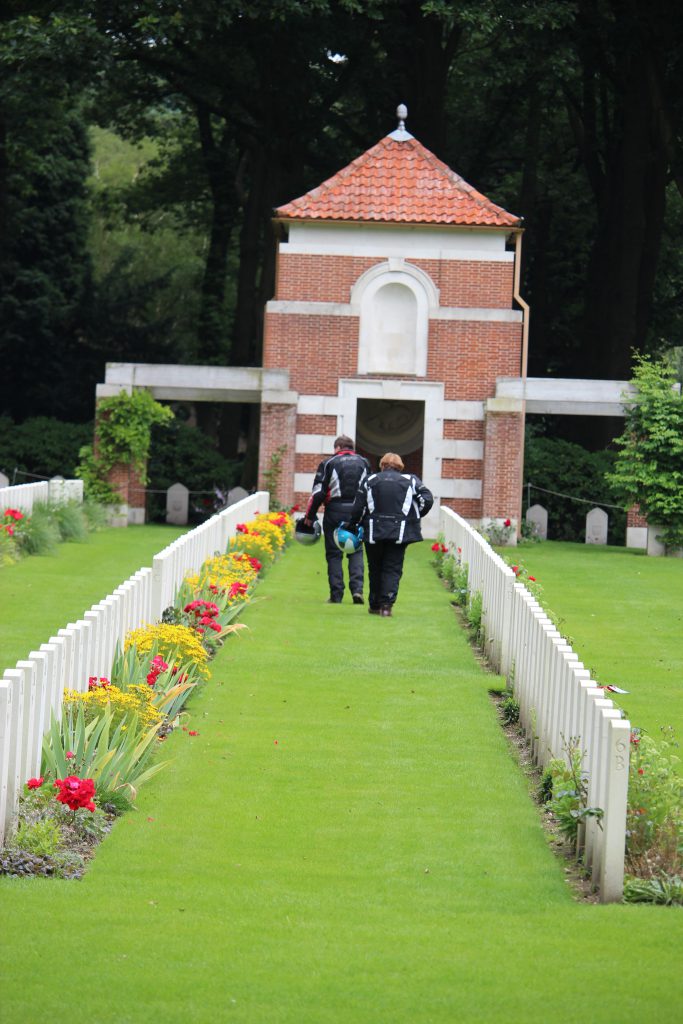 While I have visited several other WW2 cemeteries in the past, this was probably the most humbling cemetery. This was simply because everyone buried here was killed in just a nine day period. As I was walking around, I noticed this elderly gentleman sitting on one of the benches. After saying hello his first words were "I was there". As it turned out, he was a young child in 1944 and recounted, with tremendous accuracy, the battle for Arnhem. He said that he visits the cemetery most days and loves to see people coming here to remember. I listened for what seemed like hours, but was in reality about 15 minutes, before he left to get his afternoon coffee and waffle…how very Dutch.
On the bus back to the station I made use of the free wifi to check my emails. I got one from a fellow Cruise Critic member asking how people were getting to Rotterdam following the change of port.
This was, of course, a complete surprise so I phoned Oasis Travel just 10 minutes before they were due to close. I explained the situation and the lady at the other end said it would be "a new one" if they had changed the port. However, she phoned back 10 minutes later (after speaking with Holland America) to say that they had indeed changed to Rotterdam.
This messed up our plans for Sunday morning (we had a walking tour organised), but the silver lining was that we found out the day before rather than arriving in Amsterdam to be told the ship was somewhere else.
We caught the train back towards Amsterdam, still complaining about the change of port, and decided to head back to Vleminckx (the chip place) for some dinner.
After getting back to Amsterdam we discovered….that it was closed again…so we decided we would just have to come back to Amsterdam again.
We searched around a few side streets for a restaurant before settling on Kantjil & de Tijger which was my first experience of Indonesian cuisine. While I was a bit dubious at first, the meal turned out to be good if a little on the expensive side.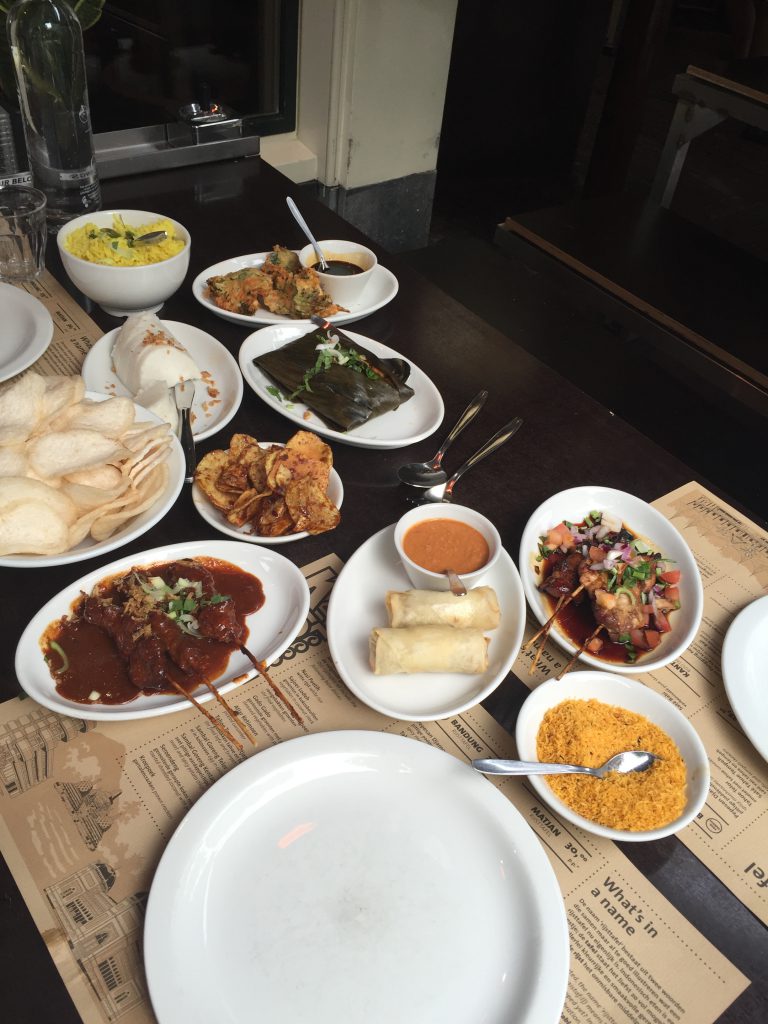 After another busy day it was back to the hotel to pack and have an early night.